The MCU is looking to kick off 2022 in a big way on Disney+, which is expected to start soon with shows like Oscar Isaac's Moon Knight. Featuring one of the MCU's most unique new characters along with exciting mythology and big-time co-stars like Ethan Hawke, Isaac and Marvel have the opportunity to take the franchise down a path never seen before.
Although the upcoming Phase 4 movies from Marvel Studios have release dates set into stone, the Disney+ side of things is still a complete mystery regarding when fans can expect to see shows like Moon Knight, even with the calendar now turned. Thankfully, Marvel changed that in exciting fashion by announcing that Moon Knight's first trailer is set to premiere during the upcoming NFL Wild Card game on ABC.
With less than 15 seconds of footage, Marvel showed new looks at Isaac's unpredictable anti-hero while providing the best look yet at arguably the coolest new MCU costume to date. Included in this is the first full look at Hawke's character, along with another line of dialogue from the Disney+ entry.
Who Is Ethan Hawke's Moon Knight Character?
Hulu revealed the first look at Ethan Hawke's mystery character in the recent 15-second spot teasing the debut of the first trailer for Disney+'s Moon Knight from Marvel Studios. Although his role isn't revealed yet, Hawke dons a black shirt as he looks forward and utters the line "There's chaos in you."
Hawke's character can be seen below: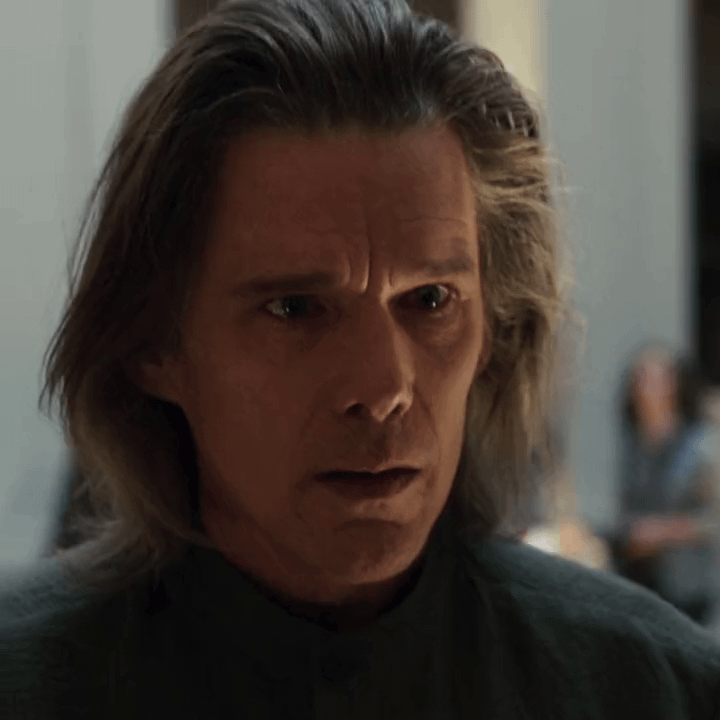 The full teaser can be watched below, with Hawke appearing at the 0:07 mark:
Tune in MONDAY for the world trailer premiere of the all-new @disneyplus original series, @marvelstudios' #MoonKnight 🌙 during the NFL Super Wild Card matchup on @espn/@abcnetwork. pic.twitter.com/p248BIAcM7
Who Will Hawke Bring to the MCU?
Although fans will find out more information about the MCU's first Disney+ show of 2022 this Monday, this trailer only added a new layer of intrigue regarding what to expect in Moon Knight. This includes any theories and thoughts about Ethan Hawke's mystery villain, although this first tease shows just how important he will be in the show's narrative.
Hawke rocks a semi-long hairstyle along with his dark wardrobe in this image, and with the "chaos" he teases in his line, he certainly poses a tangible amount of danger to Marc Spector in his adventure. There are no signs pointing to when this scene will arrive in the show's Disney+ run, but whether it's Moon Knight or someone else in front of Hawke, he clearly sees how powerful and dangerous they are.
Marvel Studios has always been good with mystery and secret-keeping, meaning there is no way to guarantee that fans will find out who exactly Hawke is playing even when Moon Knight's first trailer debuts. However, from less than a second of footage, Hawke's MCU arrival is set to make a big impact on this year's new content within Phase 4.
The first trailer for Moon Knight will officially debut on Monday, January 17 before its undisclosed 2022 debut date on Disney+.
---