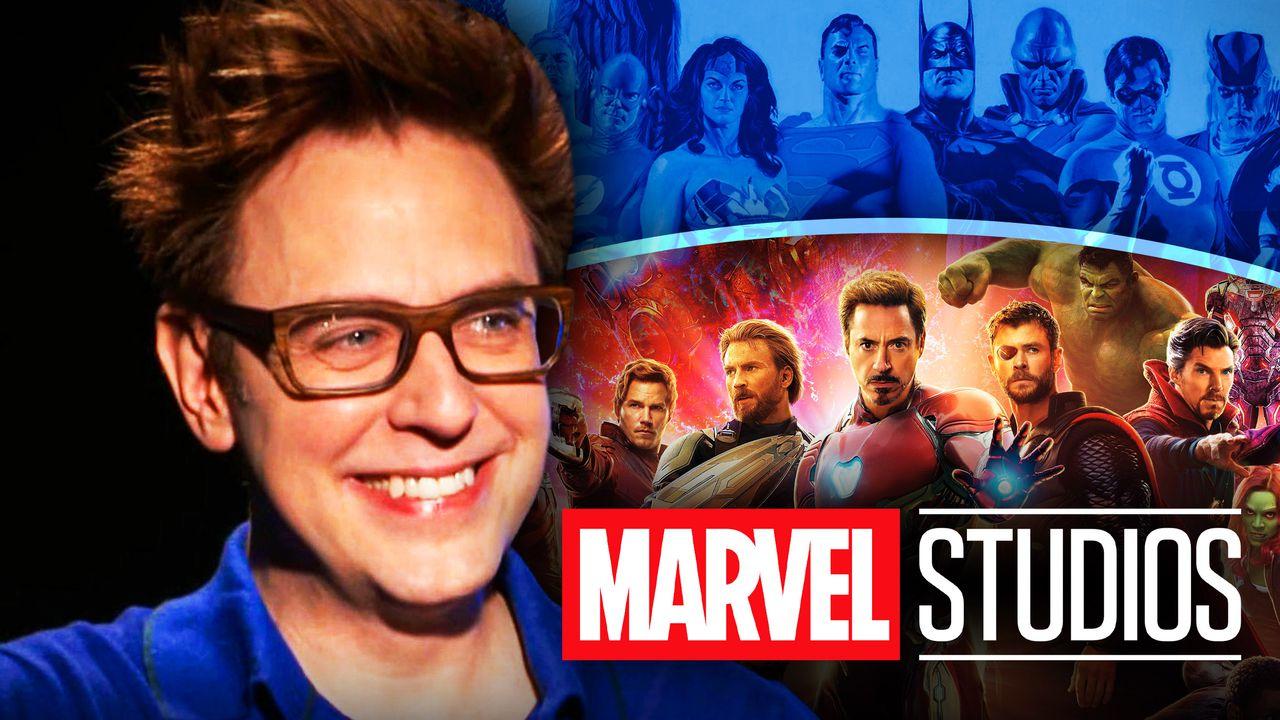 A Marvel Studios producer has left the MCU to join James Gunn and Peter Safran's new DCU. 
Following James Gunn's own jump from the red brand to the blue in October 2022, the writer and director turned exec expressed interest in having his Guardians cast follow.  
Since Guardians of the Galaxy Vol. 3 has yet to be released, whether Gunn's hopes will become reality remains to be seen. 
However, the range of Marvel talent who could jump ship to DC Studios doesn't just apply to actors. In fact, one MCU producer already has. 
Moon Knight Producer Joins James Gunn's DCU
As reported by Gizmodo, the MCU writer and producer joining James Gunn's band of DCU architects is Moon Knight's Jeremy Slater.
Gunn named Slater as one of the creatives who he and Safran have "been meeting with and, you know, putting all of this together:"
"Tom King has been my partner throughout all of this. He was giving me answers to shit before I took the job. So me, him, Christal Henry who worked on 'Watchmen' and is doing 'Waller,' Christina Hodson who wrote 'The Flash.' Drew Goddard, who you guys probably know. Jeremy Slater, who just did 'Moon Knight.' That group of people we've been meeting with and, you know, putting all of this together."
Slater is no stranger to franchises or superpowered beings. 
In addition to 2022's Moon Knight starring Oscar Issac, Slater wrote 2015's Fantastic Four, The Umbrella Academy, and is also penning Mortal Kombat 2 for HBO Max. 
From what has been shared about the new DCU thus far, Slater and the rest of the studio's creative team have already put a lot together, and it sounds as if they will continue to do so.
For example, in other comments from Gunn shared via Collider, he claimed that there's already an "eight to ten-year plan," but that's not "the ending of the universe:"
"We already know the eight to ten-year plan [are these] two chapters, and there's an ending to our basic story that we tell there, but it's not the ending of the universe."
Just when Slater jumped ship from Marvel to DC is unknown.  
However, in an exclusive 2022 interview with The Direct, he sounded unsure about his MCU tenure in discussing Moon Knight's future:
"Whoever gets to tell the next 'Moon Knight' story, whether that's me or someone else, that is an exciting promise. This guy's story is definitely not done."
On the day Gunn and Safran formally revealed DC Studios' Chapter 1: Gods and Monsters slate, Jeremy Slater praised the members of his new team on Twitter, referring to them as "stone-cold geniuses" while also sharing how "lucky" he feels to be part of the new DCU:
"I can't even begin to tell you how cool/humbling/terrifying it is to be surrounded by this many stone-cold geniuses. James and Peter are building something truly special for the fans, and I feel so damn lucky to be a part of it."
A New Layer to the Marvel & DC Rivalry
Even before Warner Bros. tapped Gunn and Safran to overhaul the DCU, it wasn't unusual for on-screen and behind-the-screen talent to have both Marvel and DC on their resumes. 
Joss Whedon was one of the first directors with this claim, having helmed Marvel's The Avengers and DC's Justice League. 
And, in 2023, Jeremy Slater is far from the only talent with both studios to his name.
For instance, Shazam! Fury of the Gods' Zachary Levi has also appeared in Thor: The Dark World and Thor: Ragnarok, and Spider-Man: Homecoming's Michael Keaton is set to reprise his role as Batman in The Flash. 
Another example is Ant-Man 3's David Dastmalchian who starred in DC's The Suicide Squad and which happened to be directed by James Gunn.  
This trend is guaranteed to continue considering the sheer volume of roles that both of these franchises will offer. 
However, since Gunn was from Marvel Studios and is now co-heading DC Studios, going from one franchise to the other will be perceived differently.
No longer is the rivalry between the two studios limited to just their fictional characters. Moving forward, the public is going to consider the rivalry to also extend to the studio's real-world individuals. 
Therefore, any news of Marvel talent deciding to follow Slater's lead is sure to generate more buzz and likely be perceived differently than it ever was before.