Spider-Man: Across the Spider-Verse cast includes many characters and actors returning from Into the Spider-Verse, along with some awesome new additions!
The upcoming Spider-Verse sequel is set to jump back into the wall-crawling fun, focusing on the epic journey of Miles Morales as he discovers what it means to be Spider-Man.
The film has been described as a Multiversal "love story" with a colorful cast of characters both new and old. 
Spider-Man: Across the Spider-Verse Cast
Shameik Moore - Miles Morales
Headlining the Spider-Verse sequel is Shameik Moore as Miles Morales. After his character discovered his Spidey abilities in the first film, Across the Spider-Verse sees the character grapple with what it means to be Spider-Man. 
This version of Miles has grown up a tad since the last film, dealing with his first love, nosy parents, and wanting to belong (typical teenager stuff). This young hero's journey is pushed to the forefront in the sequel. It has also been teased that he will be getting a couple of upgrades along the way. 
Hailee Steinfeld - Gwen Stacey
Coming off her live-action superhero debut in Disney+'s Hawkeye, Hailee Steinfeld is set to reprise her role as Gwen Stacey/Spider-Gwen in Spider-Verse 2. This time around, Steinfeld's webhead is entangled in a love triangle, between her, Miles, and the newly-introduced Hobart "Hobie" Brown/Spider-Punk. 
While fans got a taste of Gwen's world in the first Spider-Verse film, the sequel will seemingly dive even deeper into the character. Her father, George Stacey, plays an important part in the film, with the adventure even taking fans to her version of New York somewhere across the Multiverse.
Gwen will play a key role in the finale to the Spider-Verse trilogy, with the directors teasing that there may be more Multiversal versions of the hero on the way.
Oscar Isaac - Miguel O'Hara/Spider-Man 2099
After only appearing in Into the Spider-Verse's post-credits scene, Oscar Isaac's Miguel O'Hara/Spider-Man 2099 has a major part to play in the upcoming sequel. This wall-crawling hero "doesn't have a sense of humor" and is "very serious" according to Isaac, something that has been seen in the film's trailers.
Leading a group of Multiversal Spider-Man Varients known as the Spider-People, Spider-Man 2099 serves as somewhat of an antagonist towards Miles in Across the Spider-Verse. The self-described "best Spider-Man in the Multiverse," serves as a gatekeeper to the Spidey team, something that Miles wants so desperately to be a part of. 
Jake Johnson - Peter B. Parker
Another returning actor to the world of Spider-Verse is Jake Johnson as Peter B. Parker. Johnson's webhead was the Jedi master to Miles Morales' padawan in the first film, as he was transported across the Multiverse essentially to the feet of Shameik Moore's young hero. 
Despite over 240 characters set to appear in Across the Spider-Verse, Peter B. Parker will still get his time to shine. The elder statesman was recently revealed to be a father in the upcoming sequel, with a web-slinging baby named Mayday Parker in his stead.  
Daniel Kaluuya - Hobart "Hobie" Brown/Spider-Punk
One of the exciting new Spider-Man Varients at the heart of Across the Spider-Verse's story is Hobart "Hobie" Brown/Spider-Punk, played by Black Panther alum Daniel Kaluuya.
This punk-rock version of Marvel's classic wall-crawler has been an opportunity for Kaluuya to get back to his roots, as the character "sounds exactly like [him]," being from Camden. Hobie Brown acts as one of the corners of the love triangle at the center of the film, seemingly taking a liking to Hailee Steinfeld's Gwen Stacey.
Hobie is one of the few characters that went through a fairly substantial design change between Spider-Verse 2's theatrical and digital releases, receiving an updated color palette and detailing in the home release.
Issa Rae - Jessica Drew/Spider-Woman
Insecure star Issa Rae makes her Marvel debut in Spider-Verse 2, playing Jessica Drew (aka Spider-Woman). Her hero is pregnant during Across the Spider-Verse, but she has been seen getting in on the action alongside a handful of other Spider-People nonetheless
Rae's Spider-Woman uses her Spidey abilities alongside a bright red motorcycle, creating a unique fighting style all to her own. 
Karan Soni - Pavitr Prabhakar/Spider-Man India
Before reprising his fan-favorite taxi driver role in 2024's Deadpool 3, Karan Soni suits up as Pavitr Prabhakar/Spider-Man India. This alternate take on Peter Parker is one of the main characters of the film, alongside the likes of Miles Morales, Gwen Stacey, and Hobie Brown. 
Spider-Man India's universe is one of the many alternate realities Across the Spider-Verse explores, with the team headed to Mumbattan, which has been described as "Manhattan but in reverse." Of the various art styles shown off so far in the film, Spider-Man India and his world look to be one of the most striking.
Jason Schwartzman - Jonathan Ohnn/The Spot
Playing Across the Spider-Verse's main villain The Spot is Jason Schwartzman. Schwartzman's Multiversal big bad is "covered in interdimensional portals," creating this eye-catching watercolor bleed effect that director Joaquim Dos Santos called "artistry come to life."
And this will not be a one-and-done deal for Schwartzman in the franchise, as the Spot is already confirmed to also be the villain in next year's Beyond the Spider-Verse as well. 
Brian Tyree Henry - Jefferson Davis
Brian Tyree Henry will return in Across the Spider-Verse, lending his voice to Miles' police officer father Jefferson Davis. After Davis lost his brother in the first film, it will be fascinating to see if he becomes even more protective of his son in the sequel.
In the sequel, Davis is set to take on a much more important role in the police department, but this promotion ends up as the turning point of not just his career, but ultimately, his life. (and Miles will learn this the hard way).
Since the 2018 original film, Henry made his live-action superhero debut, playing Phastos in Marvel Studios' Eternals.
Luna Lauren Vélez - Rio Morales
Playing opposite Brian Tyree Henry's Jefferson Davis is Luna Lauren Vélez as Rio Morales. Being the mother of Miles, Rio will have to deal with "[her] little man not being [her] little boy" anymore, as the teenage hero starts to grow up. 
Just like the first film, Rio and Jefferson are the emotional backbones of this Spider-Verse story, serving as the thing Miles always comes back to when wondering why he became a hero in the first place. 
Andy Samberg - Ben Reilly
Andy Samberg finally made his Marvel debut in Across the Spider-Verse!
Samberg plays Ben Reilly, aka. the Scarlet Spider, in the Spider-Verse sequel. In the comics, Ben Reilly is a clone of Peter Parker.
Ben Reilly acts as one of the loyal allies of Miguel O'Hara in Spider-Verse 2. 
Amandla Stenberg - Margo Kess/Spider Byte
Amandla Stenberg plays Margo Kess aka Spider Byte in Spider-Verse 2. 
The character serves as the point person of the Spider Society's interface to bring back time anomalies to their respective universes. 
At the end of the sequel, Spider Byte joins Gwen Stacy's team to try and find Miles across the Multiverse. 
Greta Lee - Lyla
Greta Lee takes on the role of Lyla in Across the Spider-Verse.
While fans may not recognize the name at first glance, Lyla is the AI assistant of Oscar Isaac's Miguel O'Hara who was heard in the Into the Spider-Verse post-credit scene.
Jorma Taccone - Vulture
The Lonely Island's Jorma Taccone will get in on the Spider-Verse fun in the upcoming sequel, playing the longtime Spidey villain, Adrian Toomes/Vulture.
Taccone's take on the character will come with a whole new look, sporting more actual bird feathers than his recent live-action counterpart played by Michael Keaton. 
Shea Whigham - George Stacy
Revealed alongside the casting of Jorma Taccone was Shea Whigham as George Stacey. 
The father of Hailee Steinfeld's Gwen initially plays as an antagonistic force, though the sequel proves that a father's love for his daughter is unmatched.
One theory emerging from Spider-Verse 2 also posits that George Stacy, or a version of him, may have been an important figure in another hero's life.
Rachel Dratch - C. Weber
Getting a small part in Across the Spider-Verse is Rachel Dratch as C. Weber, Miles Morales' counselor at Visions Academy.
Weber holds a meeting with Miles and his parents, which is quickly upended by the pettiness of The Spot.
Peter Sohn - Ganke
Pixar animator Peter Sohn makes his Spider-Verse debut as the voice of Ganke in the sequel. 
In the film, Miles and Ganke has yet to form a strong friendship despite the latter knowing the former's secret. However, given that they are best friends in the comics, there's a strong chance that the pair will eventually be close.
Michael Rianda - Spider-Man Patient
In a bit of a fun cameo, Michael Rianda will play the Spider-Man patient shown seeing a therapist at the end of the film's second official trailer. 
Rianda is known for his work as the director and co-writer on 2019's animated epic The Mitchells vs the Machines, and, according to a tweet from the filmmaker, was brought in for temporary "scratch" voice work, that has not (and likely will not) be replaced.
Peggy Lu - Mrs. Chen (from Venom)
While Spider-Verse 2 promos already spoiled it, seeing Peggy Lu back as Mrs. Chen is a welcome sight. 
The character, who is originally from Tom Hardy's Venom movies, appears during a brief sequence of The Spot's Multiverse hopping. 
Donald Glover - Aaron Davis/Prowler (alternate Earth)
In a surprise and unexpected appearance, Donald Glover returns as an alternate version of Aaron Davis in Spider-Man: Across the Spider-Verse. The character appears as Prowler and is one of the prisoners that the Spider Society captured. 
Glover has a one-scene appearance as Aaron Davis in 2017's Spider-Man: Homecoming, briefly interacting with Tom Holland's Spidey. A piece of concept confirmed that Glover's character in Spider-Verse 2 is indeed the same version from the MCU.
Josh Keaton - Spectacular Spider-Man
Josh Keaton makes his triumphant return as the Spectacular Spider-Man in Across the Spider-Verse. The character had a brief yet notable role when he tries to tell Miles that "canon events" are part of becoming Spider-Man. 
In Spider-Verse lore, canon events are fixed points in the timeline that are required to happen.
Yuri Lowenthal - PlayStation Spider-Man
Yuri Lowenthal reprises his role as PlayStation Spider-Man in Spider-Verse 2. The character makes a brief appearance during Miles' first tour around the Spider Society. 
Alfred Molina - Doctor Octopus (voice cameo)
After appearing in Spider-Man: No Way Home, Alfred Molina has a brief voice cameo in Across the Spider-Verse. The villain's iconic "Hello, Peter" was heard during Miles' escape sequence in the Spider Society headquarters.
J.K. Simmons - LEGO J. Jonah Jameson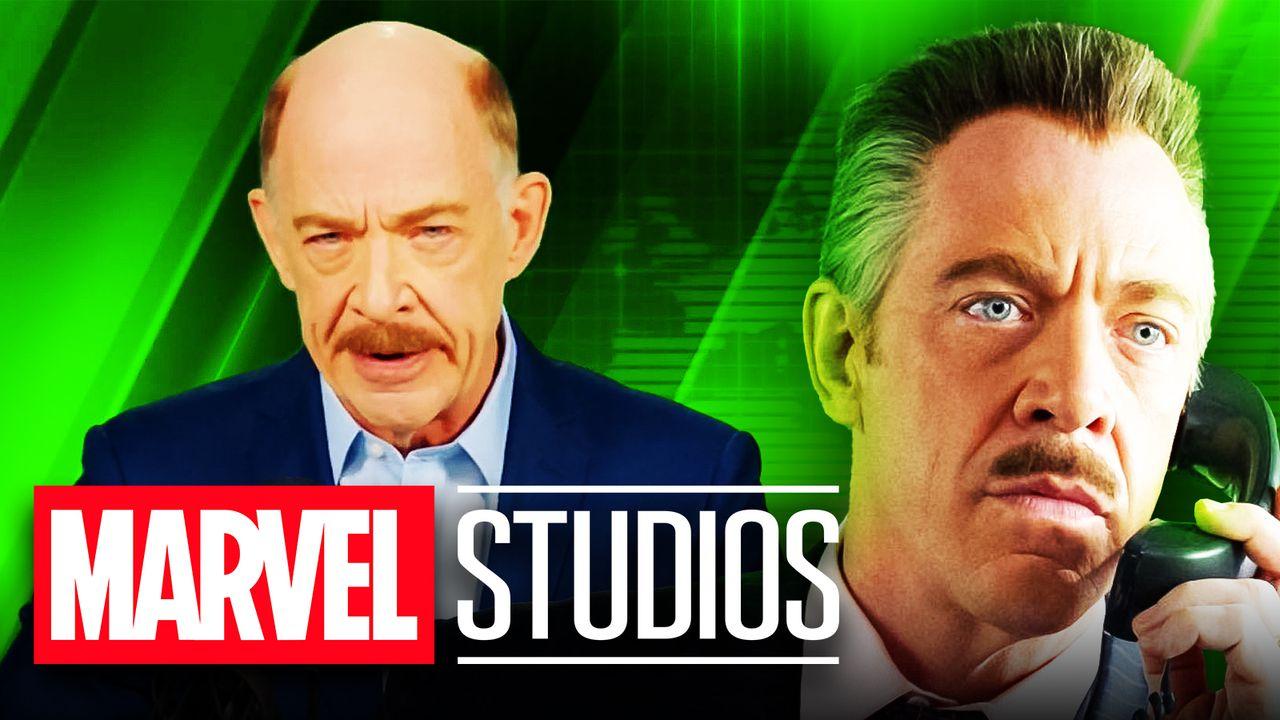 J.K. Simmons returns as J. Jonah Jameson in Spider-Man: Across the Spider-Verse, but his version is vastly different from his previous counterparts. Instead of portraying a live-action Variant of the character, Simmons voices a LEGO version of Jameson. 
Andrew Garfield - The Amazing Spider-Man
Although it's previous footage from 2012's The Amazing Spider-Man, Andrew Garfield returns as Peter Parker in Spider-Verse 2. The character appears via archival footage, showing Peter grieving over Captain Stacy's death at the end of the movie. 
Tobey Maguire - Friendly Neighborhood Spider-Man
Tobey Maguire also makes a brief appearance through archival footage in Across the Spider-Verse. The footage shows the actor's version of Peter Parker crying over Ben Parker's death from the first Spider-Man movie.
Mahershala Ali - Aaron Davis
Mahershala Ali returns as an alternate version of Aaron Davis that Miles encounters upon arriving on Earth-42, who quickly realizes that there's something not quite right with his nephew.
Ali's new version of Uncle Aaron went through a few different iterations during development, with several other outfits for the Variant considered.
Jharrell Jerome - Miles G. Morales
Jharell Jerome stars as the alternate version of Miles Morales that inhabits Earth-42, taking on the role of the Prowler in his universe.
A movement test for Spider-Verse 2 reveals even more insight into Miles G. Morales' backstory, showing him committing crimes in his New York alongside his uncle.
---
Spideri-Man: Across the Spider-Verse is now playing in theaters worldwide.
---
Release Date
June 02, 2023
Platform
Theaters
Klein Felt is a Senior Editor at The Direct. Joining the website back in 2020, he helped jumpstart video game content on The Direct. Klein plays a vital role as a part of the site's content team, demonstrating expertise in all things PlayStation, Marvel, and the greater entertainment industry.