New Spider-Man: Across the Spider-Verse concept art proves Donald Glover's Prowler is from a familiar cinematic universe. 
While Sony crammed Spider-Verse 2 with Spider-People and web-slinging references, one of the biggest surprises came when the actor appeared on-screen in a Prowler suit, trapped in the Spider Society headquarters. 
Not only was his role one of the animated sequel's uses of live-action actors, but a meta nod to real-life efforts to cast Glover as Spidey, as well as his brief Spider-Man: Homecoming role as Miles' Uncle Aaron, prompting fans to wonder if his Spider-Verse cameo was, in fact, a character reprisal. 
Spider-Verse Art Confirms MCU Status of Donald Glover's Prowler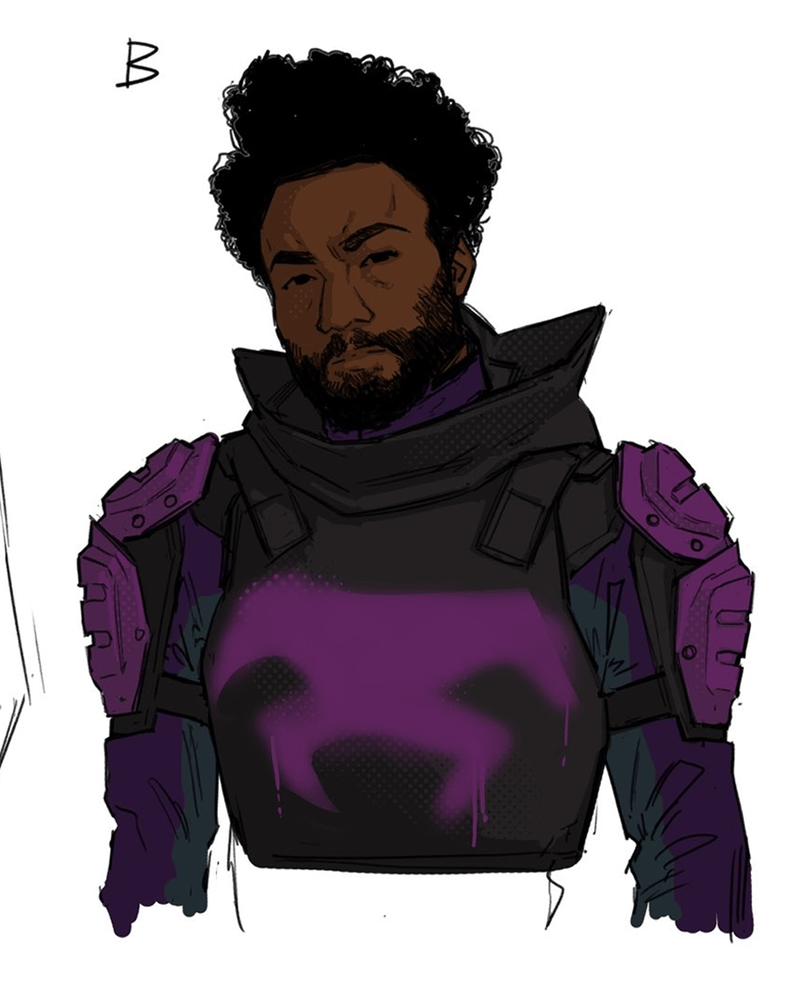 Kristafer Anka, a comic book artist and Spider-Man: Across the Spider-Verse contributor, posted concept art of Donald Glover's Prowler design which referred to him as the "MCU Prowler." 
This seemingly confirms Glover's Homecoming cameo, where he references his nephew, is more than just a wink to Miles Morales' story but actual confirmation of a Prowler Variant's existence in the MCU.
While Anka doesn't specifically say Glover's character is the MCU's on-screen Prowler, the artwork is labeled as such. 
In Anka's Twitter post, he described how he was inspired by "racing suits and riot gear" in designing the Prowler's suit:
"'We have a Prowler' One of the more fun surprising assignments was getting to lay down some first pass designs for the #DonaldGlover #Prowler I looked at racing suits and riot gear to try to translate the prowler design into real life"
The Future of Donald Glover's Prowler?
Given the ties Sony is establishing between its live-action Spider-Man Universe, the animated Spider-Verse, and the MCU, Donald Glover's Prowler being the Marvel Studios Prowler was expected. 
But even so, fans are sure to appreciate the confirmation as it not only lends more to Glover's Homecoming cameo but also the MCU existence of a Miles Morales. 
Unfortunately, however, this doesn't mean Glover will continue to appear in either the Spider-Verse or the MCU. 
According to Phil Lord and Chris Miller, they pitched the cameo to Glover with the promise that "It will be so easy. And you commit to nothing." 
Therefore, it seems his presence wasn't a set-up for a future role but rather just a fun idea. 
But again, that was before Across the Spider-Verse premiered and the audience's enthusiastic reaction to the role. And, with so many Spidey stories still in the fire, including Spider-Man 4 and Beyond the Spider-Verse, plans could easily change. 
As for Anka's inspiration for the Prowler's live-action suit, the riot gear and racing suits are interesting. Not only do they ground Into the Spider-Verse's dramatic suit into the real-world feel of the MCU, but they provide insight into the background of this Aaron Davis Variant. 
Spider-Man: Across the Spider-Verse is playing in theaters worldwide; Spider-Man: Beyond the Spider-Verse arrives in theaters on March 29, 2024.