With the first trailer now in the rearview mirror, Spider-Man: No Way Home remains the most hotly discussed film on the internet as anticipation continues to grow for Tom Holland and Benedict Cumberbatch's multiverse epic.
The highly-anticipated sequel is set to be a trip down nostalgia avenue for Spider-Man fans, as iconic villains from past franchises make their long-awaited comebacks including Green Goblin, Doc Ock, Electro, Sandman, and more.
On top of the blockbuster's returning villains, evidence is continuing to build that Andrew Garfield and Tobey Maguire will reprise their wall-crawler roles to team up with Tom Holland's MCU hero.
As fans continue to speculate on when the second trailer will hit the web and possibly offer the first confirmation of the speculated Spider-Verse team-up, a magazine cover teased the film's multiversal Sinister Six villains.
Magazine Cover Teases No Way Home's Villains
Empire Magazine revealed two covers for its upcoming Spider-Man: No Way Home-centric issue, offering a new look at Tom Holland's hero along with teases of Alfred Molina's Doc Ock, Willem Dafoe's Green Goblin, and Jamie Foxx's Electro.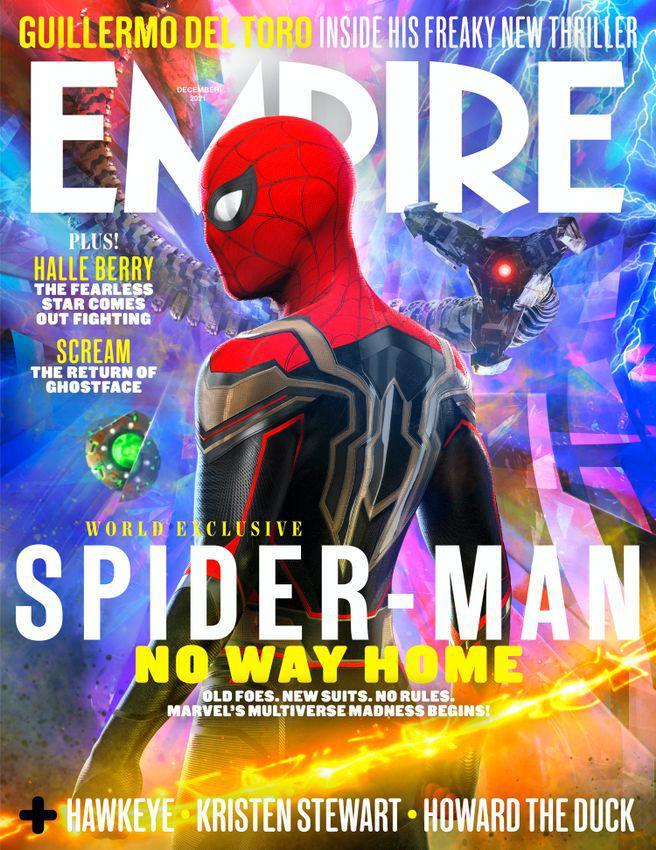 The reality-bending design offered the best look yet at one of Peter Parker's new Spider-Man suits which he will don in the sequel:
An alternate cover will be available exclusively for subscribers which similarly teases the film's multiversal villains and magical elements. Additionally, the colorful cover includes the first official tease of Thomas Haden Church's return as Sandman with a sandy fist punching through a portal:
Spider-Man: No Way Home will arrive in theaters on December 17, 2021, but before then, the next issue of Empire Magazine will hit shelves on October 28, 2021.
When Will No Way Home's Poster Release?
Empire Magazine's vibrant artwork includes teases for Doc Ock, Electro, Green Goblin, Lizard, Sandman, and possibly even Mysterio. Funnily enough, the newly-released cover is the closest thing No Way Home has seen to a poster yet.
The highly-anticipated release of No Way Home is under two months away, and Sony has yet to release an official poster for its upcoming blockbuster. Typically, a movie poster will drop online alongside its first trailer, but with months now passed since the debut look, there is still no promotional artwork insight.
With the second trailer expected to arrive in the coming weeks, the main poster will probably hit the internet alongside it. Since the next look has been theorized to include footage of Tobey Maguire and Andrew Garfield's return, perhaps Sony is waiting until that drops to release a poster that includes them.
After all, a movie poster with all three Spider-Men alongside all their most iconic villains would be bound to sell tickets better than anything which simply includes Tom Holland. Although, it remains unclear if the rumored Spider-Verse team-up will be part of Sony's No Way Home marketing strategy or if that surprise will be saved for release.
Recent reports suggested the second trailer would be released imminently in order to be played before Eternals, but that doesn't seem to be the case, unfortunately. Since studios typically drop trailers before major theatrical openings to ensure they are played before the biggest audiences possible, the next likely candidate is Sony's Ghostbusters: Afterlife, which releases on November 19, 2021.
Based on all the evidence, Spider-Man: No Way Home's second trailer looks likely to release in mid-to-late November before the multiversal epic hits theaters on December 17, 2021.
---