Four alternate final suit designs were just revealed for Tom Holland's webhead in Spider-Man: No Way Home.
Ever since Far From Home, Holland's Spider-Man has been sporting a red and black color scheme—with some gold thrown in later for good measure. Fans were thrilled when that finally changed at the end of No Way Home.
The movie's final scene saw Holland's hero swinging around a snowy New York in a perfectly comic-accurate suit. Many claim it to be one of the best, if not the best, live-action suits ever designed for the character.
Four Rejected Designs for Spider-Man's New Suit
The Spider-Man: No Way Home - The Art of the Movie book recently released worldwide, and its pages revealed four rejected designs for Tom Holland's final suit in the movie.
Ryan Meinerding, the Head of Visual Development at Marvel Studios, noted that these suits were meant to showcase Peter Parker "totally embracing everything Spider-Man:"
"The idea behind [these suits] is that he's seen other Spideys, and he's totally embracing everything Spider-Man—he's all in, and he's genius enough to actually make it."
The first of the four rejected designs had a classic circular red spider logo on Spidey's backside, with a black variation on its chest. The shades of blue are far darker, and closer to what Tobey Maguire wore.
This design featured some classic, rounder Spidey eyes, with a suit of looser fit—it's basically not so perfectly put together.
The artist explained that these suits were "meant to take the best of the previous suits and put it together into a truly simply iconic, classic look."
Another design opted to include some bigger under-arm webbing that would have always been present.
The darker blue remained while the black spider logo on his chest grew a tad larger and edgier.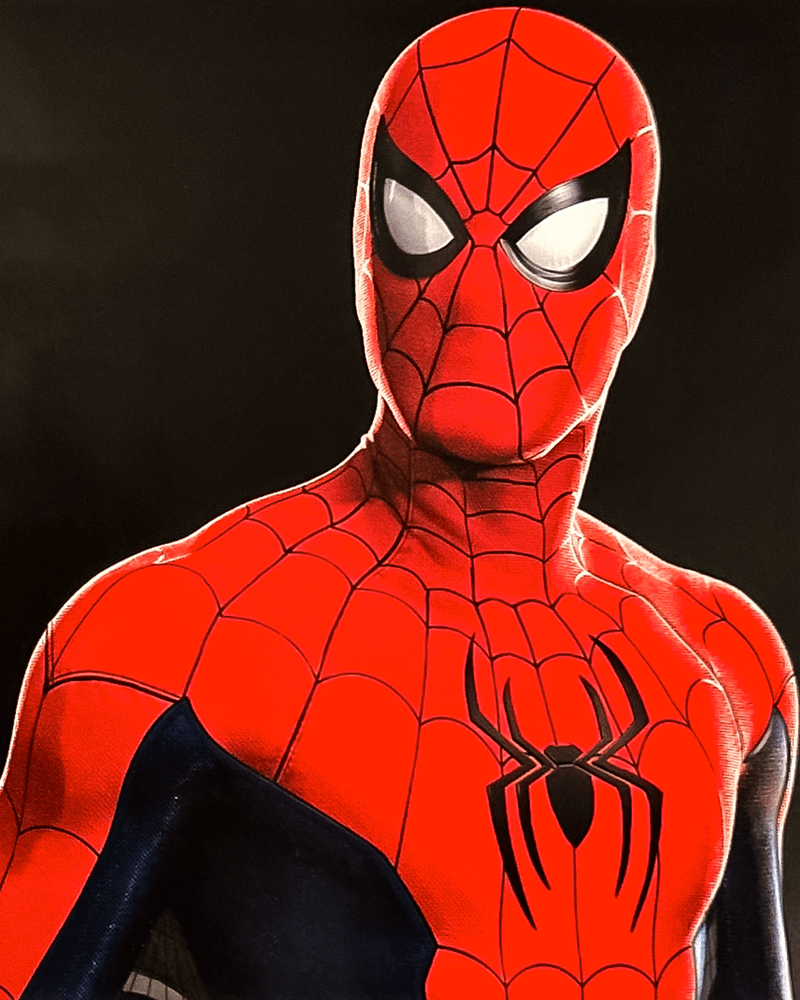 The final rejected design had a spider emblem on the front and back that most closely mirrored Tobey Maguire's.
One suit even explored the idea of Peter 3D-printing it using his own web-fluid. Meinerding noted that the unique approach would have been "a cool deviation:"
"This would be a cool deviation from typical Spider-Man textures, and could have an irregular and simplified quality to it."
At the end of the day, this is what Tom Holland's final suit looked like when No Way Home hit the big screen:
Tom Holland's Final Suit Is a Winner
Based on the reaction to the final suit design from fans, it's clear that Marvel Studios' choice was the winner.
What makes the suit even better is that it's canonically inspired by both Tobey Maguire and Andrew Garfield's Spidey suits—which is a neat detail only possible thanks to the Multiverse.
Now the problem is figuring out when fans will see Tom Holland sport the suit again.
A Spider-Man 4 is confirmed to be in development, but its release date remains a mystery. With the ongoing WGA and SAG-AFTRA strikes, those details won't be finalized for quite some time.
Hopefully, when Spidey does return to screens, he doesn't just swap out his fancy new suit for something else—something the hero tends to do often.
Spider-Man: No Way Home is now available to purchase wherever movies are sold.