Beyond being the culmination of the NFL season, the Super Bowl is a golden opportunity for Hollywood to advertise its most-anticipated upcoming films to the largest television audience of the year. Professional football's grandest stage has been the most sought after promotional day for decades, and many studios fast-track their marketing campaigns to ensure their blockbusters' first looks are seen by the all-but-guaranteed nine-figure viewership.
Marvel, DC, and Star Wars were fairly tame at last year's big game, with only the MCU's The Falcon and the Winter Soldier debuting new footage. Considering the COVID-19 climate in February 2021, the Anthony Mackie-led streaming series was just about the only project guaranteed to meet its release date on Disney's slate. The House of Mouse's theatrical concerns were validated just a month later, as Black Widow was delayed for the third and final time to July 2021.
Since then, the entertainment world has somewhat stabilized. Aside from one production delay domino effect, Marvel's 2022 schedule is now relatively set in stone. Warner Bros. recently reaffirmed that The Batman will meet its March release date, while both Black Adam and Aquaman and the Lost Kingdom are tracking well towards their July and December drops, respectively.
With less unpredictability and a more populated year of content ahead, what trailers can fans expect at Super Bowl LVI?
Not Happening / Already Aired
Let's get these out of the way.
Top studios Warner Bros., Sony Pictures, and Apple will reportedly once again sit out of the big game. This means films like Morbius, Black Adam, The Flash, Aquaman and the Lost Kingdom, and next month's The Batman will not have new footage airing during the Super Bowl.
While it may seem like Warner and Sony are sleeping on a winning lottery ticket, individual marketing campaigns for their 2022 slate during the Cincinnati Bengals and Los Angeles Rams' clash do not make much sense. 
Black Adam, The Flash, and Aquaman 2 are all at least five months away. The Batman is already tracking to be the biggest caped crusader opening of all time and is actively in the weeds for its expensive final marketing push. Morbius has been a financial nightmare for Sony Pictures, culminating in six separate delays to its release date. Dropping another approximately $7 million for 30 seconds of commercial time feels more risk than reward for the Jared Leto-led film.
Warner Bros. did release a 60-second spot "created for Super Bowl weekend" highlighting their 2022 DC projects, but it's unclear if that trailer will air during the championship match-up itself or just the pre-game festivities. Either way, no new DC footage beyond what was seen in this already-aired trailer is coming this Sunday.
Best Bets
Doctor Strange in the Multiverse of Madness Spot
The concept about which we know frighteningly little may be getting ready to unveil new information.
For over a decade, Marvel Studios has dominated the golden release date on May's first Friday. While 2020 and 2021 had other plans for the lucrative franchise, the MCU is known to couple their May releases with a Super Bowl spot.
Everything from Iron Man 3 to Avengers: Endgame has seen the spotlight at the NFL's championship clash. Even before the pandemic surged in the United States, Black Widow debuted a mini trailer during Super Bowl LIV when it was still tracking for a May 2020 release.
With less than three months before it hits theaters, Doctor Strange in the Multiverse of Madness seems ripe for a promotional push. The Benedict Cumberbatch-led sequel has only aired one trailer thus far, which will be nearly two months old by the time Super Bowl Sunday rolls around.
As May 6 inches closer, February 13 feels like the perfect opportunity for Marvel Studios to officially kick off the Doctor Strange 2 marketing campaign.
Unlike last year's The Falcon and the Winter Soldier spot, fans should not expect this Doctor Strange 2 ad to be coupled with a full trailer. Both Avengers: Infinity War and Avengers: Endgame aired commercials at the Super Bowl ahead of their late April releases, but they didn't drop a final trailer until mid-March. Multiverse of Madness feels like a lock for a TV spot, but don't expect another trailer for at least a couple of weeks.
Disney+ Sizzle Reel
How does one maximize air time that costs nearly $300,000 per second? Highlight multiple projects at once.
Marvel Studios commanded conversation after Super Bowl LIV thanks to their "The Universe is Expanding" sizzle reel which highlighted WandaVision, The Falcon and the Winter Soldier, and Loki in one singular spot. With another packed year of streaming content on the horizon, Disney+ can utilize the same sizzle structure to promote upcoming shows from both Marvel Studios and Lucasfilm.
Barring any release shuffles, Disney+ has Moon Knight, Obi-Wan Kenobi, She-Hulk, Ms. Marvel, and Andor on the live-action docket for 2022. On top of that, both Secret Invasion and The Mandalorian Season 3 are actively in production, making a couple of brief seconds dedicated to those shows also possible.
2020's Marvel Studios sizzle reel included three projects, none of which had wrapped production at that time. Tom Hiddleston's appearance in that spot actually came eight days before Loki even officially began shooting. As of this writing, just about every aforementioned project slated for 2022 has finished filming.
If a Disney+ sizzle reel drops, expect Moon Knight and Obi-Wan Kenobi to dominate screen time with She-Hulk, Ms. Marvel, and Andor making cameo appearances. If this spot is closer to a full minute, a brief flash of Samuel L. Jackson's Nick Fury from Secret Invasion (a la Disney+ Day) and a shot of Pedro Pascal's Din Djarin from The Mandalorian's next season is more likely.
Dark Horses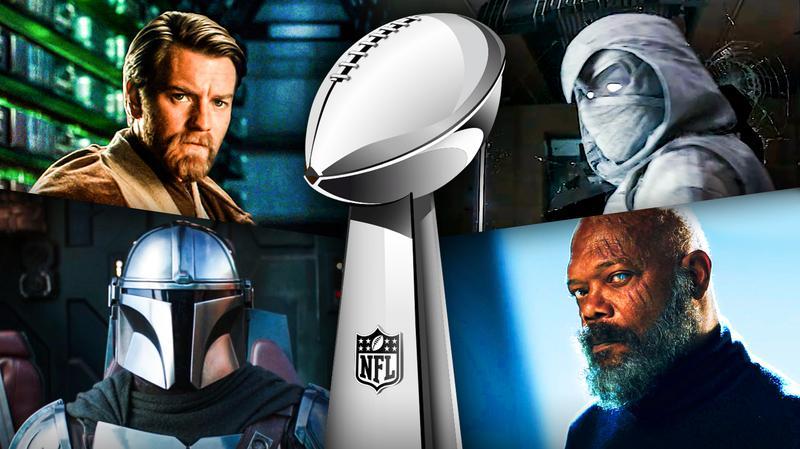 Obi-Wan Kenobi Spot
"Hello there."
Despite wrapping filming over five months ago, fans have yet to see a single glimpse at Ewan McGregor's solo series. Obi-Wan Kenobi is currently rumored to be released sometime this May, although the golden premiere date of May the 4th remains unconfirmed. 
With all the uncertainty surrounding the show's marketing campaign, an individual spot dedicated Obi-Wan Kenobi can't be guaranteed, but it is definitely on the radar. Super Bowl LVI comes just four days after the finale for The Book of Boba Fett airs. If Disney wants to continue the surge of Star Wars momentum it's experienced in recent weeks, the first look at Kenobi would satisfy fans galaxy-wide.
The biggest hold-up to a Kenobi spot is its release date. Unlike a Disney+ sizzle reel where all projects can be grouped into a "coming soon," Lucasfilm likely wants to couple the first Kenobi footage with where fans should mark their calendars.
As of this writing, Moon Knight's finale is scheduled to air on May 4. While that date historically belongs to Star Wars, Disney would not debut two of its streaming service's biggest individual episodes on the same day.
Kenobi's premiere date being given an unofficial window indicates fans are getting close to a trailer. Until it's set in stone, however, Obi-Wan Kenobi remains a dark horse.
Moon Knight Spot
Unlike any other streaming series in 2022, Moon Knight's premiere has been confirmed.
Oscar Isaac's MCU debut hits streaming screens on March 30, roughly six weeks after the Super Bowl. With just one trailer in its marketing campaign this far, Moon Knight is due for some follow-up footage. Considering how well the record-breaking first trailer performed during an earlier NFL playoff broadcast, Marvel may want to double down on its football-focused promotion for the series.
Further evidence comes in historical patterns. 2021's lone Marvel Super Bowl spot was given to The Falcon and the Winter Soldier, a series that also premiered in late March. 
That said, Moon Knight may not warrant the price tag of a Super Bowl commercial, especially if Disney is looking to highlight multiple projects throughout the broadcast.
Marvel Studios AND Star Wars Sizzle Reels
Considering the sheer magnitude of projects on Disney+'s 2022 slate, two sizzle reels may be justified.
While pricey, giving 30 seconds to both Marvel Studios and Lucasfilm allows both branches of the House of Mouse to flex a bit. Marvel's big three of Moon Knight, She-Hulk, and Ms. Marvel all get sizable shine, while leftover seconds can be dedicated to Secret Invasion and the animated I Am Groot. Even The Guardians of the Galaxy Holiday Special could get as much as a title card.
On the Star Wars side of things, Lucasfilm has as many as four projects to play with. Obi-Wan Kenobi will be the centerpiece, but The Bad Batch Season 2, Andor, and The Mandalorian Season 3 all have some polished footage a sizzle reel could play with. 
Doubtfuls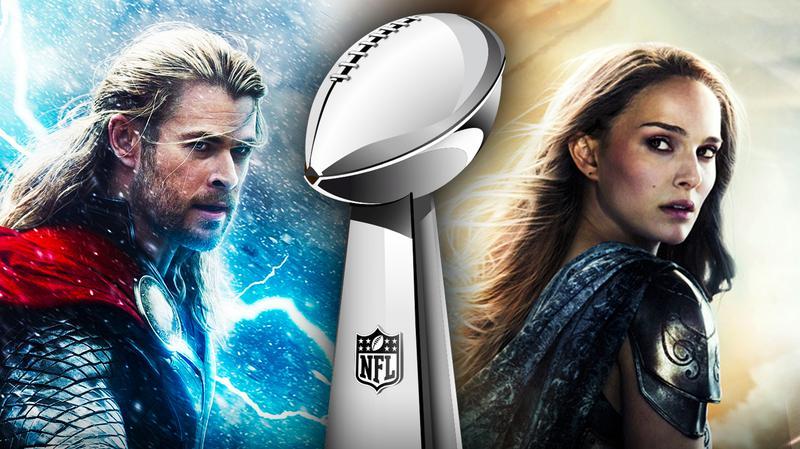 Thor: Love and Thunder
Fans will have to wait a little longer to see the God of Thunder's mighty return.
While it is just under five months away, Thor: Love and Thunder has a Sorcerer Supreme-sized obstacle in its way. Marvel is known to drop their summer release trailers before their May movies hit theaters, but launching Thor 4's first footage before Doctor Strange in the Multiverse of Madness really kicks off its campaign feels counter-productive.
That said, there is reason to believe Chris Hemsworth and Natalie Portman will show face during the big game.
Super Bowl LVI comes 145 days before Love and Thunder hits theaters. This places it on the short end of Marvel's typical "142 - 204 days" window for a film's first trailer. Recent MCU releases like Shang-Chi and the Legend of the Ten Rings and Eternals dropped their teasers 136 and 165 days, respectively, before premiering in theaters.
Marvel will likely let Multiverse of Madness eat for a bit before dropping the first look at Thor's fourquel, but past patterns don't rule new Love and Thunder footage out completely.
Super Bowl LVI airs this Sunday, February 13, on NBC.