Despite the film's delayed release and so much of the plot leaking online, Spider-Man: No Way Home continues to soldier on at the box office and exceed expectations as the flick recently became the first film to achieve a one-billion-dollar-gross since 2019. Even with major franchise releases also taking place following their own delay, including The King's Man and The Matrix Resurrections, Tom Holland's wall-crawler threequel remains atop the box office.
For now, the MCU has no big-screen releases planned until May, but a Marvel project will be back in theaters in April with Sony's Morbius finally coming to town.
Sony's latest Spider-Man spin-off will star Jared Leto as Dr. Michael Morbius who inadvertently turns himself into a vampire in trying to find a cure for his rare blood disease. To date, Morbius has suffered seven delays with the latest pushing it from January 28 to April 1, 2022.
While many assumed this came down to the Omicron variant of COVID-19 beginning to take the world by storm, a recent report has offered another explanation for the delay that surprisingly throws Spider-Man: No Way Home under the bus. 
No Way Home Caused Morbius' Delay
According to a recent report from Deadline, the ongoing box office success of Spider-Man: No Way Home was one catalyst in Morbius' latest delay.
After grossing over $1.37 billion worldwide to date, Marvel's latest Multiverse blockbuster looks to continue selling tickets on theater screens through the New Year - tickets that would otherwise be sold for Jared Leto's vampire flick that would've been in theaters at the same time. 
Given this, it appears Morbius' delay was done in part to allow No Way Home to continue succeeding and only further its box office final total while also giving Morbius the room it needs to breathe as Sony looks to establish their latest Spider-Man spin-off. 
A Complete History of Morbius Delays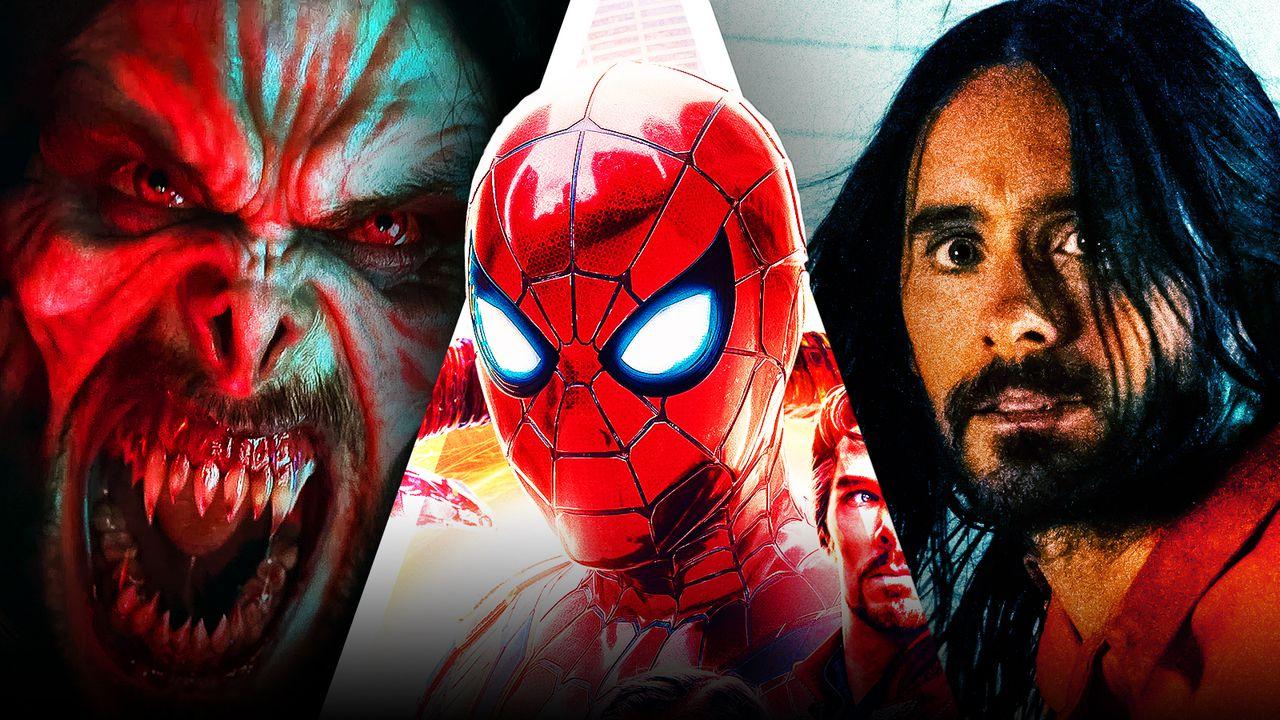 Saying Morbius had a troubled release plan is a HUGE understatement. The movie had 6 different release dates after its 5 delays between its initial July 31st, 2020 release date until its release on April 1st, 2022.
Below is every release date Morbius had, and why it was delayed:
July 31, 2020 (Initial release date)
March 19, 2021 (Delayed because of COVID-19 Pandemic)
October 8, 2021 (Delayed because of COVID-19 Case Surge)
January 21, 2022 (Delayed so that Morbius would not compete with the James Bond movie, No Time To Die)
January 28, 2022 (Delayed so that Morbius would not compete with The Black Phone)
April 1st, 2022 (Final release date, was delayed so that Spider-Man: No Way Home would have more time at the box office).