Marvel Studios has been having a banner year. Not only have they returned to the theater in a big way, they've also kicked off the streaming era by launching new shows on Disney+. WandaVision started this new endeavor in 2021, and now, Jeremy Renner's Hawkeye will finish it. 
The holiday-themed Marvel adventure releases in just a matter of weeks and will introduce the world to a new Avenger in Kate Bishop (portrayed by Hailee Steinfeld). Bishop looks to be a prodigious archer, making her the perfect protégé and partner to Renner's bow-wielding superhero. 
With Disney+ Day coming up on November 12, Marvel Studios is in full promo mode for its upcoming Marvel series. The studio is also teasing a bit of what is to come from Hawkeye in advance of the festivities. 
Kate Bishop in Action
A new TV spot for Disney Plus Day aired during Monday Night Football, featuring\ some new action shots from the upcoming Marvel Studios series Hawkeye. 
The first glimpse of new footage shows off Renner loading up to flip off a wall during some sort of battle sequence.
The load-up is followed by a flip from the longtime Avenger, showing that Clint Barton has still got it. Age doesn't appear to be slowing the former Avenger down for one moment.
The last glimpse of Renner that fans get is the hero completing his flip and drawing his signature bow.
Steinfeld's Kate Bishop also sees the spotlight, as she's showcased next on the run atop a city roof.
The young archer then goes into a slide to avoid her pursuers. 
Bishop then pops up and aims her bow at a shadowy figure parallel to her.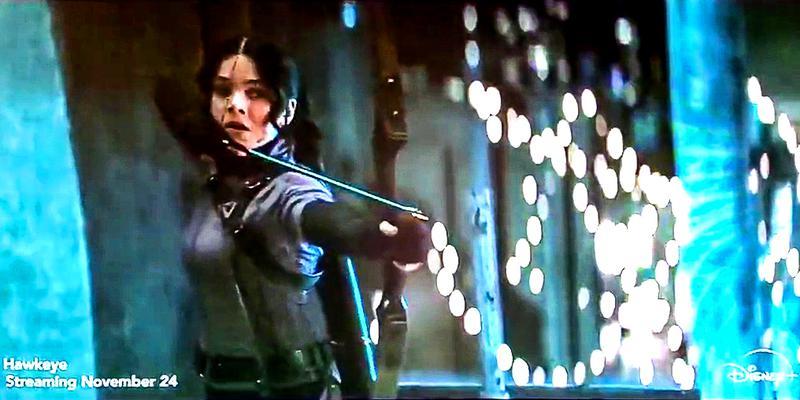 All the Hawkeye footage from the Disney+ spot can be watched below:
Archers on the Run
While it is exciting to see more of the action that will be on display in Hawkeye, these new shots do not offer much for fans to speculate on.
The glimpse at Clint doing his flip offers little to no new information, as the shot is just him in a rundown building showing off his acrobatics. It is in Kate Bishop's short clip that there may actually be something to glean. 
One thing that Kate's slide shows fans is a mysterious hooded figure in the background. This the possibilities for this character's identities are endless. Could it be the Tracksuit Mafia? The "Avengers-level threat" that has been teased? Or could this action sequence take place sometime in the past and that shady figure is Hawkeye in his Ronin outfit? 
It is anyone's guess at this point, but the MCU faithful will not have to wait long to find out, as Hawkeye debuts on Disney+ on November 24.
---