Seven Marvel actors from previous MCU movies and Disney+ shows were recast in new roles in Marvel Studios' latest film, Guardians of the Galaxy Vol. 3.
Marvel Studios has shown no hesitation in letting its actors play multiple roles in the MCU, with over a dozen actors taking on this responsibility across the last 15 years.
The Guardians of the Galaxy franchise already has one such star pulling double duty, with Sean Gunn providing the on-set reference for Rocket Raccoon while also playing Kraglin in the intergalactic trilogy. He even took on more duties for Vol. 3 by playing a younger version of Rocket in flashback scenes.
Guardians 3 Recasts Numerous MCU Actors
Sean Gunn was far from the only actor to be credited with more than one role in the Guardians threequel, however, as nine other Marvel actors were recast for new roles in James Gunn's final time directing and writing an MCU blockbuster.
1.) Judy Greer - War Pig
Chukwudi Iwuji's High Evolutionary experiments on countless animals across the universe, developing one massive-sized creature named War Pig that protected him at his home base. 
This character was voiced by MCU veteran Judy Greer, who previously played an important supporting role as Maggie Lang, Scott Lang's ex-wife.
Guardians of the Galaxy 3 marks Greer's third appearance in the MCU after playing Maggie in both 2015's Ant-Man and 2018's Ant-Man and the Wasp.
2.) Linda Cardellini - Lylla the Otter
Linda Cardellini joined the cast of Guardians of the Galaxy 3 as Lylla the Otter, reuniting with director/writer James Gunn for their sixth movie together since 2002.
Best known for her role as Velma Dinkley in the live-action Scooby-Doo movies, both of which featured Gunn as the writer, Cardellini also has a place in the MCU as Clint Barton's wife, Laura.
Cardellini first played this role in 2015's Avengers: Age of Ultron before returning in 2019's Avengers: Endgame and the 2021 Disney+ series, Hawkeye.
3.) Tara Strong - Mainframe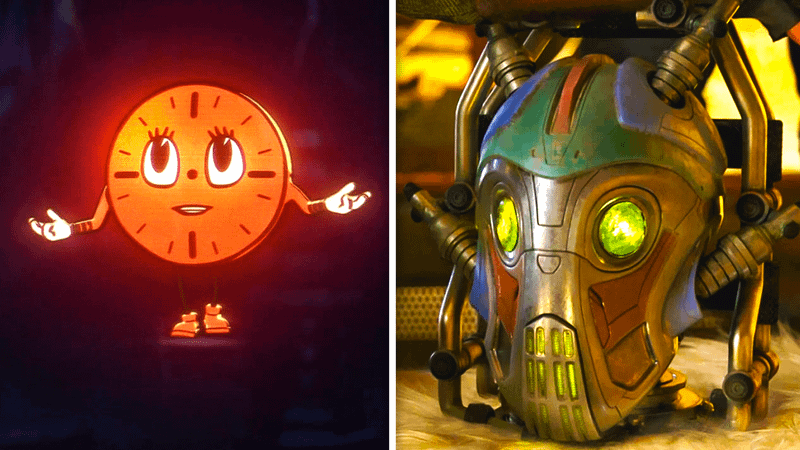 Tara Strong, one of the busiest and most accomplished voice actresses of this era, took on a second role in the MCU in Guardians of the Galaxy Vol. 3 as a member of the original Guardians team - Mainframe.
Strong replaced Grammy-nominated musician Miley Cyrus in the role after the scheduling for Cyrus didn't work out, although the singer only had one line in her mid-credits scene moment from Guardians of the Galaxy Vol. 2.
Along with her role as Mainframe, Strong is best known for her other MCU voiceover role as Miss Minutes. She portrayed the TVA character in Season 1 of Loki, and she's confirmed to return for Season 2 while also being rumored to appear in 2024's Deadpool 3.
4.) Miriam Shor - Recorder Vim
The High Evolutionary had his fair share of help going after Rocket and the Guardians in this new solo movie, including Recorder Vim, who worked with Orgocorp closely alongside Chukwudi Iwiji's villain.
Miriam Shor took the responsibility of playing this role in her second MCU outing, although her first Marvel role isn't as cut and dry in terms of its relation to the Marvel Studios narrative.
Her first role came in Season 1, Episode 8 of Netflix's Jessica Jones, playing a very minor role in that episode as Alisa Jones, who was revealed to be Jessica's own mother.
5.) Nathan Fillion - Master Karja
Nathan Fillion has worked with James Gunn on a number of occasions through the director's past movies, even boasting two appearances within the MCU itself along with his minor role in 2021's The Suicide Squad as The Detachable Kid (TDK).
In Guardians of the Galaxy 3, Fillion played the role of Master Karja, the chief of Orgocorp security's Orgosentries, as the Guardians infiltrated the company's facility.
Fillion also had a minor role in the original Guardians of the Galaxy movie, playing a giant blue inmate who wound up with Groot shoving branches into his nose and forcing him to the ground.
6.) Stephen Blackehart - Steemie
Gunn brought another one of his regulars back for Guardians of the Galaxy Vol. 3 with Stephen Blackehart, who actually has the most MCU appearances of anybody on this list.
Blackehart played a small role in Vol. 3 as a character named Steemie Blueliver, who works on Knowhere following the Guardians' takeover of the planet, seen co-piloting with Kraglin and participating in the card game with the Broker and Howard the Duck.
He also played the same role in both Guardians of the Galaxy and The Guardians of the Galaxy Holiday Special, and he played a Ravager named Brahl in Guardians of the Galaxy Vol. 2. 
7.) Mikaela Hoover - Floor the Rabbit
A quartet of animal experiments took the spotlight in flashback moments from Guardians of the Galaxy 3, with Mikaela Hoover providing one of the voices alongside fellow newcomers Linda Cardellini and Asim Chaudhry.
Hoover provided the voice for Floor the Rabbit, a white bunny who had two of her legs replaced with six mechanical spider legs along with a device around her mouth that allowed her to speak.
This marks Hoover's second appearance after having a couple of scenes in Guardians of the Galaxy, playing a non-speaking role as a Nova Corps assistant alongside Glenn Close, John C. Reilly, and Peter Serafinowicz
BONUS: Dee Bradley Baker - Blurp
Marvel Studios brought yet another adorable new creature into MCU lore along with Maria Bakalova's Cosmo the Space Dog, introducing a member of the alien F'saki species named Blurp.
Playing the voice of this new creature was Dee Bradley Baker, another wildly accomplished voice actor who's best known for his recent work playing the entire clone army and the Bad Batch in both Star Wars: The Clone Wars and Star Wars: The Bad Batch.
Baker also has another role in the MCU as a second fan-favorite creature, voicing the faceless winged animal Morris in 2021's Shang-Chi and the Legend of the Ten Rings.
BONUS: James Gunn - Lamb-Shank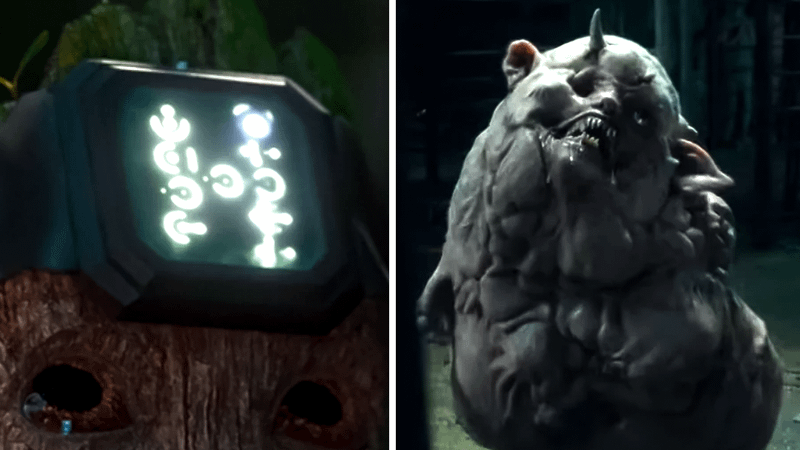 Adding to the tradition of MCU directors appearing in their own projects, which has already been seen from the Russo brothers and Taika Waititi, James Gunn himself makes a third cameo in a Guardians project with his final MCU production.
This movie sees Gunn voice the ugly-but-loveable High Evolutionary creation known as Lamb-Shank, who appeared during the third act of Guardians of the Galaxy 3 as Mantis and Drax looked upon him with disgust.
Gunn also played the maskless Sakaaran that held Yondu Udonta at gunpoint in Guardians of the Galaxy before Yondu's Yaka arrow-based killing spree, and he voiced the wristwatch that Baby Groot wore on his head in I Am Groot on Disney+.
Will Guardians 3 Stars Be Seen Again Elsewhere?
With James Gunn now taking his talents to the DC Universe, chances are high that he could use a few of the actors in Guardians of the Galaxy 3 for another round of action.
Sean Gunn is already confirmed for a double-dose of action in Creature Commandos, the first project in Chapter 1: Gods and Monsters, as he'll both voice Weasel and GI Robot in the new animated series.
There's also a real chance for him to come back later in the MCU story as well, with Kraglin now being part of the new Guardians team that debuted in the mid-credits scene from Guardians 3.
Of the above group, only Nathan Fillion has played a role in the DCU with his time in The Suicide Squad, with the rest of the group all still waiting for their first potential part with the blue brand.
And with Tara Strong already confirmed to continue in the MCU, only time will tell how many other stars from this highly-praised threequel will get that same honor.
Guardians of the Galaxy Vol. 3 is now playing in theaters worldwide.
LATEST NEWS
TRENDING