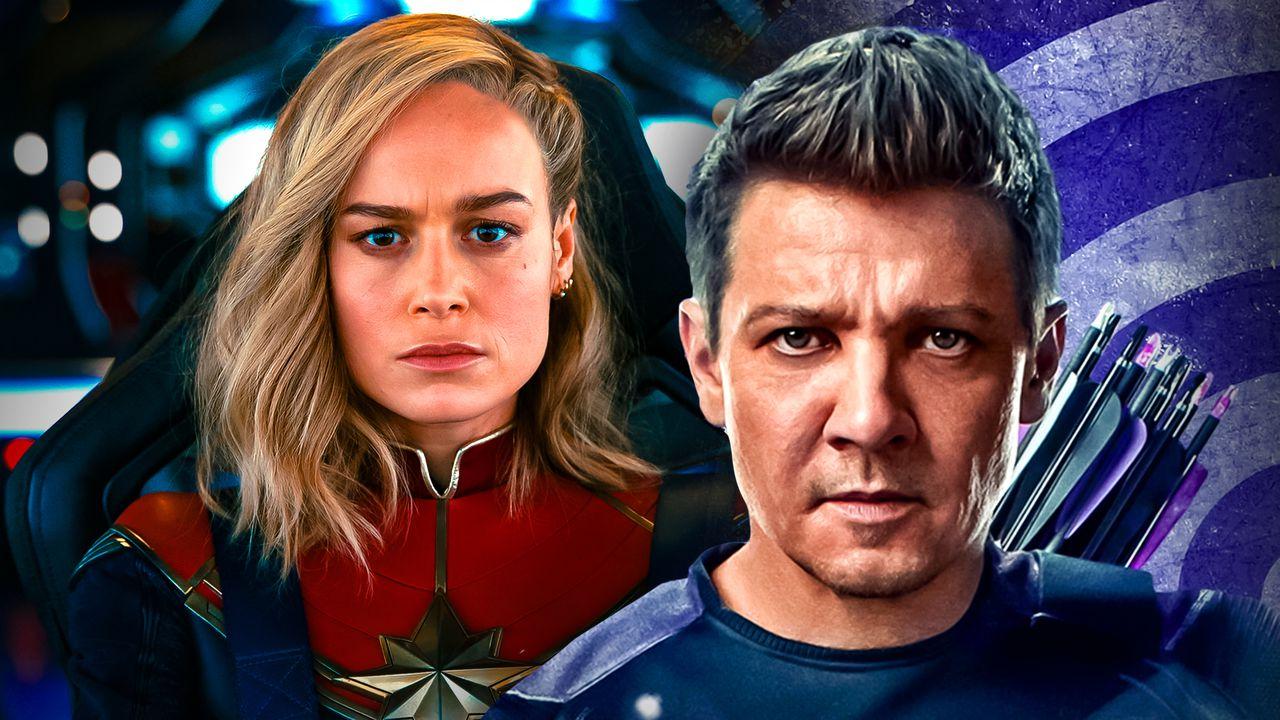 The Marvels is said to feature an unexpected connection to the Hawkeye series on Disney+, according to one of the MCU film's producers.
Captain Marvel 2 will bring a major trio of heroines together for the film Carol Danvers, Monica Rambeau, and youngster Kamala Khan, the latter of which is one of the youngest heroes in the entire MCU at only 16 years old.
Kamala (Ms. Marvel) is also known as arguably the biggest in-universe superfan of all things superheroes, setting up an intriguing mentor/mentee relationship between her and her idol in Captain Marvel.
Hawkeye's Connection to Captain Marvel 2
Speaking in the latest issue of Total Film Magazine, The Marvels producer Mary Livanos discussed Ms. Marvel's inclusion as part of the film's cast and how it compares to a relationship seen in the MCU's Hawkeye series.
Livanos compared Ms. Marvel's relationship with Carol Danvers to the relationship that develops between Clint Barton and Kate Bishop in Hawkeye, confirming that there is "a bit" of connection between Hawkeye and The Marvels' exploration of hero worship.
She explained how some characters "think that heroes can fix any problem," but in the case of Captain Marvel 2, fans will see instances where peoples' decisions regarding heroes "can sometimes make things worse:"
"We all are prone to fall into similar trappings when it comes to hero worship. You think that heroes can fix any problem. But in this movie, we actually examine how sometimes decisions you make in an attempt to make things better can sometimes make things worse, and have a cascading effect that spirals out of your control."
This story will give viewers a chance to see Captain Marvel "through the eyes of Ms. Marvel," especially as Carol Danvers looks to "grapple with what has become of her actions:"
"So, while we're seeing Carol Danvers grapple with what has become of her actions, we see that also processed through the eyes of Ms. Marvel. We actually experience forgiveness through the eyes of another person. That can be freeing for the person who might not be able to forgive themselves."
With Kamala having her own view of how Captain Marvel operates, this film will "see that stripped back" as Iman Vellani's hero learns exactly what her idol is all about:
"Little Ms. Marvel has this ideal view of Carol Danvers, and to see that stripped back and Ms. Marvel get to know her hero for who she actually is was an interesting deconstruction that really warmed our hearts."
This is similar to what Kate Bishop star Hailee Steinfeld said about her character in an interview with Entertainment Weekly, noting how Kate's fandom goes deeper than just the "the fans that come up to him and want to take a picture" with the bow-wielding Avenger:
"What we see with the fans that come up to him and want to take a picture with him, it's like they're recognizing him in a public setting and being excited about the fact that he's in a place that they wouldn't have expected to see him."
For Kate herself, she discovers Hawkeye "at a time of extreme loss in her life" following her father's passing in the battle of New York, recognizing Barton's ability to help people and wanting to bring that to her own life:
"So they want to document it and we don't necessarily know if they're lifelong fans or not, but with Kate we do know. She made this discovery of Hawkeye at a time of extreme loss in her life, and she sees in him part of what she lost. This human who is as ambitious and maybe a little reckless, as she is, someone who wants to help people and wants to protect people, she recognizes that part of him. That's what she idolizes."
How Captain Marvel 2 Will Add to Kamala Khan's Story
With Ms. Marvel playing such a key leading role in Captain Marvel 2, it's no surprise to see that her story will be such a vital piece of the plot, specifically her relationship with Captain Marvel.
And with more younger Avengers taking the spotlight, seeing Kamala's relationship her own idol coming through similarly to Kate Bishop and Hawkeye isn't too shocking. This will be especially true with Kamala Khan still being in the early stages of her superhero journey after the events of her own solo series.
Ms. Marvel is rumored to be a key piece of the entire Multiverse Saga moving forward, meaning her upcoming adventure in this movie will be a key piece of the puzzle to pay attention to as Captain Marvel returns to the spotlight.
And taking into account that Captain Marvel 2 is rumored to be one of the most important movies in the Multiverse Saga ahead of Avengers: The Kang Dynasty and Avengers: Secret Wars, that status will only be more of a factor as the franchise continues.
The Marvels will debut in theaters on November 10.