After the MCU brought Eternals to life in 2021, the question now turns to the status of the cast, production, and release of a possible Eternals 2.
Opening up to mixed reviews and a solid first-weekend box office run in November 2021, Eternals wound up becoming one of the most popular movies in the streaming world during 2022.
But with the third theatrical film of Phase 4 bringing one of the biggest casts of any MCU solo movie in history, setting up some wild storylines in the process, it now stands with a great deal of uncertainty as to when the team will be back in action.
When Could Eternals 2 Release?
At this moment, Marvel Studios hasn't made an official announcement regarding Eternals 2 going into production. 
With the first movie only barely breaking $400 million at the global box office (the MCU's third-lowest-grossing movie ever), even considering it released at the height of the pandemic, Marvel may not be itching to tackle this franchise again so soon.
Should it be announced, there are a handful of open release dates that Marvel Studios has available after the most recent round of delays to the theatrical slate in the Multiverse Saga.
The first open one would come on February 13, 2026, which would be the last movie to release before Avengers: The Kang Dynasty. However, many feel that this may end up being the slot that Shang-Chi 2 takes with the hero playing a major role in the next Avengers film.
It could also be kept on the figurative drawing board until after Avengers 5 with the team being brought back into action for 2027's Avengers: Secret Wars, which is rumored to be possibly the biggest crossover event in comic-book-movie history.
But if the next two Avengers movies aren't on the table, Marvel may be keeping the Eternals in the background until Phase 7 comes to light, which is sure to bring even more iconic new heroes to the forefront.
Eternals 2 Cast Speculation: Who Will Return?
The first Eternals featured one of the biggest casts of any first movie in MCU history, with 10 huge Hollywood names taking the responsibility of playing the extra-terrestrial Marvel heroes.
And while there were some notable deaths for a couple of those huge names by the end of the original film, a few major names should be expected to reprise their roles should Eternals 2 be given the green light:
1.) Gemma Chan - Sersi
Gemma Chan became the leading character of the first Eternals movie as Sersi, who used her incredible matter-changing powers to help defeat the Celestial Tiamut and save Earth from being destroyed.
She was later taken into space for judgment by the powerful Celestial known as Arishem before she disappeared into the stars, with her current whereabouts unknown.
2.) Kumail Nanjiani - Kingo
Kumail Nanjiani's Kingo backed out of going into the final battle with his fellow Eternals, living to fight another day even though he will certainly have his own personal demons to deal with.
Following that battle, he was transported beyond Earth's atmosphere alongside Sersi to face Arishem for stopping Tiamut's birth, meaning there's a good chance he would be used for a second movie.
3.) Lia McHugh - Sprite
Although she utilized her illusion powers throughout the movie both for the Eternals and against them, Lia McHugh's Sprite made a huge sacrifice at the end of the film as Sersi took away her powers with the power of the Uni-Mind, thus turning Sprite mortal.
She closed out her story by going to school for the first time, looking forward to living a new life as a human teenager and finally getting the opportunity to grow into an adult.
4.) Brian Tyree Henry - Phastos
Providing half of the MCU's first openly gay relationship, Brian Tyree Henry's Phastos served as the Eternals' technological guru, eventually designing the Uni-Mind bracelets that gave Sersi enough power to defeat Tiamut.
As were Sersi and Kingo, Phastos was taken up into the sky to face Arishem's wrath for his part in stopping Tiamut's birth, with fans anxious to find out where exactly they were taken to in the vast reaches of space.
5.) Lauren Ridloff - Makkari
Becoming the first deaf hero in Marvel Studios' history, Makkari also took her place as the franchise's premier speedster, helping to defeat Tiamut and this film's other villains before leaving on the Eternals' ship, the Domo.
She was later seen on the Domo asking about what happened to her family that was taken by Arishem, hoping to also find other Eternals spread out across the galaxy.
6.) Barry Keoghan - Druig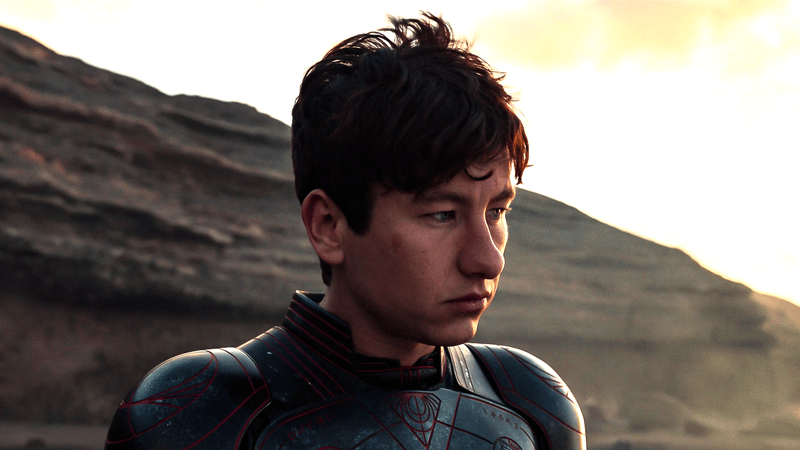 The Eternals' master mind manipulator eventually found his way back with the team after leaving them for half a millennium, helping the group defeat Tiamut before leaving Earth on the Domo.
With Barry Keoghan's hero having built a more healthy relationship with his Eternals family, Druig now helps to head the search for more beings like him while also exploring space looking for Sersi, Kingo, and Phastos.
7.) Angelina Jolie - Thena
Taking her place as the Eternals' greatest warrior, Thena used her prowess with weaponry and showed her power in the battle against Kro and Tiamut, eventually leaving Earth on the same ship as Druig and Makkari.
Even considering Angelina Jolie's star power, she'll likely be back with the rest of the team after serving as one of the emotional anchors of the first movie.
8.) Harry Styles - Eros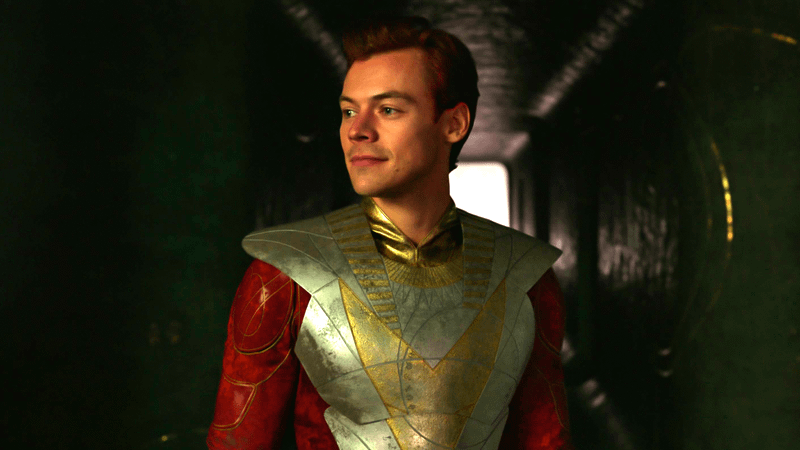 In Eternals' mid-credits scene, Harry Styles made his shocking MCU debut as Eros/Starfox, the never-before-seen brother of the Mad Titan Thanos.
When the Eternals do return, he'll be almost a certainty to make his return to the Marvel universe as he offered to help his fellow Eternals find their friends that had been taken by Arishem for judgment.
9.) Patton Oswalt - Pip the Troll
Serving as Eros' herald when he boarded the Domo was Pip the Troll, voiced by comic-book-movie veteran Patton Oswalt as he took on his first official role in the MCU.
With Eros likely to come back either in Eternals 2 or a variety of other MCU projects, Pip is sure to be close behind him when that day comes.
10.) Kit Harrington
Only getting about 10 minutes of screentime in the first Eternals movie, Kit Harington made his MCU debut as Dane Whitman, who will eventually look to become the Black Knight.
The former Game of Thrones star shined in Eternals' second post-credits scene, in which he reached for the Ebony Blade for the first time as Mahershala Ali's Blade teased an eventual team-up between them.
Will Ikaris Return in Eternals 2?
One of the biggest questions fans have about Eternals 2 is where Richard Madden stands in terms of a possible return as Ikaris, one of the Eternals' most powerful members.
To recap, the original film ended with Ikaris taking inspiration from Greek mythology and flying directly into the sun, with screenwriter Kaz Firpo confirming with CBR that Ikaris died at that moment while sharing insight into that decision:
"What is the melting point of an Eternal? How long does it take to literally melt an Eternal robot?. For what it's worth... yeah, it was always that. He can't bear to face his family after what he's done, which he realizes."
Madden himself joked with ComicBook.com that it's "kind of hard to come back" after his character "flew into the sun," although that doesn't necessarily mean that he couldn't come back.
Eternals revealed that the titular heroes were created as alien robots by the Celestials in order to prepare planets for Emergences to birth new Celestials, meaning their make-up has to be stored in some location.
And even though Ikaris melted this form of his body, should the team find out more about their origin and where they came from, there could be a chance that he's brought back in a new body to exert his will on the MCU again.
This could be the same for other dead heroes like Salma Hayek's Ajak and Don Lee's Gilgamesh, but with so many other old and new characters to highlight in Eternals 2 when it comes, it's still unclear who will be brought back for more action.
What Will Happen in Eternals 2?
Looking at the end of Eternals, there are at least a couple of directions that Eternals 2 could take when it adds to the MCU's deep lore.
The next movie is sure to deal with more of the Eternals' origin story as they face Arishem's wrath for saving Earth, especially with the more Multiversal elements of the MCU starting to divert into wild directions.
This will leave Sersi, Phastos, and Kingo in some serious trouble as they await judgment, which could lead to an epic battle against the Celestials to kick off Eternals 2.
Meanwhile, Eros and Pip will have to find a way to rescue that trio alongside Thena, Druig, and Makkari as they muster up the strength and firepower to accomplish that goal.
Additionally, fans will be anxious to see what will become of Sprite now that she's human, with the chance still there that she could eventually regain powers should the Eternals need her help.
Speaking with The Hollywood Reporter in 2021, Kit Harington explained that "there is no roadmap" he knows about for the next movie, but he also teased that there is "a really interesting future for this character" and others in this franchise:
"There is no roadmap that I know of at the moment. If they have ideas about where my character goes, I'm not privy to it. All I know is that when I came on board, they said, 'There's a really interesting future for this character, and if you read up about him, there are many different ways we could go with him.' And that intrigues me. I'm fascinated by the idea that any character in any story is driven by some addiction to something. And with [Dane Whitman], it's very palpable that this sword, this blade, has an addictive pull on him, and I find that really interesting."
For the time being, Eternals 2 remains heavily shrouded in mystery, but it's clear that the sequel is already on plenty of people's minds at Marvel Studios as the Multiverse Saga grows to new heights.
Eternals is now streaming on Disney+.