Ant-Man and the Wasp: Quantumania is soon hitting digital release platforms, bringing the cast, characters, and actors of the MCU's first Phase 5 project home.
The core cast of characters from Ant-Family all return for Quantumania, but this new threequel also debuts massively important MCU characters alongside them, including the ultimate big bad of the entire Multiverse Saga, Jonathan Majors' Kang the Conquerer.
Below you will find 16 of the most important characters in Ant-Man 3 and the actors who play them.
Warning - The rest of this article contains spoilers for Ant-Man and the Wasp: Quantumania.
Ant-Man and the Wasp: Quantumania - Full Cast of Characters and Actors
Paul Rudd - Scott Lang
Scott Lang starts off his third solo movie on tour promoting his autobiography, "Look Out For the Little Guy," before reuniting with his daughter Cassie. Winding up trapped in the Quantum Realm, Paul Rudd's hero has to make a deal with this movie's main villain, Kang the Conqueror, agreeing to fix Kang's Time Chair in exchange for the antagonist releasing Cassie from his grasp.
In the end, Scott gets into a brutal physical battle with Kang, showing off his superhero skills before winning the day and finding a way to escape the Quantum Realm largely unscathed. But as he celebrates his daughter's birthday in the final moments, there's a looming sense of danger as he looks back on his Quantum Realm journey and thinks about what's in front of him.
Evangeline Lilly - Hope Van Dyne
Evangeline Lilly's Hope Van Dyne starts off the movie hard at work with her new company, which is now named after her as she takes over her father's legacy and builds her relationship with Scott. She's also working closely with Cassie on new Quantum technology that will help them and the Pym family learn more about the Quantum Realm than they ever could before.
When she gets sucked into the Quantum Realm with Scott, Cassie, and her parents, she has to help protect Hank and Janet as they learn more about her mother's past when she was stuck in the subatomic world. But as the film comes to a close, she helps Scott in accomplishing their mission while defeating Kang before they both reunite happily back in the real world.
Evangeline Lily surprisingly does not have a lot of screen time in Quantumania, and writer Jeff Loveness has revealed some details of additional Wasp scenes that did not make it into the final cut of the movie.
Kathryn Newton - Cassie Lang
After a few years of having a largely distant relationship with her father, Kathryn Newton's Cassie Lang comes into play when she's arrested and put in jail after using her own Ant-Man suit, forcing Scott and Hope to bail her out. As she rebuilds her relationship with her dad, she's sucked into the Quantum Realm with him, learning how to use her suit before Kang takes her hostage.
Later, Cassie has her own hero's moment in helping MODOK have a change of heart, completing her first movie as a superhero all before she celebrates her 18th birthday.
Michelle Pfeiffer - Janet Van Dyne
Janet Van Dyne plays a more integral role in this movie than ever before, especially when it's revealed that she developed an intimate relationship with Kang the Conqueror when they were both stuck in the Quantum Realm. Keeping her secrets through most of the story, Michelle Pfieffer's legacy heroine reveals what she knows to her family, urging Scott not to trust Kang after learning about his true mission.
Michael Douglas - Hank Pym
Over the time that's passed since Hank Pym's last appearance, Michael Douglas' character worked with his family and Cassie on new Quantum technology while passing the reigns of leading his Pym tech company to Hope. He also spends most of the movie dealing with the fact that Janet got so close to Kang during their time stuck together in the Quantum Realm.
Jonathan Majors - Kang the Conqueror and Variants
After his introduction as He Who Remains in Loki, Jonathan Majors took the spotlight in Ant-Man 3 as the movie's main villain, who finally referred to himself as Kang the Conqueror. Initially starting off stuck in the Quantum Realm and confiding in Janet Van Dyne for companionship and help, the two worked together to fix his Time Chair before he revealed his true villainous intentions of conquering every universe he possibly could.
Terrorizing Team Ant-Man and showing the full range of his powers, Kang was eventually defeated once Scott trapped the Multiversal traveler in his own ship's engine, although it effectively only eliminated that one Variant. 
The post-credits sequences then brought the Council of Kangs to life, including Immortus, Rama-Tut, and Scarlet Centurion. Victor Timely took the spotlight in the second end-credits scene.
A month after the release of Ant-Man 3, Jonathan Majors was arrested for assault in New York City. Jonathan Majors and his criminal defense refuted the assault charges, and claim the actor is "completely innocent".
It is unclear what will become of Majors' future in the MCU, and recent rumors have reported the type of actor Marvel Studios is looking at to potentially replace Majors.
Corey Stoll - MODOK
As rumors indicated over the past two years, Corey Stoll made his wild MCU return as MODOK, with the character making his grand evolution once Darren Cross was sucked into the Quantum Realm. The MCU found a way to tie these two major characters into one being and then had MODOK and Kang team up to wreak havoc across the Quantum Realm.
As the final battle raged on, MODOK actually switched to Team Ant-Man after a heart-to-heart with Cassie Lang, sacrificing himself as the movie's main antagonist took the giant-headed turncoat out. This moment finally ended Darren Cross' story after two exciting MCU appearances, giving him a moment of redemption that he sought after losing to Scott and his family in 2015.
MODOK's design in Ant-Man 3 has been very divisive in the MCU fan community. Since the release of the movie, Marvel artists have revealed multiple images of official concept art of unused designs they considered for MODOK. 
Dave Dastmalchian - Veb
Originally seen as the ex-con Kurt in the first two Ant-Man movies, Dave Dastmalchian took on a new role as the wild and wacky Quantum Realm resident Veb.
As a mostly amorphous pink blob, Veb had some fun comedic moments as he was introduced to Scott Lang and the other humans from Earth, learning about the newcomers while giving his all in the fight against Kang. Some of his best scenes came when he was learning that he didn't have any "holes" in his body, even though he made it clear to Scott and company that he knew about their anatomy.
We were able to speak with David Dastmalchian about his role in Ant-Man 3, where he revealed to us Veb's wild unseen backstory.
William Jackson Harper - Quaz
William Jackson Harper's Quaz became the MCU's most skilled psychic being to date, unable to stop his own mind from reading the minds of those around him as he met Team Ant-Man. 
This became more than frustrating for him as he had to telepathically field question after question from Scott, who was in shock after being sucked into the Quantum Realm.
Katy O'Brian - Jentorra
Jentorra established herself as the de facto leader of the freedom fighters in the Quantum Realm, largely interacting with Cassie as the two tried to figure out their own goals with each other. 
She proved herself to be a more than capable fighter against Kang and his army, even helping Cassie escape captivity as she helped the Earth-dweller get her dad back and stop Kang.
Bill Murray - Krylar
Bill Murray makes his first and only MCU appearance as Krylar, one of the Quantum Realm's elite citizens who has a long history with Janet.
Unfortunately, in Murray's limited screentime, he turned against Janet and her family as he notified Kang of her return to the Quantum Realm and set her up to be taken in. While he only appeared in a couple of scenes in the movie's short runtime, the comedy star made himself known as one of the most powerful people in Janet's life.
Randall Park - Jimmy Woo
After appearing in both Ant-Man and the Wasp and WandaVision, Randall Park made a short but sweet return in the opening moments of Quantumania.
Park's Jimmy Woo only had a few seconds of screen time, finally sitting down for the lunch outing that they'd discussed at the end of their last appearance together. Since the bulk of the movie largely took place in the Quantum Realm, the FBI agent was left behind on the surface world.
Gregg Tarkington - Dale
Returning for a hilarious cameo after a small moment in Ant-Man, Gregg Tarkington brought back the strange Baskin Robbins manager in Ant-Man 3.
In the opening sequence, Dale awarded Scott Lang with an "Employee of the Century" plaque, celebrating Ant-Man's accomplishments in saving the world with the Avengers. The two joked about Scott being his employee, bringing back some of the same hilarity that came through when Dale initially fired Scott in Ant-Man.
Tom Scharpling - N'Brij
After being cut from both the original Ant-Man movie and Ant-Man and the Wasp, Tom Scharpling finally made his long-awaited cameo as one of the Quantum Realm's freedom fighters, N'Brij, in a deleted scene. The voice actor/writer has a long friendship with Quantumania's director, Peyton Reed, who got Scharpling into this threequel for his moment of MCU glory.
You can find a full list of the deleted scenes for Ant-Man 3 (that will be included In the digital release of the movie) here.
Tom Hiddleston - Loki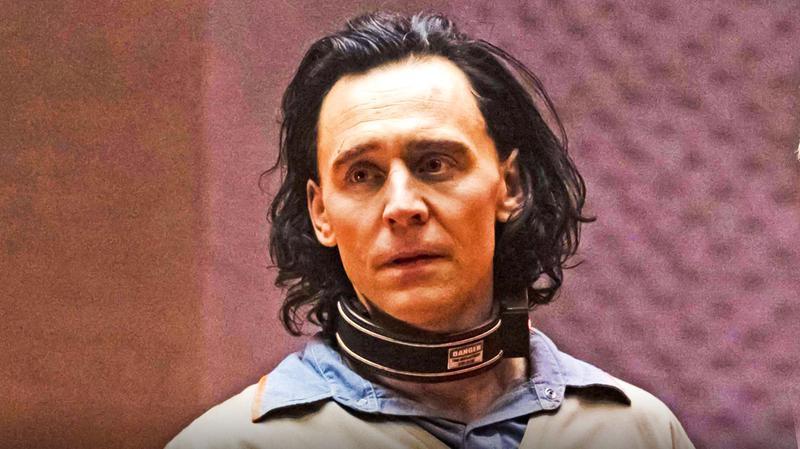 After nearly four years away from the big screen in the MCU, Tom Hiddleston made a glorious comeback as Loki in the second post-credits scene from Ant-Man 3. Standing in the audience while watching a presentation from Victor Timely, one of Kang's many Variants, the God of Mischief recognizes the man with the same face as He Who Remains.
With a terrified look on his face, Loki begins to figure out just how powerful and influential Kang is. This moment will serve as a direct set-up for Loki Season 2, which is already confirmed to feature many more Kang moments as Loki tries to undo the damage he and Sylvie did by killing He Who Remains.
Owen Wilson - Mobius
Alongside Loki in the same post-credits scene was Owen Wilson's Mobius, who makes his first appearance in an MCU movie in this scene. 
Standing in the audience of Victor Timely's show alongside Tom Hiddleston's Loki, the Time Variance Authority Agent takes in this era of history as he tries to figure out who he's looking at on stage. With this being his first interaction with any Kang Variant, he's more confused than anything, looking to Loki for answers on what they may face once Loki Season 2 comes around.
Ant-Man and the Wasp: Quantumania is now playing in theaters worldwide and on digital platforms on April 18th.