To say that Spider-Man: No Way Home is the biggest movie of the year could now be construed as a massive understatement.
With a promotional tour that didn't officially start until late August 2021, fans have spent the better part of the year finding out about various characters that are coming back from past movies while learning just how big this film will be. That all came before the first two trailers took the MCU fandom by storm and showed how truly spectacular Spider-Man's third MCU solo outing will be.
The first trailer from August set the stage for Peter Parker's identity crisis before the young hero goes to Benedict Cumberbatch's Doctor Strange for some magical help. Strange's spell turns into an absolute disaster as fans see Peter Parker experiencing the effects of the Multiverse breaking for the first time and coming face to face with villains like Doctor Otto Octavius.
The second trailer was largely focused on the MCU's Multiverse breaking for the very first time, centering on Peter Parker and Doctors Strange and Octopus while fully confirming appearances for four other villains. With Jaime Foxx's Electro, Willem Dafoe's Green Goblin, Thomas Hayden Church's Sandman, and Rhys Ifans' Lizard all back for a second round of action, this will be one of the most jam-packed solo adventures the MCU has ever delivered.
As has been the case for Marvel Studios' promotional tours, these trailers and other TV spots have simultaneously revealed a ton of information while leaving fans in the dark on other aspects of the story. Namely, there are still barely any signs pointing to how these shots will come together into one cohesive narrative that will fully explore Spider-Man's third solo adventure.
We at The Direct have kept a close eye on these trailers, analyzing every Easter Egg and attempting to work out exactly how Spider-Man: No Way Home will tell its reportedly 159-minute story. With most of the footage coming from the fight scene on the Washington Bridge and in/around the Sanctum Sanctorum, some of it is fairly straightforward, although there are plenty of mysteries left to be solved.
Without further ado, here is The Direct's prediction for the chronological order of every trailer shot for Spider-Man: No Way Home.
Spider-Man: No Way Home Trailer Shots in Chronological Order
It seems almost certain that Spider-Man: No Way Home will pick up directly from the end of Spider-Man: Far From Home when Mysterio publicly reveals Peter Parker's secret identity. In a movie that is already set to bring in a wild ride with Multiversal madness and potentially a full-blown Sinister Six, the final scene of the Infinity Saga is going to make its impact felt as soon as No Way home begins.
After Peter's shocking "What the f---?!" line closed his 2019 sequel, it appears evident that this movie will dive fully into the aftermath of that event as crowds of onlookers surround Spider-Man and MJ. J. Jonah Jameson and Mysterio's video forced the citizens of New York to turn their attention to the web-slinger, and with it now known that he's a teenager from Queens, the masses have pressing questions.
Peter and MJ then find their way out of the mayhem as Spider-Man swings away with his girlfriend in his arms to the top of the Queensboro Bridge in Manhattan. The couple is surrounded by helicopters as they try to escape their new frightening reality, forcing them to jump off the bridge and swing away regardless of MJ's negative experience with her first web-slinging ride.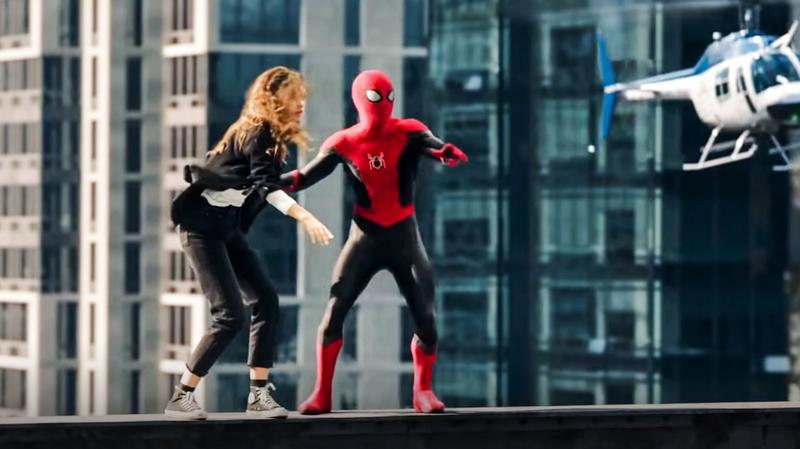 Peter and MJ make their way into the tunnels of the New York Subway system, most likely trying to find their way back to Queens for a moment away from the aggressive NYC pedestrians and media. Holland's hero likely has a facial expression similar to Zendaya's as they avoid an oncoming train directly in front of them
After dropping MJ off safely at her home, likely the Department of Damage Control forces their way into Peter and Aunt May's apartment for questioning in regard to his superhero antics. Both Peter and May are clearly scared for their safety as the government steps in to another round of Avengers affairs.
Although this shot doesn't include Charlie Cox's Matt Murdock, Peter is handcuffed to a table as he explains to the DODC that he "did not kill Mysterio." He's facing a difficult situation with the government organization believing he was responsible for what happened in London, even telling Peter that they think Mysterio's drones were his all along.
Then comes Peter's first day at school as he walks in holding MJ's hand with Jacob Batalon's Ned close behind. The trio's bonds will be tested more than ever before as Ned and MJ help Peter through his situation, facing angry classmates at Midtown High who are in shock at going to the same school as a superhero.
Although it's unclear how much time passes after this, Peter and MJ find an undisclosed rooftop for some much-needed alone time as MJ reads the New York Post's take on her boyfriend. Joking about how Peter may have a spider-like ability to hypnotize females, they show just how much they've bonded since their kiss in London after the final battle of Spider-Man: Far From Home.
It's only shortly after this that Peter wishes they could stay up there for longer to avoid everything he's dealing with in his life as Spider-Man. Additionally, it likely won't be long after this that he tries to figure out how exactly to fix everything.
MJ: "Oh, look at this,. This is a good one. 'Some suggest that Parker's powers include the male spider's ability to hypnotize females."

Peter: "Stop. Come on."

MJ: "Yes, my Spider Lord."
Peter sits in his civilian clothes in what appears to be the FEAST centers as he looks at Halloween decorations paying tribute to a fellow Avenger - Doctor Strange. This is what gives him the idea to seek out the Sorcerer Supreme with his newfound identity crisis.
Reminiscing on the battles shared in Avengers: Infinity War and Avengers: Endgame, Peter heads to 177a Bleeker Street, also known as the Sanctum Sanctorum, for a visit with Benedict Cumberbatch's Doctor Strange.
While it's unclear why the Sanctum is now covered top to bottom in snow, Peter and Doctor Strange reminisce about their adventures before Peter asks if Strange can undo everything Mysterio did in Far From Home. This comes before Wong's warning about the spell being "too dangerous," although that doesn't stop Strange for a moment as Wong heads off into a Sling Ring portal.
There likely isn't much of a break, if any, between Strange agreeing to make the world about Peter being Spider-Man and casting the spell to make it happen. Then, as fans are well aware, Peter begins "tampering with the spell" and causing the first real break in the Multiverse that has been a long time coming.
"What just happened?"
What just happened was the Multiverse changing Peter Parker's life changed forever as the villains show in Spider-Man: No Way Home's trailers begin making their way into the MCU. This is almost certainly set to kick off with the oft-used scene on the Washington Bridge as he brings back the Iron Spider suit first introduced in Spider-Man: Homecoming.
In for his own homecoming is the Raimi-verse's Doctor Octopus, played by Alfred Molina, as the genius-scientist-turned-villain busts through the bridge with his mechanical arms. He kicks things off with the iconic "Hello Peter" that was seen at the end of the movie's first trailer, as he thinks he is in front of Tobey Maguire's hero that he knows from his own world.
Thinking that his Peter Parker is in a new suit, he throws everything he has at Tom Holland's MCU hero on the bridge in a battle that should take up a chunk of screen time as the two adjust to one another. Octavius will then learn that the technology in his arms is compatible with the nano-tech in the Iron Spider armor and steal it from Peter, giving the villain a clear advantage in the moment.
As he hurls an arm at Peter's exposed body, the tech moves away from his face with Octavius realizing that he's fighting a brand new Peter Parker. Both of them express genuine confusion, with Peter blatantly telling Doctor Octavius as much while they both adjust to this new reality.
It will probably be after this interaction that fans get their first look at a revamped Norman Osborn, who is bringing his Green Goblin from Spider-Man into the MCU after nearly two decades away from the Marvel universe. His entrance likely won't feature the dialogue that comes on top of his appearance in the trailer, but that won't stop him from giving Holland's hero all he can handle.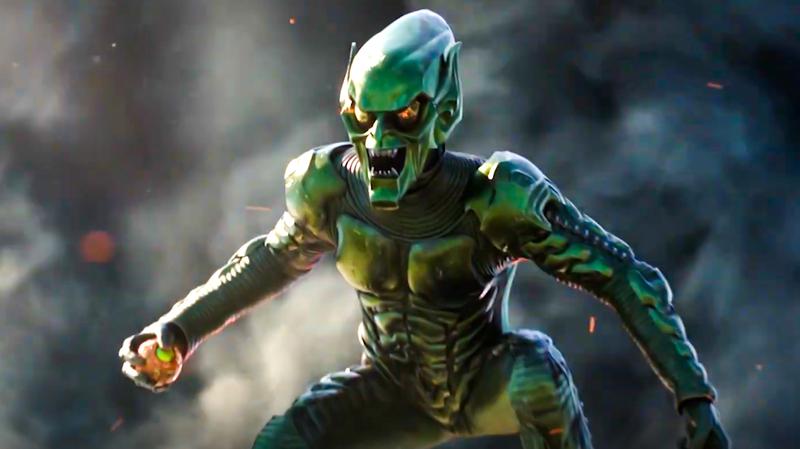 After that is when Peter will likely be back in the Sanctum Sanctorum, as he is seen wearing the same suit he wore under the Iron Spider armor in his fight against Doc Ock. Mr. Parker experiences a spooky moment when Rhys Ifans' Lizard takes a swipe at him, although he appears to now be behind some kind of magical barrier.
There's a good chance that Lizard is the first villain Doctor Strange captures and imprisons in the Sanctum after the Multiverse comes apart.
Peter, Ned, and MJ all meet up sometime later to discuss the situation with Strange in the scene where he tells the trio to "Scooby-Doo this crap" as the villains make their presence felt. This hilariously comes with MJ asking Strange for the magic word "please" before she, Ned, and Peter head down to the basement again to tackle their new challenge.
As Peter goes down to the Sanctum's basement with MJ and Ned, MJ asks Peter to give her a warning next time he does something this crazy. Even for the madness that Zendaya's character has endured since finding out about her boyfriend's superhero life, this is a new level of wild that she wants to stay in the know of.
"When you're thinking 'Hey, I'm about to do something that could break the universe,' run it by us next time."
https://images.thedirect.com/media/photos/nwh36.jpg
Spider-Man No Way Home MJ
Strange has managed to trap Otto Octavius in some kind of enclosure in the basement as the trio tries to learn more about one of their universe's first other-dimensional visitors. The Octopus-based villain then reveals his name to the MCU's core Spider-Man movie trio as he tries to figure out what's happened to him.
Of course, this starts off with Peter, Ned, and MJ having quite the laugh at Octavius' name as it lines up just a little too closely with his octopus-like arms.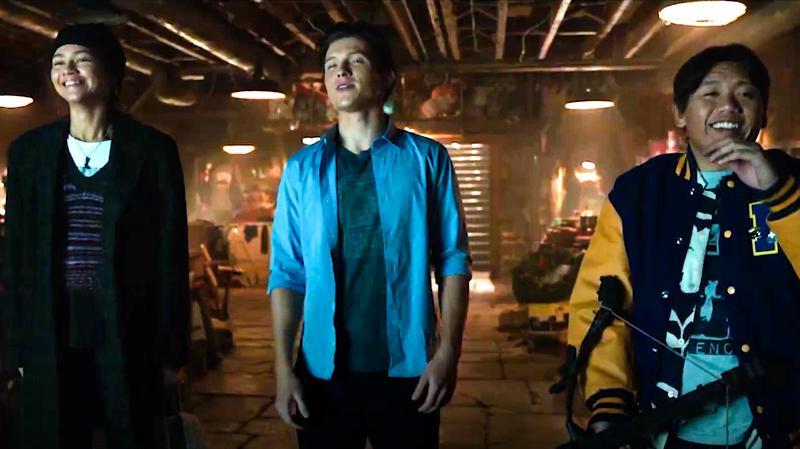 Octavius and Strange then both explain to Peter and his friends what the situation at hand is with Octavius' own life in the mix. This is likely the same moment from the trailer when Strange explains to Peter that every villain that's come into this universe died at the hands of Spider-Man in their own world and that this ending is their fate.
Peter tries to make sense of it all, even as Strange apologizes to him for what probably has to happen with regard to these villains' lives. He then makes a bold choice and steals the magic box in Strange's possession before making his way out of the Sanctum Sanctorum.
Doctor Strange: "They all die fighting Spider-Man. It's their fate."
This is what will likely lead to Strange and Parker engaging in magical fisticuffs as the two find themselves on top of a train, which is very reminiscent of the famous Spider-Man vs. Doc Ock fight from Spider-Man 2 in 2004. This scene has already changed in trailers from having a desert background to the New York City skyline warped in reality, although there's no way to tell which version will make the final cut.
The Web-Slinger Vs. Sorcerer Supreme tussle likely ends when Strange traps Peter with his own webs using Sling Ring portals and pulls him in, using his powers to stop Spidey in his tracks by releasing the youngster's astral form from his physical form. It's still a mystery how this fight ends, although Peter does admit it's one of the coolest things that's ever happened to him.
After this is when Peter really finds himself in some serious trouble, already looking quite bruised and bloody as he tells an unknown woman "I can't save everyone." This could be his Aunt May or MJ in front of him, but no matter what that answer turns out to be, Peter is taking a beating with more madness coming his way.
Peter: 'This is all my fault. I can't save everyone."
As what appears to be Jamie Foxx's Electro uses an electric cable line to power up behind Peter, he uses a newly imbued magical property in his black suit to prepare for his next battle. MJ and Ned also appear on a small screen between his head and his arm, although it's unknown if they are helping him from a safe place or if they have been captured by the movie's villains.
Peter then unmasks himself in the black suit as he runs through part of the FEAST facility. He may be on the run from one of the movie's villains or simply trying to get to Aunt May, although his face being out in the open is the least of his concerns.
With JK Simmons' J. Jonah Jameson on the scene, Electro then teams up with Thomas Hayden Church's Sandman for a chaotic scene in the middle of New York City. This could be as some kind of distraction to bring Spider-Man into their area, or it could simply be to cause a ruckus for their own villainous plan.
In a similar location is Doctor Octavius, who looks to be taking an unexpected hit from Electro as the villains turn on one another. Theories have pointed to Doc Ock toeing the line between hero and villain in this movie, although there is no way to tell for sure where his motives lie as he potentially meets his end.
With Peter now donning his new Integrated Suit, he and the Green Goblin fully engage in battle as he tries to protect what is likely the MCU's FEAST center. Other trailers and spots have shown this location, possibly from the inside and outside, and with May now reportedly working there, Goblin could use this against Peter to "attack his heart" just as he did to Tobey Maguire's Spider-Man nearly 20 years ago.
The pumpkin bomb appears to explode right in front of Peter, which could lead to him losing somebody he holds close such as Aunt May. Having to potentially deal with this loss will undoubtedly strengthen his resolve, even more, to save his world from this Multiversal threat.
No matter what happens in the Goblin attack, it will surely damage Peter, as is seen in what looks like the aftermath of that bombing in the next shot. Even in the pouring rain, tears appear to be streaming down Peter's face while he contemplates his next move, and the trailer does a great job at hiding which suit he's wearing at this point in time.
With hopefully a little time to recover (and maybe formulate a plan with other web-slinging heroes), the fight will likely head out to the newly revamped Statue of Liberty. The iconic American monument is undergoing major renovations to add Captain America's shield to Lady Liberty, although with what's coming up next, the monument is going to be in some serious trouble.
Holland's Spider-Man winds up in the middle of the construction zone as he takes on the Raimi universe's Sandman along with Electro and Lizard from Marc Webb's Amazing Spider-Man movies. Fans have theorized that this shot is hiding both Andrew Garfield and Tobey Maguire as Spider-Man alongside the MCU's main Spidey, but it will be an epic battle no matter what comes into play.
With so much firepower on both sides of the fight, the new shield on the Statue of Liberty comes loose and hurtles toward the ground. This wouldn't be as big of a problem if only super-powered beings were on site, but that is far from the case.
MJ and Peter share a touching moment during the final battle in the construction site, likely before Peter takes on at least three of the movie's villains. MJ assures him that they're going to get through this battle together no matter what.
"MJ: "We're gonna get through this."

Peter: "We're going to get through it together."
Zendaya's MJ ends up losing her balance and falling from the top of Lady Liberty as Peter Parker jumps down to try to save her, which is the moment that closed out the record-breaking first trailer for No Way Home. It seems unlikely that Peter would lose so much in one movie, even though reports have teased otherwise, which leads to the belief that MJ will live to see another day in this battle.
Even with that seeming to be the climax of what could actually happen in this massive threequel, Spider-Man and Doctor Strange see the sky turn purple and seemingly break apart. What this Multiversal event could mean in the context of the story is absolutely anybody's guess, but there's no way that it won't change the game for the MCU as a whole.
The next shot will likely give fans a look at Peter realizing exactly what he's up against as if five Multiversal bad guys in his home universe weren't enough for the teenager. Marvel and Sony still have plenty of major reveals hidden up their sleeves for when No Way Home actually debuts, and it's anybody's guess as to how the studios will top everything that's already been teased.
As was mentioned before, MJ's survival chances appear to be fairly high even with so much danger surrounding her and Peter, leading us to believe that their kiss is the last chronological scene that the trailers have shown. The couple will hopefully then have the opportunity to truly take a breather after the most intense few days (or weeks) of their lives with Peter having helped save the day in his biggest solo story to date, all while they take in the sunrise.
YouTuber Cornflake organized all of these trailer shots in order in their own video, which can be seen below:
Sequence of Events of Spider-Man: No Way Home
While some moments shown in the Spider-Man: No Way Home footage released are easier to place in the context of plot beats, there are still more than two and a half hours of the film that remains under wraps. With other potential heroes like Garfield and Maguire's Spider-Men coming into play later, this movie still has the chance to bring more mind-blowing material every week leading up to its release if it wants to.
One aspect of the movie that makes it so thrilling is its two distinct stories that will be told separately and interweave with one another: Spider-Man's identity reveal and the introduction of the MCU's Multiverse.
Even though they are two distinct stories that will put Peter through a world of trouble, they will mesh together to form one cohesive story as Peter learns what it really takes to be a hero. With Mysterio having put Spidey into a precautious situation long before villains from pre-MCU Spidey movies of the 21st century even enter this universe, there won't be one second where Holland's hero gets to take a breather.
As fans look ahead to the coming weeks with Spider-Man: No Way Home's promotional tour and release, more theories like this one will come to light about how the threequel will go from beginning to end. No matter what the final result actually turns out to be, fans are in for the MCU ride of a lifetime with Spider-Man's past, present, and future all coming together for one wild web-slinging ride.
Spider-Man: No Way Home will debut in theaters on December 17, 2021