Marvel Studios and Sony Pictures dropped the bomb of the year with the long-awaited release of Spider-Man: No Way Home's first full trailer at CinemaCon 2021. With rumors teasing the madness in this movie's plot dating all the way back to October 2020, director Jon Watts, star Tom Holland, and the team are shooting for the stars with the MCU's latest threequel.
In the most basic of terms, Holland's Peter Parker will have a world of trouble to deal with thanks to the end of Spider-Man: Far From Home. Jake Gyllenhaal's Mysterio caused this by revealing Parker's identity as Spider-Man to the world via J.K. Simmons' J. Jonah Jameson, marking the first time any live-action Spidey has had to face the reality of the public knowing the web-slinger's true identity. 
Then came October 2020, and reports began to speculate that Jaime Foxx would reprise his role as Electro from 2014's The Amazing Spider-Man 2 within the MCU. Two months later, Alfred Molina was reportedly in talks to bring back his iteration of Doctor Octopus from 2004's Spider-Man 2, setting up Spider-Man: No Way Home as a truly unique and special MCU outing.
Rumors and reports also revealed even more villains coming into play before the news came that both Tobey Maguire and Andrew Garfield would be coming back as Spider-Man, even potentially bringing Kirsten Dunst's Mary-Jane Watson and Emma Stone's Gwen Stacy along for the ride.
This meant that the MCU's Spider-Man threequel could now possibly have characters from all five previous live-action Sony movies, setting up No Way Home to serve as a vessel to the past, present, and future of superhero movies.
The Direct explores exactly why Marvel Studios and Sony's Spider-Man: No Way Home is the ultimate tribute to the history of live-action Spider-Man movies.
THE TEAM OF SPIDER-MAN VILLAINS
As was teased earlier, No Way Home is swinging for the fences with its villains, which is likely to bring together the first live-action Sinister Six take on any version of the web-slinger. Not only will this be the group's first time fully realized on the big screen, it will be comprised largely of big bads from all five pre-MCU Spider-Man movies of the 21st century.
Sam Raimi's trilogy will be represented by Willem Dafoe as the Green Goblin (Spider-Man), Alfred Molina as Doctor Otto Octavius (Spider-Man 2), and Thomas Hayden Church as Flint Marko/Sandman (Spider-Man 3).
Dafoe and Molina in particular have received praise over the years as two of the best comic book movie villains in history, while Church was lauded as one of the more positive parts of his over-stuffed threequel. Having these three meet each other and team up against Spidey is sure to bring back the feeling fans had when Raimi's trilogy began nearly 20 years ago.
Marc Webb's duology will also make its presence felt in this movie with both Rhys Ifans' Lizard from The Amazing Spider-Man and Jamie Foxx's Electro from the sequel, delivering two incredibly powerful adversaries with unique powers. Their fates were decidedly different, with the Lizard turning back into Curt Connors and Max Dillon seemingly being sucked into oblivion, but they will be back for more chaos in their first encounter with the MCU's wall-crawler.
While it's unclear who the last member of the MCU's Sinister Six could be, these villains will bring back memories of Spidey's past adventures while also contributing to one of the biggest MCU solo movies ever. New interactions will be a sight to see, and it will be a feat of cinematic history to see parts of five historical superhero movies finding a place in No Way Home.
THE RETURN OF THE SPIDER-MEN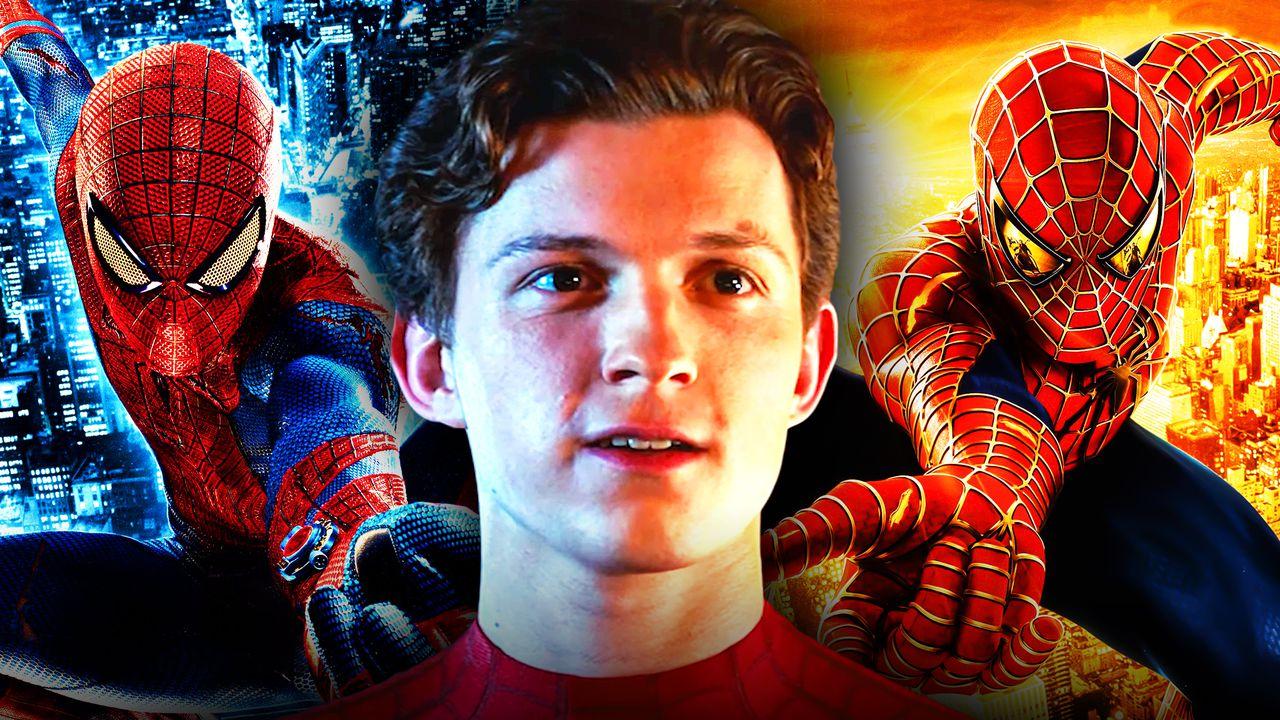 Spider-Man: No Way Home wouldn't be regarded as potentially the biggest superhero movie ever simply by including so many villains, although it doesn't hurt. Even with that excitement, a villain is only so much without a hero, which is where the shocking returns for Tobey Maguire and Andrew Garfield come into play.
Tobey Maguire suited up as an about-to-graduate-high-school Peter Parker in Sam Raimi's trilogy from 2002 to 2007 while Andrew Garfield's teenage hero took the spotlight under Marc Webb in 2012 and 2014. While each actor had their own unique take on Marvel's iconic young hero, both found a way to bring excitement to fans with true Spider-Man origin stories that explored their journeys as heroes.
Should both actors find their way into No Way Home, it would mark the first time any live-action Spider-Man movie has featured more than one web-slinger in any capacity. Safe to say, a full-blown trio of Spider-Man Variants in the same shot may make for one of the most iconic single moments in any comic book movie ever.
If Spider-Man: No Way Home is to be a true tribute to past Spider-Man movies, it only makes sense to have both previous Peter Parker actors making their presence felt in some way. After how often fans have seen them together in memes and fan art online for the past year, the three Variants fighting alongside each other would be the first event of its kind in Spider-Man's cinematic run.
It seems to be a pretty solid bet that if this movie brings back Tobey Maguire and Andrew Garfield alongside Tom Holland, there would be no movie that has ever captured the essence of Spider-Man like this one.
NEW YORK, NEW YORK
One of Spider-Man's defining traits through the comics and the movies is his original roots in New York City.
After all, this was utilized in the MCU right when Tom Holland's hero was introduced with the huge "Queens" title card that sent fans into a frenzy during his debut in 2016's Captain America: Civil War. Peter Parker also mentioned Queens during his one-on-one battle with Chris Evans' Captain America as the two connected over their NYC roots.
The MCU initially did a great job at making sure Parker's Big Apple roots were included during his origin story. The biggest difference between the MCU's Spider-Man story and the movies from Raimi and Webb is that Peter spends a great deal of time operating outside of the Big Apple.
Spider-Man: Homecoming saw the web-slinger head out of state to Washington, D.C. for the Academic Decathalon along with other Burroughs of New York like Staten Island. Spider-Man: Far From Home took the traveling up a notch by sending the 16-year-old on a trip to London, leaving the movie with only a few minutes of screentime in his home country, much less NYC.
From the looks of the first trailer for Spider-Man: No Way Home, this threequel appears to take inspiration from Tobey Maguire and Andrew Garfield's movies by taking place largely in Peter Parker's home city.
Specifically, fans already have a great look at Spider-Man and MJ on top of the Queensboro Bridge, which was also seen in the original Spider-Man when the Green Goblin dropped Kirsten Dunst's M.J. and a trolley of people from the top. There is also a potential shot of the Brooklyn Bridge, and considerable time is spent at Doctor Strange's Sanctum Sanctorum which is located right on Bleeker Street in Manhattan.
Spider-Man: No Way Home's first trailer sets the impression that this movie will largely take place in Peter Parker's American home, a change of pace from his first two solo MCU outings. However, this is eerily reminiscent of both Tobey Maguire and Andrew Garfield's five combined movies which almost exclusively utilized the Big Apple as its backdrop.
Looking at Spider-Man's comic book roots and movie history, there is almost no better way to pay tribute to that past than to have this threequel take place mostly in New York City, especially with how central a role it plays in Peter's life.
 

"SPIDER-MAN'S NAME IS PETER PARKER"
For all the past references to older Spider-Man movies that are coming in Spider-Man: No Way Home, this threequel will put Peter Parker into a situation he's never had to face before: a world that knows he's Spider-Man.
For perspective, the original Sam Raimi trilogy only had a few people that found out about Tobey Maguire's secret identity. This reveal largely came in 2004's Spider-Man 2 when Harry Osborn took off Peter's mask, Peter unmasked himself in front of Alfred Molina's Doctor Octavius, and Mary-Jane Watson saw Peter's face while Doc Ock saved New York City from his own creation.
The Amazing Spider-Man and its sequel continued the trend of having a small inner circle with only Emma Stone's Gwen Stacy and Rhys Ifans' Curt Connors/Lizard being aware of Peter's secret life in the first movie. Both Electro and Harry Osborn's Green Goblin found out this fact at one point or another during the sequel although the numbers were still low, just as they were in Sam Raimi's trilogy.
This trend changed in a big way in the MCU after Tom Holland's hero's small group of those in the know turned into the entire world thanks to Quentin Beck's viral video via The Daily Bugle. The effects of this were already teased with crowds of people hounding Peter and MJ in the streets of New York and at Midtown School of Science and Technology, teasing something that no version of Peter Parker has ever dealt with before.
On top of Spider-Man dealing with this crisis, it will be interesting to find out how exactly the public deals with this alongside the potential arrival of Tobey Maguire and Andrew Garfield's web-slingers. Rumors are pointing to the two Variants coming into play sometime in the third act of the film, and even though they may not help with the identity reveal, those two in the public eye could help the Earth-616 Peter in more ways than one.
Through all of these mind-blowing plot details, Tom Holland's hero will have to learn quickly about what it takes to be a true hero, which was specifically teased in the movie's official synopsis released after the trailer. With the young hero facing the most dangerous situation of his entire life, both as a hero and a man, his new interactions with both Spider-Men and the past villains will give him a new perspective on what he's in for in this story.
With these unprecedented circumstances, Marvel Studios has the chance to explore uncharted territory with more heroes than just Tom Holland's Spider-Man. How that plays out is still completely unknown, but the simple fact that it may be happening is enough to drive speculation for No Way Home into an absolute frenzy.
"ARE YOU SAYING THERE'S A MULTIVERSE?"
How exactly will all of these villains and two past web-slingers find their way into the MCU's timeline? The answer is something that's been teased within the MCU for nearly five full years: the multiverse.
First introduced in Doctor Strange and then teased once again in Avengers: Endgame, the multiverse found its way into the Spider-Man movies after Peter Parker's first true meeting with Jake Gyllenhaal's Mysterio. When Quentin Beck told Peter he was from Earth-833, Peter was genuinely and intensely curious about the possibility that a multiverse existed.
It's been teased for most of the time since the Infinity Saga ended that Marvel's Phase 4 will be deeply exploring the multiverse. While fans thought it would come as early as WandaVision, the first signs of its existence were teased in Loki before the Spider-Man: No Way Home trailer confirmed it to be playing a role in this threequel.
As was discussed earlier, neither Tobey Maguire or Andrew Garfield's Peter Parkers even had the opportunity to leave Queens, much less take a dip into other dimensions. With both of them rumored to come into play via the multiverse in the MCU, this would mark a first in live-action Marvel movie history with multiple dimensions converging.
Doctor Strange's involvement will open the door to this idea becoming a reality, particularly with it looking like the spell he casts likely opening the doors to alternate realities. Throwing this wrench into Peter Parker's life will pit him with more intense challenges than any other Spider-Man has ever dealt with in a live-action movie.
One part of the movie fans will be looking forward to is Peter's first real experience dealing with the multiverse, whether it be alongside Doctor Strange or simply seeing another villain appear through a portal. After being thoroughly convinced the multiverse is fake due to his fight against Mysterio, he will be in for a life-changing experience this time around.
It seems only fitting that Spider-Man's first experience with the multiverse will include the two other men who made the hero a household name in their theatrical runs. With none of the three Peter Parkers having gone outside their own world or before, they will have to lean on each other in a big way to make sure all of their worlds remain safe from harm.
Now that the multiverse is officially on its way, the world of Spider-Man movies is set to change forever. With Maguire and Garfield likely coming along for the ride, fans and the Marvel crew alike are in for the absolute ride of a lifetime.
SHADES OF INTO THE SPIDER-VERSE
Spider-Man: No Way Home is clearly taking huge steps toward being one of the biggest superhero movies ever by being the first to explore the multiverse. It could even be called the Spider-Verse, which is eerily reminiscent of another widely popular Marvel movie that debuted in theaters a few years ago.
That specific movie is Sony's animated Spider-Man: Into the Spider-Verse, which came to the public in 2018 and was regarded as one of the most well-reviewed superhero movies in history.
Featuring the voice talents of Shameik Moore as Miles Morales alongside future MCU stars like Brian Tyree Henry, Hailee Steinfeld, and Mahershala Ali, this movie took every element of the comic books and brought them to life in a thrilling animated feature. As will be the case in Spider-Man: No Way Home, it also dove headfirst into the idea of its world including a multiverse's worth of heroes.
Into the Spider-Verse featured, amongst others, two different Peter Parkers, Spider-Gwen, Spider-Man Noir, Peni Parker, and even Spider-Ham, who all teamed up against Liev Schrieber's Kingpin and kept the multiverse intact. If there was any movie that could set the stage for what the MCU is now trying to do, there is no better option than this epic.
The MCU is looking to take inspiration from this movie with No Way Home, although this time, the multiverse will bring together the villains in bigger numbers than the heroes. However, fans will feel some similar vibes in this live-action outing by bringing in Tobey Maguire and Andrew Garfield alongside Tom Holland's hero just as Into The Spider-Verse brought Miles Morales and Peter B. Parker, among others, into a partnership.
With none of the three Spideys in this movie having met another version of themselves before, Marvel Studios is going all out by having them join forces to take on a Sinister Six's worth of powerful enemies. The trio will have to dig deep inside themselves to bring out the best version of Spider-Man, teaming up to show the purest essence of what the classic comic hero is supposed to be.
Even with no direct connections to the MCU (outside of an almost-cameo from Tom Holland), Into the Spider-Verse set the stage for everything No Way Home is trying to accomplish this winter. A trio of arachnid-based heroes teaming up against villains from multiple dimensions in order to save reality as they know it? There's almost nothing better than a Spider-Man movie could attempt to deliver.
MAGUIRE AND GARFIELD IN HOLLAND'S WORLD
Spider-Man has always been regarded as one of the quintessential every-man heroes thanks to his youthful optimism and willingness to do anything to protect those he cares about. In a movie that will put those qualities to the test more than ever before, that alone pays its due respect to everything that Tobey Maguire and Andrew Garfield built.
Even while every version of Spider-Man in live-action has been different to some extent, the hero's core values have always remained the same for nearly 20 years and even longer in the comics. Exploring those core values to a new level in Spider-Man: No Way Home is easily the most influential tribute to the live-action stories that came before the MCU's existence.
All of this and more will come together in just a few short months, and the hype is already building for this to be one of the biggest movies in all of 2021, if not superhero movie history. Needless to say, with this being a story that pushes the MCU narrative forward and shows its due respect to its predecessors, it can't come soon enough.
Spider-Man: No Way Home is set to release in theaters on December 17, 2021.