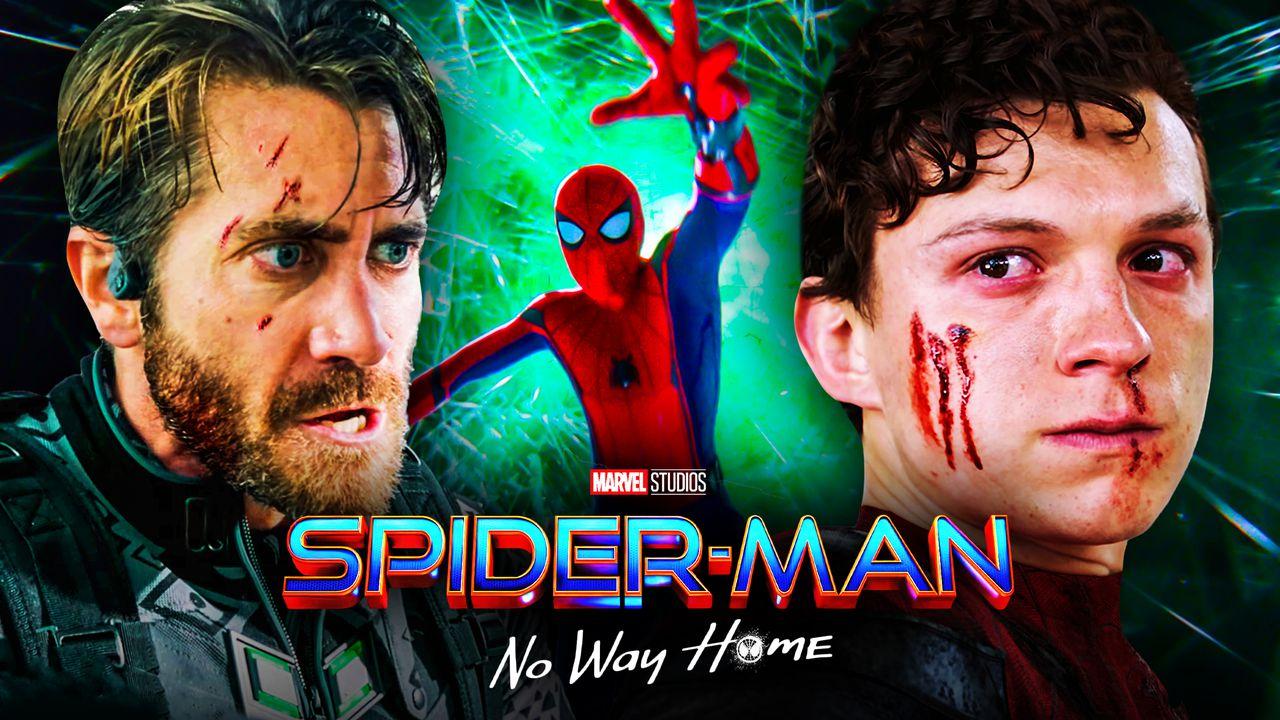 With only four months until its hopeful release in theaters, the hype continues to build for everything on the way in Marvel and Sony's Spider-Man: No Way Home.
Fans have gotten plenty of teases towards this film's massive plot largely through set photos and merchandise leaks while the excruciating wait for footage continues. There are certainly plenty of ideas on what the MCU fan base wants to see when that long-awaited first trailer drops, although for now, behind-the-scenes leaks will have to tide the world over.
It's already well-known that the multiverse will play a key role in 2021's last MCU movie, although Peter Parker still has his identity crisis from the end of Spider-Man: Far From Home to deal with as well. Set photos have even teased the impact of Jake Gyllenhaal's Mysterio after his apparent death, putting the web-slinger into an even deeper world of trouble in the public eye.
In the latest round of promotional material surrounding Spider-Man: No Way Home, the villain's presence is teased yet again thanks to his bold move from the end of the Infinity Saga.
"WE BELIEVE MYSTERIO"
A t-shirt merchandise listing on Amazon revealed Mysterio-related promotional art from Spider-Man: No Way Home. 
Mysterio's fishbowl helmet was shown with a big question mark inside the sphere, and it's surrounded by the phrase "We Believe Mysterio."
The image appears to be using in-universe promotional material that was seen from set photos indicating the world's response to Mysterio revealing Spider-Man's secret identity.
The second image features a similar look at Mysterio's helmet while also including a pair of hands, each with an eye in the palm. The "We Believe Mysterio" slogan is also included with this design, potentially indicating that this will be a slogan heard and seen numerous times in Spider-Man: No Way Home.
YET ANOTHER SPIDEY-WRINKLE
Considering how much multiversal madness is set to blow the MCU wide open in Spider-Man: No Way Home, the fact that the world knows Peter Parker is the famous wall-crawler seems to be flying seriously under the radar.
With so much plot coming in this film, it's unclear what the ratio of screen time will be for the Mysterio reveal from Far From Home and the current events with Spidey fighting alongside Doctor Strange. In any case, an "on-the-run" Peter is already set to give a new take on the hero with his secret identity no longer a secret.
Through these images, it also appears that the MCU public is leaning heavily into the words of J.K. Simmons' new J. Jonah Jameson as he tries to bury Spider-Man for good by propping up Mysterio.
Spider-Man: Far From Home's mid-credits scene helped to put the thought-to-be otherworldly "hero" into a great light with Jameson blaming Spidey for the death of Jake Gyllenhaal's Quentin Beck; the pundit also give the villain praise for defeating the elementals all over Europe. While this was Jameson's MCU debut, it seems old habits really do die hard.
The MCU threequel will be the first to put Spider-Man in a negative public light, which will only add to an already exponential level of stress from the multiverse tearing apart ad bringing Spidey villains from every live-action era. It's a mystery how much Mysterio's death will expand on this grief, but it's clear that Peter is in for more chaos than any of his MCU adventures to date.
Spider-Man: No Way Home is set to release in theaters on December 17, 2021.