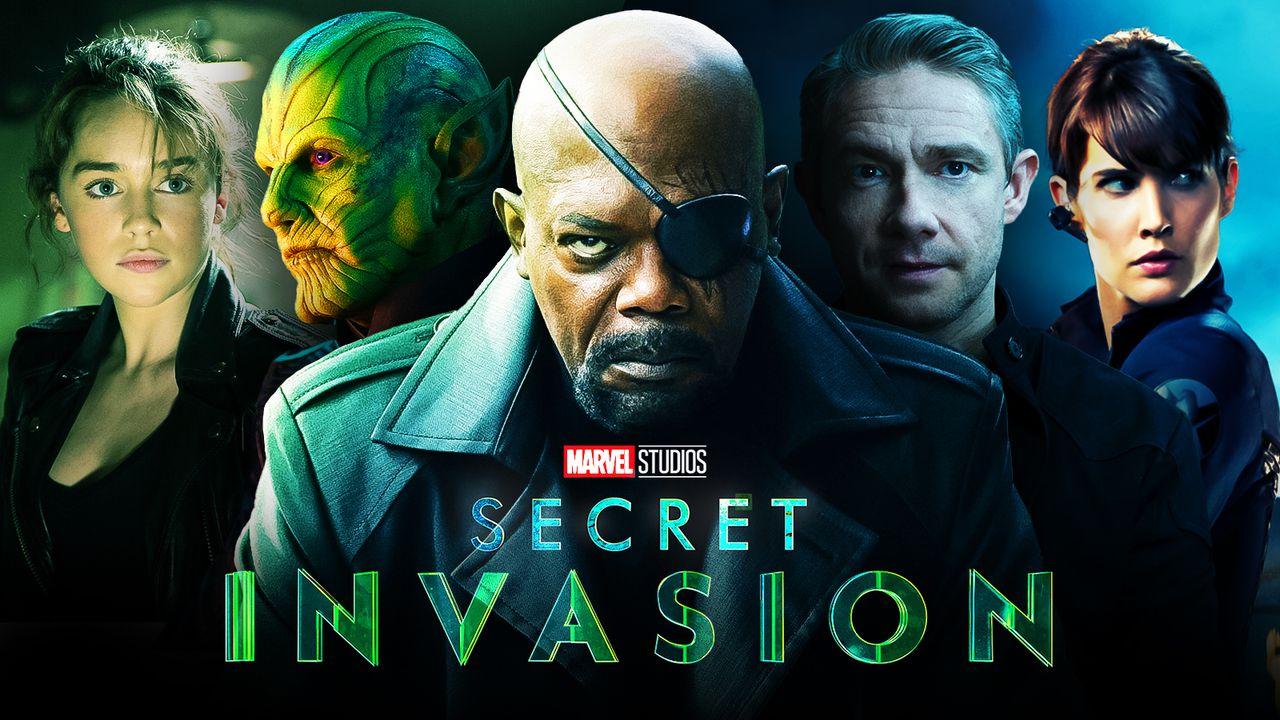 Nick Fury may be the face of Secret Invasion, but Marvel Studios' next Disney+ series features an ensemble of characters both old and new to the MCU. 
With the threat of this "espionage thriller" series being an imminent Skrull invasion, Marvel Studios labeled Secret Invasion as the MCU's first Disney+ "crossover event." 
 The following is a breakdown of the show's confirmed cast:
Every Marvel Actor & Character in Secret Invasion
1.) Samuel L. Jackson - Nick Fury
One of the original stars of the MCU, the last time audiences saw Samuel L. Jackson's Nick Fury was back in Phase 3's Spider-Man: Far From Home where he was revealed to be in space. 
Now, for the MCU's first Phase 5 series, Fury has finally returned to Earth but without his signature eye patch. 
However, shots of his own tombstone and warnings from the show's cast in the series trailer suggest that Fury may find himself in the crosshairs for this "one last fight."
2.) Ben Mendelsohn - Talos
Skrull general Talos, played by Ben Mendelsohn, made his MCU debut in 2019's Captain Marvel where he first crossed paths with Nick Fury and was finally reunited with his wife and daughter. 
As requested by Fury himself, Talos later impersonated the former SHIELD director in Spider-Man: Far From Home. 
However, new Secret Invasion marketing suggests Talos is in significant trouble and needs his friend's help. 
3.) Cobie Smulders - Maria Hill
Former Deputy Director of SHIELD and Nick Fury's right-hand woman, Maria Hill appeared to be in Spider-Man: Far From Home. However, the conclusion of the film revealed that Talos' wife, Soren, had impersonated Agent Hill the whole time. 
Technically, the last time audiences truly saw Smulders' Hill was at Tony Stark's funeral after having been brought by the Hulk's Endgame snap.
It will be interesting to see just where she's been in the years since, as well as the extent of her role in the upcoming series. 
4.) Martin Freeman - Everett Ross
Unlike most of the cast thus far, Martin Freeman's Everett Ross just appeared in 2022's Black Panther: Wakanda Forever where he was arrested by his ex-wife and current CIA Director, Val, after helping Wakanda. 
By the film's end, Ross is rescued by Okoye; and apparently, his new path takes him into the crossfire of Secret Invasion. 
Given his ties to Val and the U.S. Government, his MCU story could lead just about anywhere. 
5.) Kingsley Ben-Adir - Gravik
MCU newcomer Kingsley Ben-Adir plays Skrull villain Gravik in Secret Invasion, the leader of a group of Skrull extremists who are "tired of asking... [and] waiting." 
The series trailer featured a shot of Gravik extending a Groot-like appendage, suggesting the possibility of Super-Skrulls within the MCU. 
6.) Emilia Clarke - G'iah
Recent reports confirmed that Emilia Clarke is playing G'iah, Talos' daughter, in Secret Invasion and whose character was last seen in Captain Marvel. 
Clarke has been heavily featured in the series' marketing thus far, but reports suggest her complex relationship with Talos will contribute to series events. 
7.) Olivia Colman - Sonya Falsworth
Academy Award-winner Olivia Colman makes her MCU debut as MI6 agent Sonya Falsworth. 
Tasked with protecting England's national security interests amidst the Skrull invasion, it appears that Colman's Agent Falsworth will also serve as a significant antagonistic presence. 
8.) Don Cheadle - James "Rhodey" Rhodes
The world may be without the Avengers in Secret Invasion, but they're not without at least one former Avenger: War Machine. 
Since Nick Fury will reportedly be struggling to cope with the fallout of Avengers: Endgame, the presence of Don Cheadle's Rhodey - Iron Man's close friend - is likely to play into that storyline. 
In addition, Cheadle's Armor Wars film is reportedly still in production; and due to his military background, his presence could tie into events for 2024's Captain America: New World Order.
9.) Dermot Mulroney - United States President Ritson
Regarding Rhodey's political connections, Friends actor Dermot Mulroney is playing United States President Ritson.
News of his role was revealed via a prop newspaper from the Disney+ set showing Rhodey greeting President Ritson in London. 
However, Mulroney's Ditson won't be the Commander in Chief for long. Harrison Ford's Thunderbolt Ross has already been confirmed as the MCU's next President of the United States for Captain America: New World Order.  
10.) Charlayne Woodard - Priscilla Fury
As proof of Secret Invasion being both a personal and professional mission for Nick Fury, the Disney+ show casted actress Charlayne Woodard as Priscilla Fury, Nick's wife. 
Her character is expected to be a SWORD agent which not only connects to Fury's whereabouts but also the Skrulls. 
11. Killian Scott
Known for his television roles in Love/Hate and Damnation, actor Killian Scott is set to make his MCU debut in Secret Invasion.
According to an exclusive from The Direct, Scott plays a Skrull named Fiz with comic book connections to Professor X and the X-Men in Marvel Comics.
12. Samuel Adewunmi
While little is known about Adewnumi's Marvel character, The Last Tree and Angela Black star is confirmed to appear in Secret Invasion. 
As marketing ramps up, fans should expect to learn more about his role in the weeks to come. 
13. Christopher McDonald
Another new addition to the MCU is actor Christopher McDonald, best known for his role in Happy Gilmore. 
According to reports, McDonald's original character "could cross over to the larger MCU," and he has referenced "doing a lot of stuff with Samuel [Nick Fury]."
While Marvel Studios is keeping his character under wraps, it sounds like McDonald's role may be significant with an MCU future beyond that of Secret Invasion. 
14. Katie Finneran
While little is known about her character or the extent of her role, actress Katie Finneran is also set to appear in Secret Invasion. 
Finneran is known for her role in the series Bloodline and even appeared alongside another MCU freshman, Ant-Man 3's Kathyrn Newton, in 2020's Freaky. 
Secret Invasion premieres June 21 on Disney+.