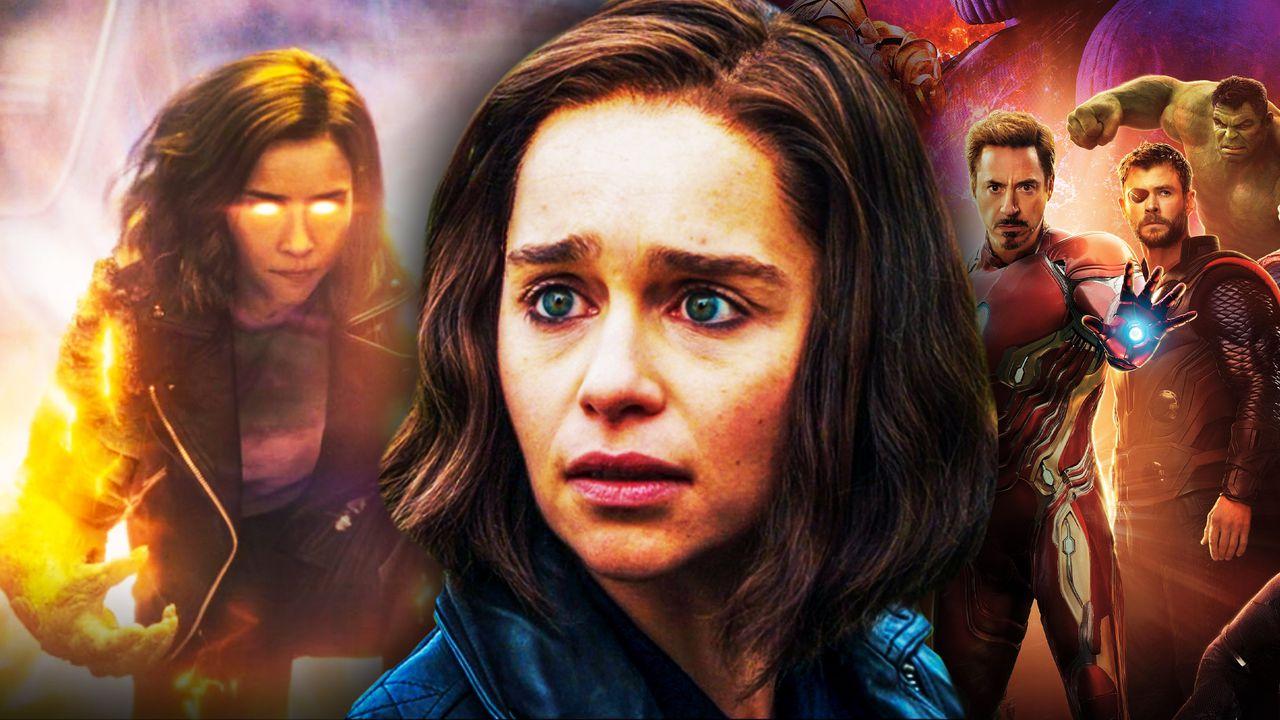 Emilia Clarke's MCU character just got some crazy superpowers. But is she now one of Marvel's most powerful and what does the future hold for her?
The Game of Thrones star made her MCU debut with Secret Invasion as Talos' grown-up Skrull daughter G'iah. Clarke has so far had nothing but praise to offer about her Marvel work, and even expressed a desire to stick around for the long run.
The Disney+ show has already shown Clarke with some superpowers on top of her Skrull shape-shifting as she was able to use Iron Man 3's Extremis to heal herself after Gravik tried to kill her in the Episode 3 cliffhanger.
Emilia Clarke's G'iah Just Got Superpowers
Warning - The rest of this article contains spoilers for Secret Invasion Episode 6, "Home."
The finale of Secret Invasion saw Emilia Clarke's G'iah, initially disguised as Nick Fury, travel to New Skrullos to confront Gravik and stop his Super Skrull plan.
G'iah handed the Harvest over to Gravik, who put the sample through his Super Skrull machine with both of them inside, thus granting the shape-shifting pair all of the superpowers contained inside.
Obviously, a fight ensued between G'iah and Gravik (the murderer of both her parents), which included a showcase of many of these Harvest powers.
G'iah continued to utilize super-healing abilities from Iron Man 3's Extremis which she gained earlier in the series. One ability she used was to transform her arms into that of Drax, Korg, Hulk, and an icicle sword - from the Frost Beast.
She was even able to take advantage of the phasing powers of Ant-Man and the Wasp's Ghost - who will return next year in Thunderbolts - to dodge a flying car.
At some point, Gravik uses the telekinetic powers of Avengers: Infinity War's Ebony Maw - a member of Thanos' Black Order - to throw a rock as G'iah, who would presumably be able to use this ability too.
While emitting the cosmic energy of Captain Marvel and flying through the skies, Clarke's new hero grew the antenna of Mantis to brainwash Gravik to sleep.
Perhaps the craziest in her arsenal of powers comes from Captain Marvel, giving her the ability to fly and blast cosmic energy, which is what G'iah ultimately used to defeat Gravik once and for all.
Through the insane combination of superhero powers she got from the Harvest, G'iah was able to mix and match a huge arsenal of abilities to take down Gravik.
When Will Emilia Clarke's New Superhero Appear Next?
After Secret Invasion, Emilia Clarke's G'iah just became one of the first almost completely original superheroes in the MCU. With no confirmed appearances announced following her Disney+ debut, many will be wondering when the Game of Thrones star will show up again and just what the future holds for her.
In the final moments of Secret Invasion after her defeat of Gravik, G'iah was met in an alleyway by Olivia Colman's MI6 leader Sonya Falsworth. The pair reached a deal that would see the British spy provide aid to the Skrulls in their war with US President Ritson, while the Skrull superhero "[uses] her" in exchange.
The agreement sets the course for G'iah to help out MI6, via the orders of Falsworth, likely by going on some of her more dangerous missions. So it appears as if the MCU futures of Clarke and Colman may be intertwined going forward, perhaps with a dynamic akin to Fury and Talos.
Based on her Skrull background and Captain Marvel-esque powers, The Marvels may appear to the clear destination for G'iah's next MCU appearance. But as the movie is only four months away from its November release and there has been no suggestion of Clarke's involvement, it seems unlikely she will appear.
It's easy to see G'iah finding her way into the next generation of Avengers in The Kang Dynasty or Secret Wars. As one of the MCU's new most powerful heroes, she would undoubtedly be a valuable asset against the many Kang Variants set to threaten the whole Multiverse in the Avengers blockbusters.
Long before Clarke and Teyonah Parris took on the characters, the young G'iah and Monica Rambeau formed a friendship in Captain Marvel. Perhaps that dynamic could be revisited all these years later now they both have powers - there were once rumors of Rambeau leading her own Disney+ series after all.
On the other hand, Clarke could go solo in the MCU with her own project in which she works under Falsworth and the British government. The Game of Thrones actress certainly has the star power to take on a leading role, and it would make sense for Marvel Studios to take advantage of that down the line.
Did Emilia Clarke Just Become Marvel's Most Powerful Superhero?
When Gravik initially processed the Harvest, a full list of the 22 heroes and villains found within the sample was displayed. So, G'iah now has the superpowers of many of the MCU's most powerful characters including Thanos, Captain Marvel, Ebony Maw, and more, which combine to make her almost unstoppable.
For now, perhaps the only caveat behind G'iah's powers comes from her lack of experience in using them. But just looking at her fight with Gravik, the Skrull superhero seemed quickly able to interchangeably use all her new superpowers just as well as the heroes they come from.
Most would agree that Captain Marvel, Scarlet Witch, Doctor Strange, and Thor stand atop the MCU as its most powerful superheroes. And yet G'iah is now infused with the DNA of two of them, along with two dozen other characters, leaving the question of whether she is now the franchise's most powerful hero.
The only abilities G'iah was really left lacking are magical ones, as those powers don't come from DNA itself but rather from other sources. Based on that, one could argue that Elizabeth Olsen's all-powerful Scarlet Witch still stands above her, but there are few others who could be argued to reach her levels of power.
The full list of confirmed characters whose powers Emilia Clarke's G'iah can now use after Secret Invasion can be seen below:
Ghost 
Captain America
Corvus Glave 
Thanos
Outrider
Proxima Midnight
Captain Marvel
Frost Beast
Ebony Maw
Korg
Drax
Cull Obsidian
Mantis
Gamora
Abomination
Hulk
Black Panther
Chitauri
Valkyrie
Thor
Groot
Winter Soldier
---
Secret Invasion is streaming now on Disney+.