2023 has almost reached its halfway point, but seven Marvel movies and TV shows are still set to be released in theaters and on Disney+ before the year's end.
Disney and Marvel Studios already delivered two MCU films in the first half of 2023 - Ant-Man and The Wasp: Quantumania, which came out on February 17, and Guardians of the Galaxy Vol. 3, which hit theaters on May 5.
More projects are planned to come out over the rest of the 2023 calendar year, and not just within the MCU.
Sony Pictures and that company's animation studio also have feature films primed and ready for fans to see by the end of the year, one of which will be coming in less than a month.
2023's Remaining Marvel Theatrical Releases
Spider-Man: Across the Spider-Verse - June 2
Shameik Moore's Miles Morales will be swinging into theaters once again to continue the animated story that began in 2018's Into the Spider-Verse. Hailee Steinfeld will also reprise her role as Gwen Stacy in the upcoming film, and she will be joined by Oscar Isaac, who is playing Spider-Man 2099, a character that was teased at the end of the first film.
Across the Spider-Verse will also be the first of two films to feature Jason Schwartzman's The Spot. That character will serve as the film's main antagonist, and a recent trailer even showcased the upcoming villain's powers.
Kraven the Hunter - October 6
Another film will officially be added to Sony's Spider-Man Universe when October rolls around and Aaron Taylor-Johnson's Kraven the Hunter hits theaters. The upcoming movie, which was confirmed to be R-rated, already received a trailer at CinemaCon.
Some of the footage that was shown featured the Spider-Man villain, Rhino, who will be hunted by Kraven in the film. It is unclear who else the main character will be searching for, but fans can expect an action-packed trip to the theater on October 6.
The Marvels - November 10
The only other feature film set in the MCU that will hit theaters in 2023 will be led by Brie Larson, Iman Vellani, and Teyonah Parris. The three actresses will reprise their roles as Carol Danvers, Kamala Khan, and Monica Rambeau, respectively, and will also be joined by Samuel L. Jackson, who has played Nick Fury for over a decade.
A trailer for The Marvels was already officially released. The footage showcased the basic premise of the upcoming movie, which is the three major characters mentioned above coming together to save "a destabilized universe."
2023's Remaining Marvel Disney+ Shows
Secret Invasion - June 21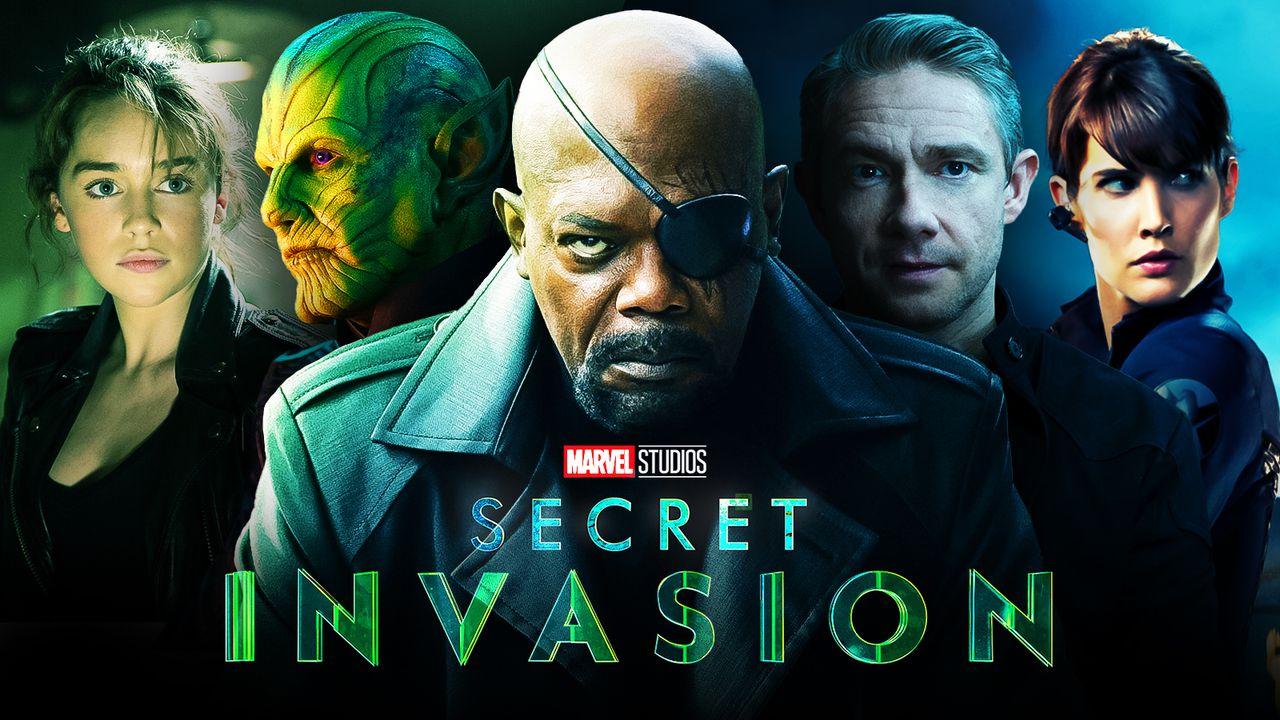 The MCU's next Disney+ series will be an "espionage thriller" that is guaranteed to bring some major surprises and twists to the franchise. Led by Samuel L. Jackson and Ben Mendelsohn, Secret Invasion is said to be geared more toward adults, and the show even has a mature rating.
Secret Invasion will also serve as the debut project for Emilia Clarke, who is starring as G'iah, the daughter of Talos. Don Cheadle's War Machine will be making an appearance as well, and over the course of the six episodes that will be released, the MCU's first official streaming crossover event will take place.
Loki Season 2 - October 6
Fans got their first taste of Season 2 of Loki in the post-credits scene of Ant-Man and The Wasp: Quantumania when Tom Hiddleston's Loki and Owen Wilson's Mobius appeared. The two characters were in search of Jonathan Majors' Kang, but they instead found Victor Timely, one of the villain's many Variants.
The entire cast from Season 1 of the Disney+ series will be returning for the next installment, and the release of this batch of episodes will mark the first time a live-action MCU show will have a second season. As the release date does get closer, fans can expect marketing to increase. However, there may be some changes made to that marketing due to Jonathan Majors' recent arrest.
X-Men '97 - Fall
The upcoming animated X-Men '97 show, which will serve as a followup to the 1990's X-Men: The Animated Series, is the only project on this list that doesn't have an official date. However, that doesn't mean that fans have been left completely in the dark regarding some details of the show.
The show's head writer, Beau DeMayo, recently revealed that the two main characters will be Cyclops and Storm. Fans will, for the most part, follow the two mutants and see most of the events through their eyes. Other vital members of the X-Men team such as Wolverine, Rogue, Beast, Nightcrawler, and Jean Grey will all still be in the show, they just won't be focused on as much as Cyclops and Storm.
Echo - November 29
Narratively, Echo will continue the story of Alaqua Cox's Maya Lopez, a character that was introduced in Hawkeye. It is also set to bring back Charlie Cox's Daredevil, as well as Vincent D'Onofrio's Kingpin. However, in terms of the business side of things, the show will be an experimental project for Disney and Marvel Studios, as it was recently announced that all six episodes will drop on Disney+ on November 29.
This will mark the first time that Marvel Studios and Disney+ have done a binge release for an MCU series. If the numbers are deemed successful, fans can expect some other future shows to be released in the same manner.
Will All of These Marvel Projects Be Released in 2023?
For the most part, it seems as though all of these projects have fairly set-in-stone release dates aside from X-Men '97.
However, that doesn't mean that some things can't change and lead to one or even multiple projects on this list being delayed into 2024.
Obviously, the titles that have close release dates such as Secret Invasion shouldn't face any delays, especially since it is only just over a month out, but the more concerning projects would be the ones set to release later in the year.
If all goes well, fans will see every one of these Marvel projects either in a movie theater or at home on Disney+ before 2024 rolls around and bring fresh movies and shows along with it.
Marvel Studios currently has Guardians of the Galaxy Vol. 3 playing in theaters, and Secret Invasion will be the MCU's next release with a single-episode debut on June 21.
LATEST NEWS
TRENDING