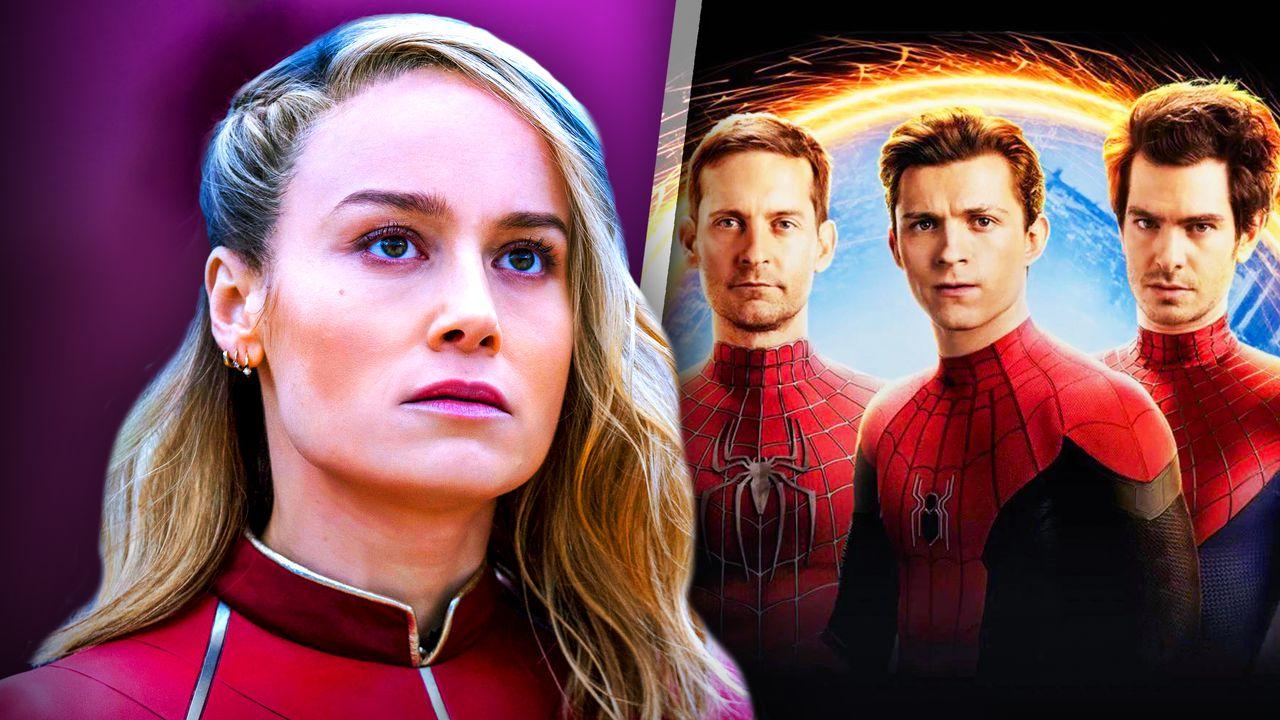 Eagle-eyed fans will be able to spot a Spider-Man: No Way Home Easter egg in the latest Captain Marvel 2 trailer. 
The Marvels is finally set to debut in theaters this fall after a series of delays and schedule switch-ups from Marvel Studios. 
The movie has been described as a "chill-inducing" Avengers-like crossover, as Brie Larson's Captain Marvel teams up with Teyonah Parris' Monica Rambeau and Iman Vellani's Ms. Marvel. 
Following directly upon two Phase 4 projects (Ms. Marvel and WandaVision), The Marvels has the opportunity to further flesh out this post-Avengers: Endgame MCU world. 
No Way Home Easter Egg in The Marvels' Trailer
A reference to Spider-Man: No Way Home can be spotted in the new trailer for Nia DeCosta's The Marvels. 
This Captain Marvel 2 Easter egg comes in the form of the golden Statue of Liberty, which can be seen at the 1:34 mark in the latest trailer. 
These new gold digs for Miss Lady Liberty were first teased in No Way Home, as the statue underwent a Captain America-themed renovation, with the iconic statue now donning Cap's star-spangled shield.
The statue, which was the setting of No Way Home's Multiversal final battle, was prominently featured as having this gold finish in plenty of No Way Home art, despite its gold appearance being subdued in the final movie. 
That is not the case in The Marvel, where the gold rework looks to be complete and shining brighter than ever. 
Marvel Makes Big Changes to Lady Liberty
For some reason, Marvel Studios has continued to point in the direction of this new gold exterior for the Statue of Liberty. 
Of course, there were hints of it in Spider-Man: No Way Home, as fans got glimpses of the new look as the three Spider-Man took on that film's team of Multiversal villains.
But it was harder to see in that movie, as most of it was covered in scaffolding and under construction. 
Fans got a better look at the statue in the Ms. Marvel finale, which was actually changed to reflect this new gold look for Lady Liberty. 
One has to wonder though, why is so much focus being put on this revamped monument? And could it perhaps play into the upcoming Captain America: Brave New World as well? 
It even remains unclear if the statue will even play a role in The Marvels other than this brief cameo.  
The Marvels comes to theaters on November 10.