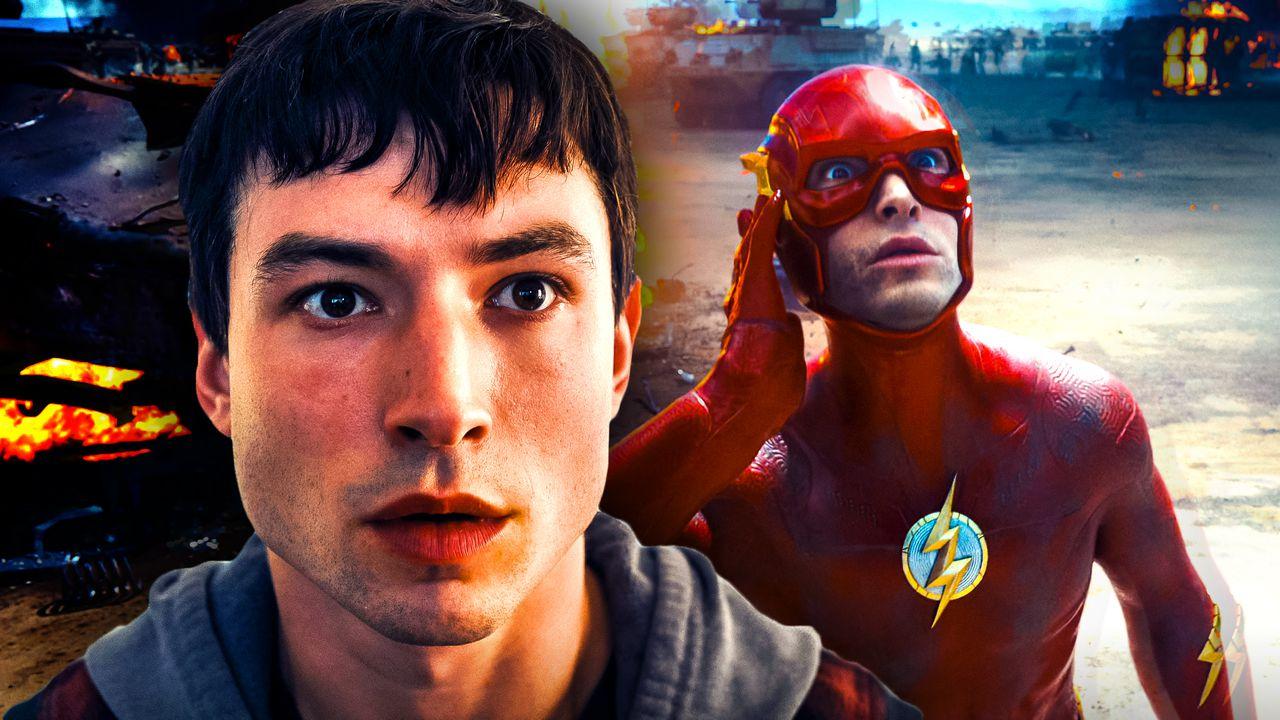 The Flash director Andy Muschietti indicated whether Ezra Miller will be replaced as Barry Allen in a potential sequel, provided he gets his way.
Across last year, Miller found themself entangled in controversy due to a slew of legal problems, seemingly placing their career and DC future in jeopardy.
Despite this, Warner Bros. maintained its commitment to release the already-wrapped $220 million Flash movie as the flick "simply costs too much" to consider reshooting without Miller given they appear in "virtually every scene."
Reports surrounding Miller's DC future have been rather contradictory, going from Warner Bros. reportedly calling it quits with the actor last summer to executives supposedly being more open to keeping them around in recent months.
Will Ezra Miller Still Star in The Flash 2?
Speaking with The Playlist's The Discourse podcast, The Flash director Andy Muschietti addressed Ezra Miller's DC future and the possibility of them reprising Barry Allen in a potential sequel if it were to happen.
When asked if Miller would continue to play Barry Allen in The Flash 2, Muschietti revealed "If [a sequel] happens, yes," the actor would return.
Justifying the statement, the filmmaker explained nobody can play the character "as well as they did" as it felt as if Barry Allen "was made for them:"
"I don't think there's anyone that can play that character as well as they did. The other depictions of the character are great, but this particular vision of the character, they just excelled in doing it. And, as you said, the two Barrys – it feels like a character that was made for them."
Producer Barbara Muschietti added how Miller "was brilliant and the most committed" to The Flash during its production:
"In principal photography, Ezra was brilliant and the most committed and the most professional [actor]. Ezra gave everything for this role – physically, creatively, emotionally. They were absolutely supreme."
Back in October 2022, The Flash 2 was reported to be in development with a script already written by Aquaman screenwriter David Leslie Johnson-McGoldrick, taking over from Christina Hodson who wrote The Flash, Birds of Prey, and Batgirl. 
It's unclear whether the sequel has since continued development following James Gunn and Peter Safran's DC Studios takeover at the start of November 2022.
Why The Flash Director Probably Can't Save Ezra Miller's Job
James Gunn is currently in the midst of rebooting the DCU, with Ben Affleck's Batman and Henry Cavill's Superman already confirmed to be in line for a recast. The fate of the rest of the DCEU's Justice League remains up in the air, but reports point to more recastings and possibly a new role for Aquaman's Jason Momoa.
Ezra Miller's Flash is in a unique position compared to the rest, as there was already talk of them facing a recast ahead of the DC Studios restructuring due to the ongoing controversy. And yet this situation only gets tougher as The Flash and particularly Miller's performance receives universally glowing reactions.
Even though Andy Muschietti clearly had a stellar time working with Miller on The Flash and hopes to see them return given the excellent performance they delivered, the decision regarding his speedster future will ultimately fall on DC Studios' James Gunn and Peter Safran along with other Warner Bros. executives.
With The Flash said to be one of the greatest superhero movies ever made, replacing the lead actor in favor of a reboot would be a bold move. Even on the financial front, certain projections are pointing to a successful box office opening for The Flash, but how far its speedster legs can take it remains to be seen.
Despite how a script for The Flash 2 was supposedly already being written last year, that could very easily still find itself being abandoned. After all, given Batman, Superman, and most of the Justice League are seemingly being recast, it would be rather confusing for general audiences if only part of the team was replaced.
As of now, there are no further Flash projects or appearances confirmed for the DCU's Chapter 1. However, Gunn has been clear that his initial 10-project slate announcement only included "less than half" of what's to come, and it's undeniable the Fastest Man Alive will be seen again in the near future.
But unfortunately, fans should prepare themselves for the potential Ezra Miller won't be the one appearing in the suit next time around. Even Muschietti may not necessarily be back to tackle the sequel or reboot as evidence suggests he may end up directing the DCU's Batman reboot, The Brave and the Bold.
The Flash hits theaters on Friday, June 16.