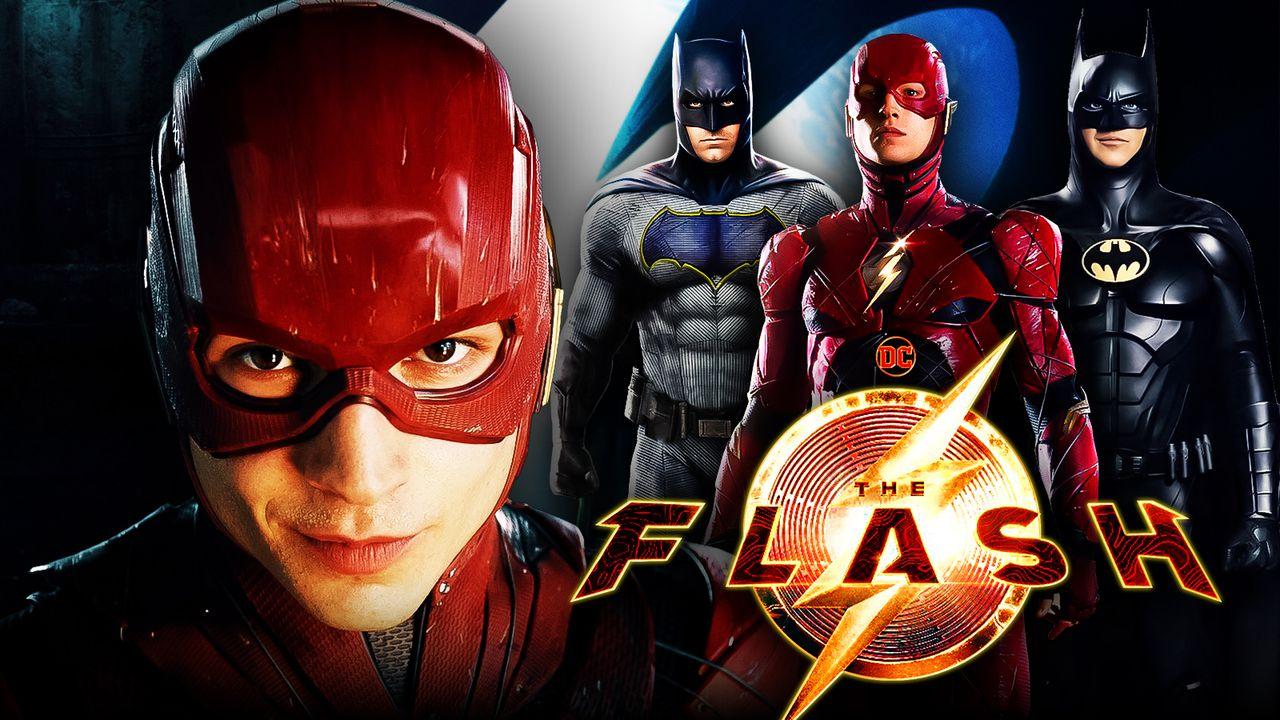 Following the first showing of The Flash at CinemaCon, critics shared some strong reactions to the DCU's next theatrical entry in their first reviews.
After half a decade's worth of delays and plenty of controversy behind the scenes, The Flash is finally set to make its theatrical debut this summer.
Test screenings yielded plenty of mixed reactions from early viewers during its development, although as of late many praised it for being one of the best movies that DC has ever made.
Some of the test scores have even been on the same level as Christopher Nolan's Dark Knight trilogy, which is regarded as some of the best superhero storytelling of the 21st century. Safe to say, expectations are running high ahead of The Flash's debut.
Critics Praise The Flash Movie (First Reviews)
Warner Bros. delivered the first screening of DC Studios' The Flash at CinemaCon 2023, and critics who watched it shared their initial reactions to the new film.
Fandango's Erik Davis called the movie "tremendous" while praising it as being "among the best superhero films ever made," leaving the movie "in tears:"
"DC's 'The Flash' is TREMENDOUS! Forget DC, it is without a doubt among the best superhero films ever made. An all-timer. Inventive storytelling, FANTASTIC action sequences, great cast. SO MANY nerdy details. I'm in tears at the end. Everything you want from a superhero film & more"
ComicBook.com's Brandon Davis had high praise for the new DC movie, highlighting how well the "dynamic of two Barry Allen's" was done:
"Damn, 'The Flash' is good! It's super inventive both visually and in concept. The dynamic of two Barry Allen's is crazy well done. Emotions hit me intensely hard, solid surprises, and it got me wanting to watch again and really eager to see how they follow it. Well done."
Variety's Scott Mantz sees The Flash as "one of the very best DC movies," specifically highlighting Ezra Miller and Michael Keaton's impressive performances:
"'The Flash' is awesome! One of the very best DC movies, a perfect blend of action, heart & humor! So many WOW & chill-inducing moments that longtime DC fans will love! EZRA MILLER is superb (twice, actually!) & MICHAEL KEATON's still got it!"
Collider's Steven Weintraub noted that Miller was "soooooo good in this movie," giving props to director Andy Muschietti for making "something special:"
"'The Flash' is fantastic. I know Ezra Miller has made a lot of mistakes but they are soooooo good in this movie. Loved Keaton, the action, humor and emotion. Andy Muschietti has crafted something special. Thumbs way up. WB didn't show the after the credits scenes."
The Wrap's Umberto Gonzalez ranked The Flash as "the GREATEST DC movie of the last 30 years" outside of Christopher Nolan's Dark Knight trilogy, putting it alongside Christopher Reeves' first Superman movie and Michael Keaton's original Batman film:
"BELIEVE THE HYPE! Christopher Nolan movies aside, 'The Flash' is the GREATEST DC movie of the last 30 years that belongs in the same conversation as 'SUPERMAN' 78 and 'BATMAN' 89. The movie breaks incredible new ground in superhero cinema & honors DC lore of years past."
Screen Rant's Rob Keyes teased that fans will see "some stuff in [The Flash] you will not believe," hyping up the way it ties together the old DCEU with the new franchise starting soon:
"Just watched 'The Flash' at CinemaCon. It has some stuff in it you will not believe and it showcases much more of Barry Allen's powers. It is indeed one of DC's best and fits nicely as a bridge story between the old and new DCEU franchises. It's also the funniest DC movie."
SlashFilm's Jenna Busch called The Flash "pretty great" and specifically noted how much she missed Michael Keaton's Batman, which also came with high praise for Sasha Calle as Supergirl:
"'The Flash' is pretty great, and it makes sense to me now why DC didn't shelve this one. Michael Keaton is ... chef's kiss. I didn't realize how much I needed Keaton's Batman in my life again. Some really emotional moments here. Sasha Calle is awesome - I want to see more of her!"
Next Best Pictures' Daniel Howat praised The Flash for being "massively entertaining," highlighting its use of the Multiverse and ranking it quite highly among the best superhero movies ever:
"'The Flash' is massively entertaining! Extraordinarily funny, but still has solid emotional stakes. It's one of the better multiverse movies out there. Tons of fun surprises. A genuinely superb superhero movie - one of the best in a long time! Very, very satisfying."
The Ankler's Jeff Sneider had mixed feelings about the film, calling the first hour "pretty fantastic" while describing the last hour as "MOSTLY terrible:"
"'THE FLASH:' First hr is pretty fantastic. Strikes the perfect tone. Ezra is great. Heroic. Funny. Emotional. The last hr is MOSTLY terrible. Just an utter mess that'll leave you asking, "what the HELL is going on?" Fan service & DC villain problem strike again. Mixed bag overall."
Variety's Rebecca Rubin was similarly not as impressed by the time The Flash crossed the halfway mark, saying that she was "completely exhausted" by the time the second hour started:
"'The Flash' is… not one of the greatest superhero movies ever. Parts are funny and fun, but I was completely exhausted by the second hour. It took me at least 5 minutes to recognize Michael Keaton, though, so do with that what you will."
Variety's Katcy Stephan felt the "best superhero movie of all time" title that has been thrown around in relation to The Flash wasn't warranted, saying the movie has "very little to actually say:"
"'The Flash' is an ambitious movie with very little to actually say. Packed with cliches and far longer than it needs to be, it shares themes with some similar titles, but doesn't execute nearly as well. A far cry from the "best superhero movie of all time."
Discussing Film's Andrew Salazar gave props to Andy Muschietti for capturing the essence of what many wanted in a Flash movie, but also teased some "bizarre decisions" both in terms of story and technical aspects:
"'The Flash' manages to deliver glorious high thrills. Andy Muschietti captures what many of us have always dreamed for a cinematic Flash story. But there's also plenty of just *bizarre* decisions. Some story related and others technical. Not amazing but still pretty good at times.
Salazar continued by teasing that general audiences will enjoy The Flash along with longtime DC fans:
"This is neither one of the best superhero movies of our time nor a total dumpster fire, which it easily could have been! My prediction: general audiences are totally going to enjoy this. Long time DC fans are going to walk away very happy too. It's tailored for that experience."
Collider's Perri Nemiroff posted an extended review of the film, noting how much she enjoyed "how the narrative challenges Barry to confront who he is" and who he wants to become.
While she didn't see it as perfect, she congratulated Andy Muschietti for "yet another winner" and confirmed that she left wanting to see the movie a second time:
"Caught an unfinished cut of 'The Flash' and dug it quite a bit! Especially how the narrative challenges Barry to confront who he is, who he could have become, and how one's influenced by the people in (or not in) their life.

It's a successful mix of heartfelt coming-of-age components, stellar action (really loved the style of Flash's powers & the creativity in those scenes), and a whole bunch of BIG laughs. The comedic timing and delivery are on point.

It's a lot of movie and there were moments when I could somewhat feel it caving under the pressure of the mechanics of the concept and the themes it's exploring, but for the most part, it moves well, looks good, radiates enthusiasm for the characters and story it's telling, and left me wanting another viewing. Yet another winner for Andy Muschietti."
CinemaBlend's Sean O'Connell wants to see The Flash again countless times after watching it, praising Miller's standout performances:
"Nostalgic. HILARIOUS. With tons of heart and two outstanding performances by Ezra Miller. I honestly can't believe 'The Flash' actually exists. It's magical. It presses every button. I'll see it 1,000 times."
Fandom's Eric Goldman thought that the movie had creative enough sequences that would allow it to stand out from other superhero movies:
"Yeah, 'The Flash' is legit great! It delivers some notably thrilling, fun and creative moments I felt I hadn't seen in a million other superhero movies. It had me smiling from the Warner Bros. logo at the top and I even dug stuff inspired by movies I wasn't into."
io9's Germain Lussier called The Flash a mashup between Back to the Future and Spider-Man: No Way Home, saying that the movie does indeed live up to the hype:
"Yup. 'The Flash' is as good as rumored. It's Back to the Future meets Spider-Man: No Way Home with all the humor & heart of the former and action and surprises of the latter. If anything, it might be a tad too ambitious but it's also just incredibly satisfying, heartwarming & fun."
Forbes' Jeff Conway threw praise towards The Flash's core trio of actors, lauding Ezra Miller as the lead and hyping up Sasha Calle's debut as Supergirl:
"I just watched 'The Flash' and it's the most vibrant superhero film I have ever seen! The colors are impeccable and the action is such a thrill. Ezra Miller leads with depth! Michael Keaton is superb as Batman again! Sasha Calle captivates with grace as Supergirl! A brilliant film."
Geeks of Color's Dorian Parks called the movie "cinematic fire," while also claiming it to be one of DC's best:
"'The Flash' is cinematic fire! This film is a stunning piece of art that will leave you wanting more. It stands out as one of the best DC movies ever made. The action is fantastic and it has a great balance of comedy and emotional beats."
GameSpot's Chris E. Hayner was "genuinely shocked" that The Flash lived up the hype, saying he has a new favorite superhero after watching the movie:
"I don't know what to say other than 'The Flash' delivered more than I could have hoped. The acting is beyond great. Keaton delivers everything you want. Supergirl is my new favorite superhero? I'm genuinely shocked this movie meets and surpasses the hype. I never expected that."
Will The Flash Land With Fans?
While Ezra Miller appears to bring a solid performance in their long-awaited first DC solo movie, these reviews largely highlight Michael Keaton's efforts in returning as Batman and Sasha Calle's debut as Supergirl.
Director Andy Muschietti also gets his fair share of praise for his work as the director, which is particularly exciting considering how much exciting information he's shared about his process and production for The Flash.
Now, the only question remains how fans will react to DC's latest efforts.
If Top Gun: Maverick star Tom Cruise is to be believed, viewers are in for one of the best DC movies in quite some time, which comes from somebody who hasn't entered the world of superhero movies as an actor.
And while it's still a mystery how the general public will react, newly released footage of Michael Keaton and Sasha Calle should be encouraging as the DCU looks to get back on track ahead of the move to Chapter 1: Gods and Monsters.
The Flash will arrive in theaters on June 16.