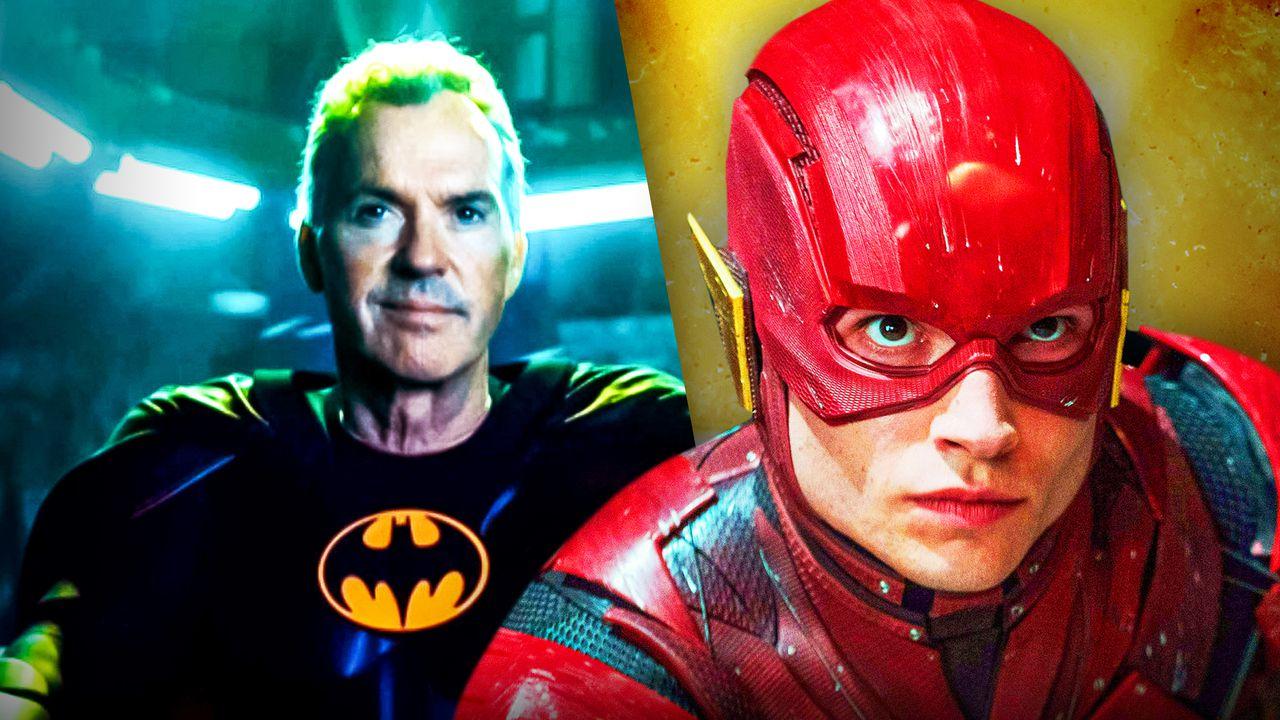 New footage from The Flash revealed the first look at Michael Keaton's Bruce Wayne unmasked in his Batman suit.
After over 30 years away, Michael Keaton's Batman will return to team up with Ezra Miller's Flash and Sasha Calle's Supergirl in this summer's The Flash.
Fans already caught plenty of looks at Keaton's comeback, with photos showing off his older-than-ever Bruce Wayne and merchandise revealing the actor unmasked in his classic 1989 Batman suit.
Michael Keaton's Batman Unmasked in New Photos
During the Max streaming service reveal event, Warner Bros. Discovery showed off a new spot for The Flash which included the first footage of Michael Keaton's unmasked Batman in the speedster flick.
Keaton can be seen maskless donning a variation on his classic 1989 Batman suit in the Batcave as he asks Ezra Miller's two Barry Allens if they "need some help."
The returning Batman was shown from a straight-on angle in the official trailer as he uttered the iconic "I'm Batman" line, although in that shot he was wearing his cowl.
The newly-released spot also showed off Keaton's Batman gliding through the air with his wings spread after jumping from the Batplane.
The Flash's latest teaser - via Cine Geek News - can be seen below:
Batman Older Than Ever in The Flash
At 71 years old, Michael Keaton will be playing the oldest Batman ever brought to screens when he makes his comeback in The Flash, and that only becomes more apparent when he can be seen unmasked.
That being said, the veteran Dark Knight appears as lively as ever in the footage shown so far, with him fighting off criminals and jumping from the skies with as much strength and energy as ever.
The Flash remains firmly a solo movie for Ezra Miller's Barry Allen, even as he teams up with Batman and Supergirl, but one has to wonder whether fans will see much of Bruce Wayne outside his superhero persona. The first look at Keaton's intense-looking billionaire was already released online, but the extent of his non-superhero appearance in the movie is currently unclear.
Keaton's Batman was originally set for a long-term return across the now-canceled Batgirl, an Aquaman 2 cameo, a Batman Beyond solo movie, and in the long term as the DCEU's new Dark Knight, but all that is now out the window as the blue brand prepares to reboot with a new actor under DC Studios CEO James Gunn.
The Flash hits theaters on June 16.