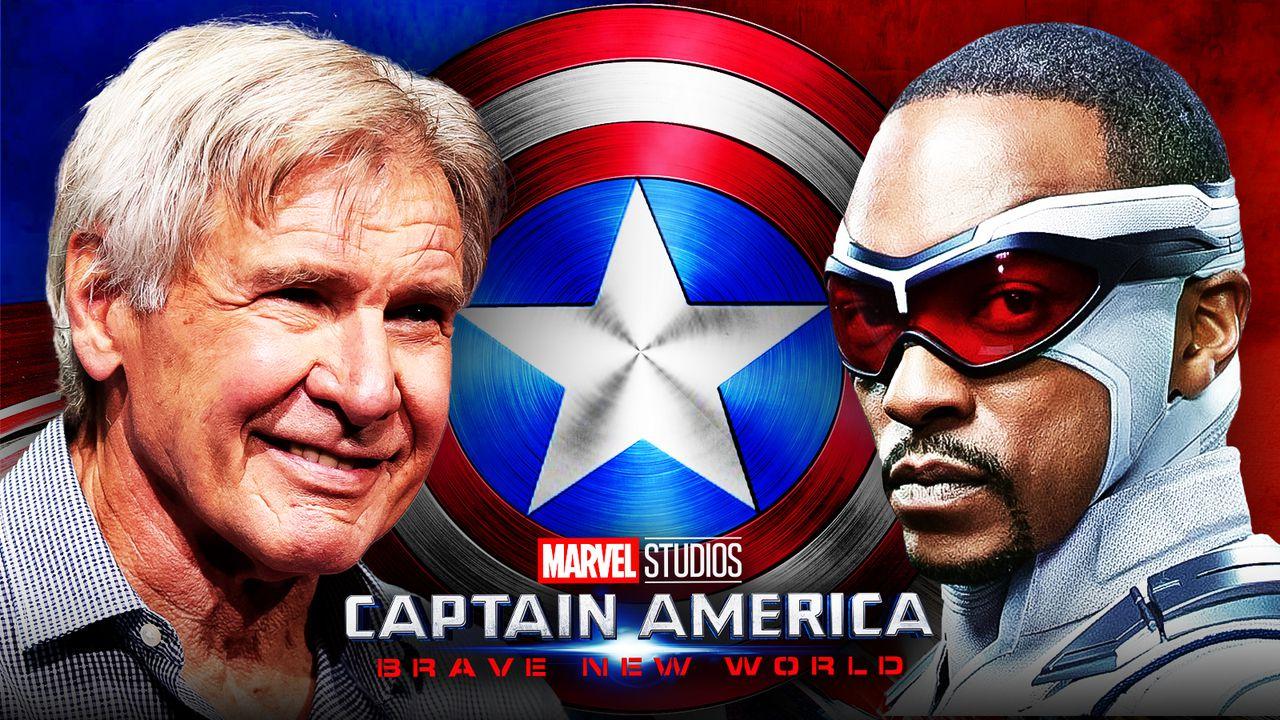 There are six main cast members in Captain America: Brave New World, and Marvel Studios just revealed who they are.
Captain America 4 is currently in production and is expected to hit theaters on May 3, 2024.
The film's lead, Anthony Mackie, recently revealed the new title of the upcoming sequel and also gave fans a first look at his character's new Captain America suit.
Many other actors will be joining Mackie in Brave New World, some being familiar faces seen in other projects within the MCU and others being completely new.
Captain America: Brave New World's Six Main Actors
Marvel announced the six top-billed actors that will be appearing in 2024's Captain America: Brave New World. These actors will seemingly have the most screen time throughout the upcoming film.
1.) Anthony Mackie (Sam Wilson, aka Captain America)
Anthony Mackie will be making his grand return as the MCU's new Captain America for the first time since 2021's The Falcon and the Winter Soldier. A recent set video even revealed the veteran actor doing a flip in his new costume.
Mackie teased that his version of the character is "more of a humane Cap," and fans will likely get to see that firsthand when the upcoming film is released in theaters.
2.) Harrison Ford (Thaddeus Ross)
Following the tragic passing of the MCU's William Hurt, legendary actor Harrison Ford took over the role of Thaddeus "Thunderbolt" Ross and will make his franchise debut in Captain America 4.
Ford admitted that, while working in the MCU is very rewarding, there are also some "tough days." His character in the film will also likely have his fair share of those types of days as well seeing as how Marvel Studios president Kevin Feige confirmed that Ross will be the President of the United States in Brave New World.
3.) Carl Lumbly (Isaiah Bradley)
Carl Lumbly is confirmed to be reprising his role as the ex-super soldier Isaiah Bradley in Captain America: Brave New World.
Lumbly's first appearance in the MCU was in Disney+'s The Falcon and the Winter Soldier where he came face-to-face with Sam Wilson on multiple occasions, and even encouraged the character to actually take up the mantle of Captain America.
4.) Danny Ramirez (Joaquin Torres)
Danny Ramirez is yet another actor from The Falcon and the Winter Soldier that will be making his return in the upcoming Captain America flick.
Just as Sam Wilson became the MCU's Captain America, Torres is expected to become the franchise's new Falcon. Some set photos of Ramirez and Mackie together recently surfaced, adding fuel to the fire that Torres will officially become the MCU's next hero in Captain America 4.
5.) Tim Blake Nelson (Dr. Samuel Sterns)
Veteran actor Tim Blake Nelson will reprise his role as Dr. Samuel Sterns, also known as the Leader, in Brave New World. This marks the character's first appearance since 2008's The Incredible Hulk.
Sterns was confirmed to be the main antagonist of Captain America 4, and recent set photos revealed his hands to be green, which teased that fans will get to see the Leader in his full villainous form throughout the film.
6.) Shira Haas (Sabra)
Shira Haas is making her MCU debut in Brave New World as the first Israeli superhero to ever be put on the big screen.
So far, including Sabra in the mix, in general, sparked some controversy. It is still unclear as to how the character will actually fit into the film as a whole, but since Marvel included Haas' name in the list of main actors, she will likely have a fairly extensive role.
Additional Major Names in Captain America 4
Even though Marvel officially listed the six main actors that will appear in Captain America: Brave New World, there are still some fairly big actors that were left off that list.
One of these is Julia Louis-Dreyfus, who is reprising her role as Valentina Allegra de Fontaine in the upcoming film. It was recently rumored that she will actually have a fairly important role that could see her forming the villainous Serpent Society.
This could potentially set up the conflict for another installment in the Captain America franchise, and if so, Louis-Dreyfus could be returning for another future film and be promoted to the lead antagonist.
Speaking of the Serpent Society, WWE superstar Seth Rollins is confirmed to also have a role in Captain America 4, and he is rumored to actually be portraying one of the members of the previously mentioned group of villains.
Rollins' Captain America filming schedule caused him to miss a couple of tapings of WWE's weekly Monday Night Raw. However, the wrestler recently confirmed that he will be at nine more WWE events during the remainder of the month of June, so his time on-set of Brave New World is likely finished.
It is also possible that Don Cheadle's James Rhodes could make a surprise appearance in the upcoming 2024 film. 
It was recently confirmed that Cheadle's character will serve as the "righthand to the president" of the United States in Disney+'s Secret Invasion.
Seeing as how Thunderbolt Ross will actually be the president and will have an extensive role in the film, it wouldn't be a surprise for Cheadle to show up at some point.
Captain America: Brave New World is set to hit theaters on May 3, 2024.