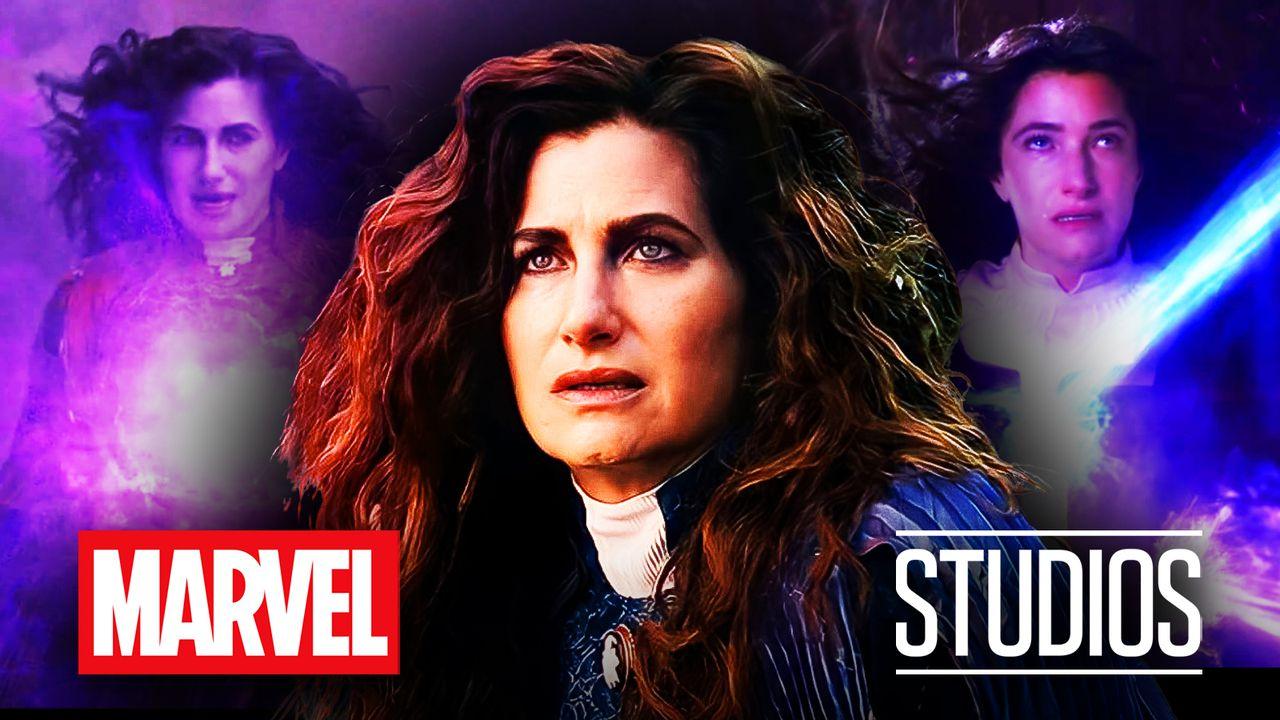 The number of Disney+ episodes for Agatha: Coven of Chaos was confirmed, and it's somewhat surprising. 
The WandaVision spin-off helmed by Jac Schaeffer stars Kathyrn Hahn, reprising her MCU breakout role as Agatha Harkness, alongside Debra Jo Rupp, Aubrey Plaza, Sasheer Zamata, Patti LuPone, and possibly Evan Peters. 
Now reported to debut in 2024, Marvel Studios has largely kept Westview's future story under wraps; however, a new report suggested it requires a longer season than most to tell it. 
How Many Episodes Is Agatha: Coven of Chaos?
According to Mashable, Agatha: Coven of Chaos will have an extended season consisting of nine episodes, hitting the record for the highest episode count for a live-action Marvel Studios Disney+ season that was set by its predecessor, WandaVision, and 2022's She-Hulk: Attorney at Law. 
Apart from WandaVision, She-Hulk, and What If...?, the average episode count for MCU shows on Disney+ has hovered at six. 
And, while Marvel Studios looks to continue that trend with Loki Season 2 in October and Ironheart in 2024, it also intends to break it with Daredevil: Born Again's reported 18-episode season. 
Check out a list of known episode counts for other MCU Disney+ shows below:
WandaVision - 9 episodes
The Falcon and the Winter Soldier - 6 episodes
Loki - 6 episodes
What If...? - 9 episodes
Hawkeye - 6 episodes
Moon Knight - 6 episodes
Ms. Marvel - 6 episodes
I Am Groot - 5 episodes
She-Hulk: Attorney at Law - 9 episodes
Secret Invasion - 6 episodes
I Am Groot Season 2 - 5 episodes
Loki Season 2 - 6 episodes
What If…? Season 2 - 9 episodes
Ironheart - 6 episodes
Agatha: Coven of Chaos - 9 episodes
This nine-episode confirmation supports series star Patti LuPone's previous claim of the show having "nine scripts."  
However, it's worth noting that just because there are nine scripts, that doesn't mean an episode would've been cut in post-production. 
For instance, there were storyboards for Episode 10 of WandaVision, even though the finished season only consisted of nine. 
Why Agatha: Coven of Chaos Needs Nine Episodes
Given that Agatha: Coven of Chaos is a spin-off series and not a comic book event like Secret Invasion or an origin story like Ms. Marvel, a nine-episode season is a surprise. 
However, WandaVision still stands as one of the most successful MCU Disney+ series to date of which Kathyrn Hahn's performance was a huge highlight. 
While that alone may be reason enough for Marvel Studios to greenlight an extended season, series star Debra Jo Rupp claimed Agatha: Coven of Chaos acts as "the second season of WandaVision."
If so, Season 2 may require nine episodes in order to match Season 1.
Interestingly enough, one of the recent fan complaints with MCU Disney+ shows is their short seasons with varying episode lengths. 
While Agatha: Coven of Chaos' season could follow the WandaVision sitcom model, which may be another reason for its nine-episode season, both it and Daredevil: Born Again may prove why fans prefer longer runs to Disney's trend of a six-episode mini-series. 
Fans should expect to learn more about the MCU's first Disney+ spin-off as 2024 approaches. 
Agatha: Coven of Chaos is expected to premiere on Disney+ sometime in mid-2024.