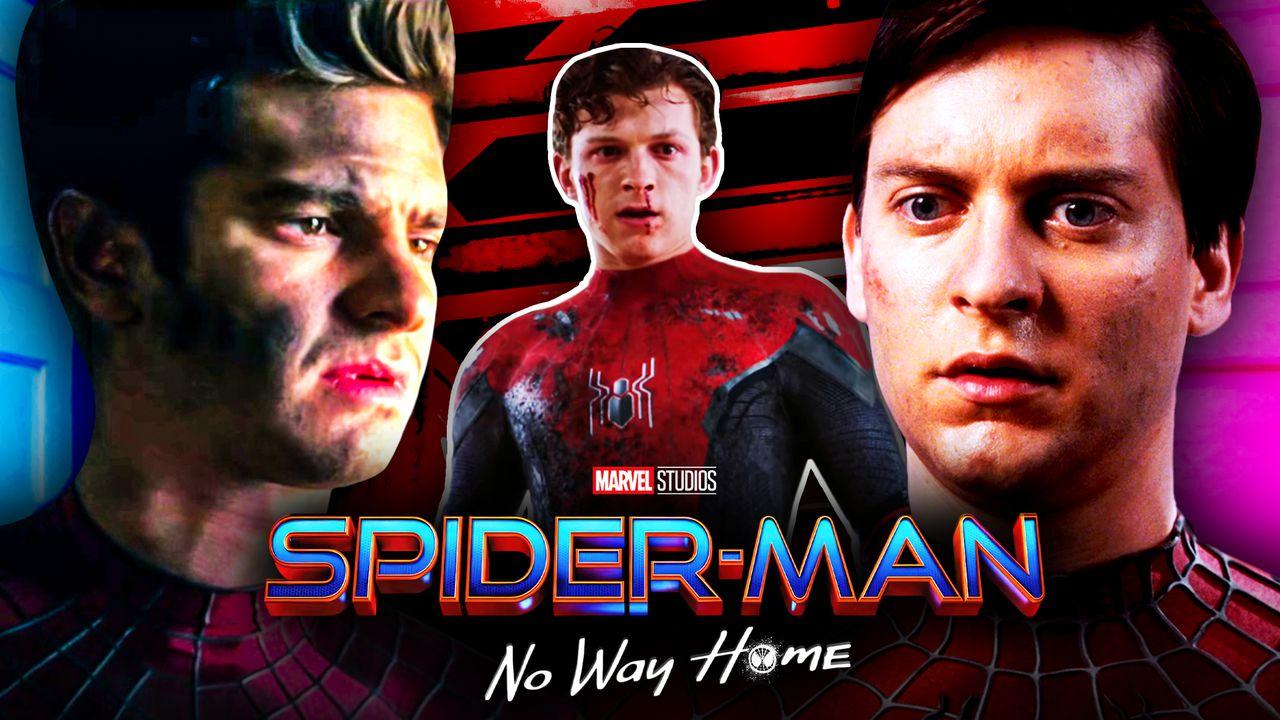 Spider-Man: No Way Home is still weeks away, but Tom Holland's multiversal adventure is already breaking the internet. The first teaser for Tom Holland's threequel shattered viewership records so much that Sony Pictures held an exclusive launch event for the film's second trailer, one that sent social media into an equally-chaotic frenzy. This included first looks at Willem Dafoe's Green Goblin, Jamie Foxx's Electro, and possible hidden glimpses of Tobey Maguire and Andrew Garfield's Peter Parkers.
As the No Way Home hype train makes its final rounds before destination December 17, one big stop awaits: Spider-Monday.
Sony's rebrand of Cyber Monday marks the day Spider-Man: No Way Home tickets officially go on sale to the public. With a movie as anticipated as Peter Parker's third MCU solo installment, ticket sites were unable to handle the traffic.
Spider-Man: No Way Home Ticket Outage Causes Outrage
Peter Parker has sent the known universe into madness.
Spider-Man: No Way Home tickets officially went on sale, but most fans were unable to pre-book seats due to various cinema chains' online servers crashing due to high traffic. This has created quite an impatient panic among fans online, as many anxiously await ticket sites to resume operations.
Twitter user @Megan_farrell09 expressed her frustration alongside a meme of Marvel President Kevin Feige.
@bougiegentleman asked fellow fans if they were experiencing the same issues with AMC's website as him, sharing a gif of Tobey Maguire's Peter Parker shedding a tear.
@LeeParham329 was left in disbelief that ticket sites still continue to crash in 2021.
"I genuinely don't understand how in 2021 we haven't figured out a way to prevent sites from crashing I'm just accepting the fact I probably won't get good tickets for #SpiderManNoWayHome."
In a glass half full perspective, @MCUfanshow pointed out that there hasn't been this high enough demand for a single movie to instigate a crash like this in a long time.
Some users are unable to even load their ticket sites, as user @deeandjello points out.
"The internet is literally crashing. I can't even get on the site lol #SpiderManNoWayHome."
The high demand has fans already comparing No Way Home's box office return to that of Avengers: Endgame, which briefly broke the worldwide record in 2019.
"Lol this is going to be Endgame levels with tickets. All the sites are crashing. #SpiderManNoWayHome."
ComicBook's Brandon Davis notes that three of the biggest movie ticket sites, "Fandango, AMC, [and] Regal" are all experiencing technical difficulties.
"Can't log onto Fandango, AMC, or Regal for #SpiderManNoWayHome tickets right now."
Twitter user @AlexMitchiex13 shared an image of her virtual waiting line on the AMC App, noting waiting in a digital queue for movie tickets "is a first."
Peter Parker in High Demand
Spider-Man: No Way Home has been tracking strongly for months. While data and analytics have forecasted a massive box office return for a while, this bumper-to-bumper online traffic is the biggest indicator that December's web-slinging release is due for profits hitherto undreamt of.
The last time a film caused this much online ticket traffic was 2019's Avengers: Endgame, which went on to make an Earth-shattering $356 million in its domestic opening weekend. That third of a billion-dollar haul put Endgame in a comfortable record-holding position, as the second highest opening weekend, Avengers: Infinity War, sits at a distant $257 million.
If No Way Home's ticket traffic is rivaling Marvel Studios' crowning achievement, Sony Pictures could be in for quite the Christmas present. The pandemic, of course, will be a big variable to consider when predicting box office, but Spider-Man: No Way Home's rumored runtime gives it an unexpected advantage. 
With a speculated duration of 2 hours and 28 minutes, No Way Home is a full half hour shorter than Endgame. This allows theaters to book more showings of No Way Home in a given day. Considering the demand Spider-Monday produced, cinemas will likely want to squeeze in as many showtimes of No Way Home as possible. 
Its fighting an uphill battle, but records are made to be broken. As long as fans can successfully purchase their tickets in time, Spider-Man: No Way Home is in for a historic holiday season.
Spider-Man: No Way Home swings into theaters on December 17.