Marvel Studios is only a few days away from one of its rare breaks in content releases, with the final episode of What If...? premiering on Disney+ next week. After October 6, the MCU goes on hiatus for about a month, the longest gap between new content since the extended pause between The Falcon and the Winter Soldier and Loki.
With fans also still taking in everything from Shang-Chi and the Legend of the Ten Rings in theaters, anticipation is building for one of the most potentially impactful MCU films ever in Eternals.
In the movie's full second trailer that released shortly before Spider-Man: No Way Home broke the internet, fans got an idea of what exactly the immortal beings will be facing in their first solo adventure. In a story following the immediate aftermath of The Blip from Avengers: Endgame, this big ensemble which stars Angelina Jolie, Salma Hayek, Kit Harington and Richard Madden among others will be tasked with saving the world from the terrifying Deviants.
Although the footage released so far certainly teases another action-packed MCU installment, there are still plenty of mysteries that will remain under wraps until the film releases in just over a month. To continue Eternals' hype train, newly released photos are showing off fresh looks at some of the film's biggest stars.
New Looks at Marvel's Eternals Stars
Twitter user @AngelinaJWorld shared eight new images of the stars from Marvel Studios' Eternals, which will come in the next edition of Empire Magazine.
Lauren Ridloff stands confidently as the MCU's first deaf superhero, Makkari. While she may be still in this image, she will make her presence felt as the newest Marvel speedster to enter the fray.
Richard Madden is seen walking through a field, fully suited up as the powerful Ikaris. His blue and gold suit contrasts with a green field as he walks amongst the natives.
Brian Tyree Henry shows off one of his numerous looks as the technological wizard, Phastos. He sports a pair of glasses reminiscent of the Harry Potter movies along with a bowtie.
Actor Harish Patel is seen sitting next to Don Lee's Gilgamesh in front of a set of lit candles. It's unclear what the topic at hand is, although they appear to be listening to some kind of serious matter.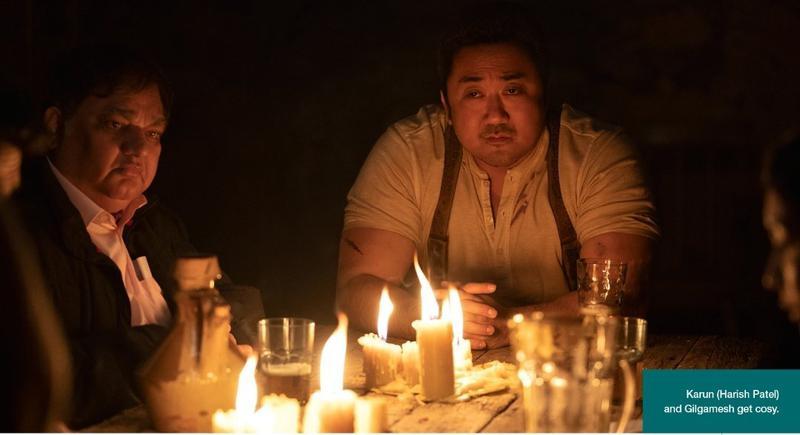 Ikaris star Richard Madden and the film's director Chloé Zhao are seen discussing the vision for Eternals. They are in an unspecified forest location preparing for the next shot.
Lia McHugh's illusion master Sprite is shown off in full costume with one of her hands pointing ahead. She may be working to project one of her life-like illusions in this scene.
Leading actors Gemma Chan and Richard Madden stand in the sand together as they embody Sersi and Ikaris. The two are rocking street attire, which they were seen in as they connected emotionally in the movie's first trailer.
Salma Hayek's Ajak looks toward the horizon as she appears in full costume in front of an intricately designed building. Her leadership will play a key role in bringing the Eternals together for their ultimate journey.
A Fresh Look at Madden, Hayek, Chan, and More
While only generalities about the plot of Eternals are known up to this point, these pictures continue to show off the film's attention to detail. The superhero costumes are shown off in all their glory, and fans also get a closer look at what these powerful beings will sport when they're not doing battle with any number of enemies.
Also showcased are the real-life locations for which Zhao fought so hard to be included in the film, giving a tease of just how spectacularly the geography behind the film's A-List cast will come to life. From vast deserts to lush greenery, the Oscar-winning director undoubtedly wanted to make this movie visually stunning to the naked eye by shooting on-location rather than opting for CGI'd set-pieces.
These images only give a small glimpse of what fans should expect to see in just a few weeks. If the entire 2-hour-36-minute runtime lives up to how gorgeous these stills promise the film to be, the MCU fandom is in for something special.
Eternals will release in theaters on November 5, 2021.
LATEST NEWS
TRENDING