During production for Joker: Folie à Deux, Lady Gaga's Harley Quinn got her own version of one of the most iconic set pieces from the original Joker movie.
Oscar-nominee and Grammy-winner Lady Gaga is now deep into production on Joker 2 for Warner Bros. as the studio looks to follow up its efforts on one of the most critically successful comic book movies in history.
Story details have teased that this sequel will reimagine Harley Quinn to be a patient at Arkham Asylum alongside Joaquin Phoenix's Joker, with the two stars joining forces to bring one of comics' most iconic and toxic relationships to life.
Harley Quinn Embraces Set of Stairs in Joker 2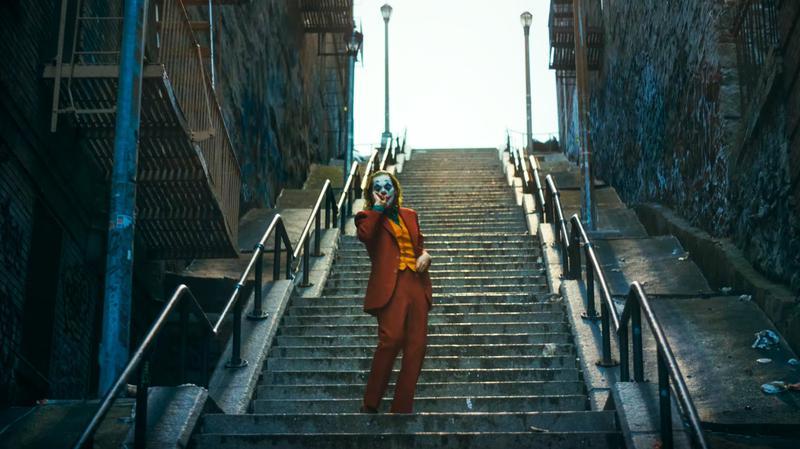 Set photos from Joker: Folie à Deux showed off Lady Gaga filming as Harley Quinn on the iconic "Joker stairs" in the fictitious Gotham City (The Bronx, New York City, in real life). 
Fans will remember how Joaquin Phoenix famously danced up and down these steps in his original Joker from 2019.
Lady Gaga stands on the set of stairs in a black dress, coat, and boots, as she looks behind her at something off-camera.
Another image shows the staircase seemingly right at sunset, with the camera pointed right at Gaga as she walks up the stairs with her head down.
Gaga is also seen smiling on set next to Joker 2 director Todd Phillips as they work through the scene together between shots.
How Will "Joker Stairs" Return in Joker 2?
The "Joker Stairs" became one of the most memorable moments from the initial movie, with stars, creatives, and fans alike continually looking back on the titular character's dance that showed off his true insanity in the plot.
Looking at these set photos, it's no surprise to see the movie revisit this set piece, which will allow Lady Gaga's Harley Quinn to have her own memorable moment for the sequel. And with other footage already teasing that she'll show off her vocal prowess elsewhere, it wouldn't be shocking to see the world-famous musician go back to her roots during this scene.
While Phoenix isn't seen at this moment, there's a possibility that his Joker could return to this staircase as a look back to his first movie, especially as his relationship with Harley Quinn evolves more fully.
And since Gaga isn't seen in the new version of the Harley Quinn outfit in this footage, it's difficult to tell where exactly her "Joker stairs" moment comes in during her journey. But considering how memorable that staircase was in 2019, this scene will be one fans watch out for as the sequel looks to make its own mark.
Joker: Folie à Deux is filming now before coming to theaters on October 4, 2024.