Marvel Studios is officially running with its 2022 release schedule, having kicked off with Moon Knight ahead of May's Doctor Strange in the Multiverse of Madness. As fans are well aware, the next theatrical outing set to debut is the MCU's 35th project, July's Thor: Love and Thunder. However, you might not know it when looking at Thor 4's lacking promotional tour.
In the post-pandemic era, studios' promotional plans for theatrical releases have changed drastically, particularly in regard to when trailers debut in relation to movies' big-screen premieres. Marvel fans have seen this recently with the unexpectedly long wait for Spider-Man: No Way Home's first trailer, and now, that same wait is back for Chris Hemsworth's fourth solo movie.
Even though the MCU is growing faster than ever (it will include nearly 40 entries by the end of 2022), Thor 4 is now in a league of its own regarding the limited time it's spent getting promoted via official footage.
While merchandising images and leaked photos have certainly teased some exciting visuals, including colorful new costumes and a compelling story, fans are still without Thor 4's long-awaited first trailer. Now, as fans wait anxiously for the promotional tour's first signs of life, that drought is so long that it's set a new disappointing mark in Marvel's history with trailers.
Thor 4 Breaks MCU Trailer Record
The MCU currently includes 27 movies released in theaters between 2008 and 2021, with three more set to premiere this year. The Direct has analyzed the promotional window for each of these movies, specifically looking at the gap in time between each film's first trailer and its U.S. release.
At the high end, 2012's The Avengers holds the record for longest promotional tour (280 days) thanks to the movie's first trailer acting as the second post-credits scene in 2011's Captain America: The First Avenger.
Before the date of this publishing, The Incredible Hulk was the MCU record-holder for the shortest gap in time between a movie's first trailer and its premiere, starting its promotional tour 93 days ahead of its June 13, 2008.
Now, as of April 7, 2022, there are a mere 92 days until Thor: Love and Thunder's July 8, 2022 theatrical debut - with no trailer in sight. As such, Thor 4 has broken the record previously held by Incredible Hulk to become the Marvel Studios movie with the shortest trailer marketing window in MCU history (assuming that the Chris Hemsworth sequel maintains its July premiere).
Also of note is that, while Black Widow's initial first trailer debuted in December 2019, the movie was delayed numerous times before new trailers released ahead of its July 9, 2021 arrival. With that factored in, the average Phase 4 promotional run is 140 days, and the average for the MCU's movies as a whole is 169 days.
Thor: Love and Thunder also comes with a shorter timeframe for promotion than last year's Spider-Man: No Way Home, which now has the third-shortest trailer gap at 116 days. That threequel's first trailer came online on August 23, 2021, just under four months ahead of its December 17 theatrical release.
What's Taking Thor 4 So Long?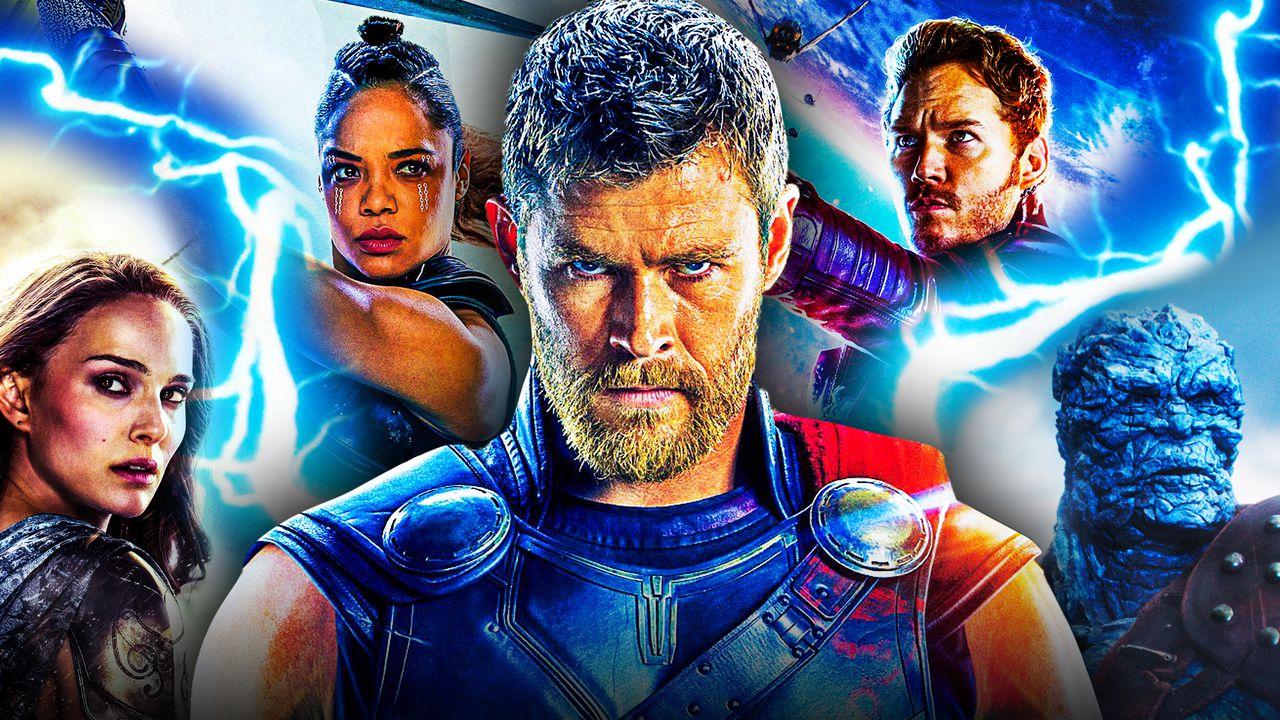 Of course, the immediate reaction to learning about this record is going to be the question: what's taking so long for Marvel Studios to release Love and Thunder's first trailer? Well, the simple answer could be that Marvel has other major Phase 4 entries that are worthy of their own time in the spotlight in the immediate future.
The MCU has never had as many projects releasing so close in proximity to each other in history, with two Disney+ shows and two movies debuting within three months of one another. This includes Moon Knight's current run from March 30 to May 4, Doctor Strange 2 on May 6, Ms. Marvel on June 8, and Thor 4 on July 8.
In terms of specifics, Doctor Strange 2 is now officially a month away from its big-screen premiere; tickets for the sequel also just went on sale, which Marvel is taking the opportunity to promote. Combine that extra promo material with the first two episodes of Moon Knight now being available to stream on Disney+, and it would seem that a Thor 4 trailer could potentially get lost in the mix.
It's nearly impossible to imagine that Marvel would release the first look at Thor 4 on the very same day that Doctor Strange 2 tickets are available for purchase - even doing it within a couple of days of that event seems highly unlikely. Additionally, looking at recent patterns for MCU trailer releases, this may be a trend that will continue into the future.
MCU Promo Tours Keep Getting Shorter
Looking at the chart previously listed, Marvel and Disney are starting to lean into having shorter promotional windows for the MCU's movies, particularly after recent events.
Phase 1's average window between first trailer and release was just under 170 days for the first six films. Phase 2's six outings averaged out to about 183, Phase 3's number came out to a tick under 180 for its 11 entries, and Phase 4's (as mentioned above) is at 140 so far for everything before Thor 4.
Phase 1 holds both the second-shortest number (The Incredible Hulk) along with two of the three longest of the mix in Iron Man and The Avengers. Meanwhile, Phase 4 now boasts two of the three shortest promotional runs thanks to Spider-Man: No Way Home and, now, Thor: Love and Thunder.
Spider-Man 3's short window could have factored into its record-breaking box office success, which came with the second-biggest opening weekend in history ahead of becoming the sixth-highest grossing movie ever made. While it was far from the only factor, there is no question that Marvel saw the potential from those numbers, especially considering Doctor Strange 2's window is less than three weeks longer.
Thor 4 may not have quite the star power that its two theatrical predecessors do, but it has more than enough to warrant substantial hype for its upcoming debut. Combine that with the fact that Phase 4 already has three of the five shortest promotional tours in MCU history, and there is no question that the franchise is moving toward having less time for every entry's official promo run.
All of this does still keep one question on fans' minds: when is Marvel planning to release Thor: Love and Thunder's first official trailer?
Thor 4 Trailer - Sooner Rather than Later?
Even though this record-breaking moment is one that has fans disappointed and annoyed, it doesn't mean that Marvel won't bring any promo material for Chris Hemsworth's fourth solo outing.
Thor: Love and Thunder will inevitably have its first trailer. Every single MCU project in the franchise's 14-year history has had a promotional tour, and the team isn't changing course now after having so much success for over a decade. On top of all that, there may be a sign that this trailer is closer than many fans are expecting.
On April 4, Hemsworth officially helped to kick off Thor: Love and Thunder's promotional tour with an image of himself, Taika Waititi, and Tessa Thompson sitting down for an interview together. While the big news was that the star confirmed the start of the press tour, the more interesting detail could possibly come from the trio's hand positions in the image.
In this picture, Waititi is holding up one finger on each hand while Hemsworth and Thompson both have two fingers up on each hand. Some fans have theorized that this could be a sign to wait for the date of 11/4/22, or April 11, 2022, just under a week from now.
Should this be the date that Thor: Love and Thunder's first trailer arrives, it would begin the movie's promotional tour 88 days before its theatrical debut, breaking The Incredible Hulk's former record by five days. But, taking everything into consideration, this could be just the day to watch out for.
This upcoming Monday would be nearly a week after tickets go on sale for Doctor Strange 2, and it would still leave more than 24 hours before Episode 3 of Moon Knight debuts. It would allow enough time for both of those other entries to shine while coming directly in the middle of Moon Knight's season and nearly a month before Doctor Strange 2 debuts in theaters.
No matter when this trailer comes, there is so much anticipation surrounding it that it's bound to set the internet ablaze ahead of Thor's first MCU appearance in nearly three years. With the Disney+ shows having set their own viewership records and Marvel coming off the highs of two other epic team-up outings, this cosmic sequel will only continue that upward trend.
Thor: Love and Thunder is set to arrive in theaters on July 8.
When do you think Marvel will release the film's first full trailer? Share your thoughts with us on Twitter at @MCU_Direct, @TheDirect, and @RichardNebens.
---
Release Date
July 08, 2022
Platform
Theaters
Richard Nebens joined The Direct in March 2020, now serving as the site's Senior Writer and also working as an assistant editor and content creator. He started his journalism career as a hobby in 2019 and is passionate about sharing news and stories from the entertainment industry, especially comic book movies, comedy, and sci-fi. Richard looks to expand his knowledge about movies and TV every day, and he is eager to stay locked into the latest releases and breaking news at every opportunity.