While most MCU fans are focusing on May's Doctor Strange 2, Chris Hemsworth's Thor: Love and Thunder comes to theaters only two months later. Thor 4 will be the first time any hero has gotten a fourth solo movie as Hemsworth teams up with power players like Tessa Thompson's Valkyrie and Natalie Portman's Jane Foster. Now, all fans are waiting for is the start of the movie's promotional tour.
The plot for Love and Thunder has remained relatively under wraps, save for a few leaks showing action scenes with Portman and early looks at Christian Bale's Gorr the God Butcher. Although this is certainly refreshing after the leak-infested Spider-Man: No Way Home, the time seems to be approaching for Marvel to start promoting its second film of 2022.
Fans haven't seen so much as an official poster for Love and Thunder, and there are currently only two Marvel Studios movies with a shorter time between their first trailer and theatrical release. With that timeframe getting even shorter, movie theaters are taking matters into their own hands to help promote Hemsworth's fourth MCU solo movie.
Fan-Made Thor 4 Posters in Theaters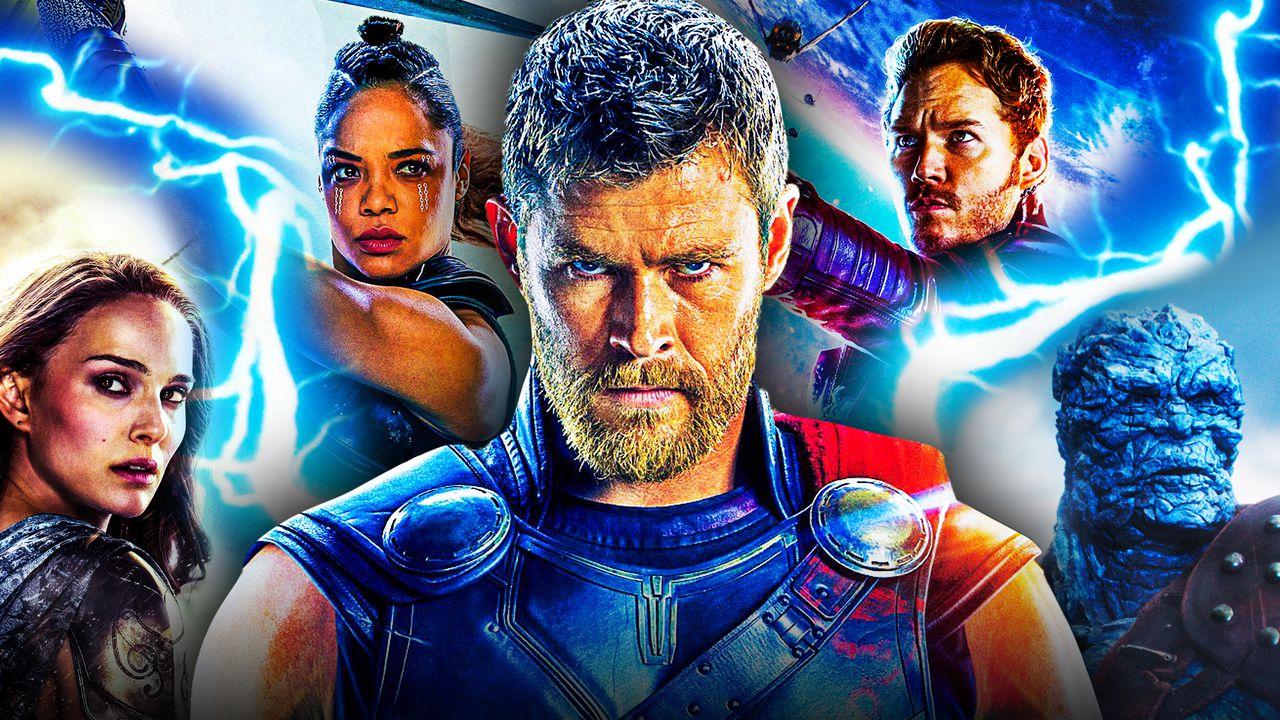 Twitter user @butterbarrr shared an image on showing a fan-made poster promoting Thor: Love and Thunder in a local movie theater.
Deviant Art user MarvelMango originally made the poster, which features Chris Hemsworth's Thor above a massive number of other stars in the film. This includes Natalie Portman's Jane Foster, Taika Waititi's Korg, Idris Elba's Heimdall, and all of the Guardians of the Galaxy, with Gorr the God Butcher looking down from the upper left:
Thor love and thunder poster 😭😭😭 pic.twitter.com/NYrSCGNqAR
User @lilienthefox shared another version of the fake poster on Twitter, one that included Jacob Batalon's Ned Leeds from the Spider-Man trilogy photoshopped above Thor:
You sure about that? pic.twitter.com/9woyHRRNcg
Movie Theaters Improvising for Thor 4 Promotion
While this isn't the first time movie theaters have resorted to this kind of homemade marketing strategy, it hasn't been long since fans last saw this happen for a Marvel outing.
The promotional tour for 2021's Spider-Man: No Way Home notably took a long time to officially start, leading theaters to pull a similar move and put up fan-made posters. Even after the threequel's official poster released, The Graham Norton Show used a different fake poster ahead of an interview with Tom Holland and Zendaya - a poster that included Andrew Garfield and Tobey Maguire's web-slingers.
With less than four months remaining until Thor 4 comes out, Marvel fans are just as anxious for this movie's first signs of life as they were for Spider-Man 3. Even taking into consideration that promotional tours for MCU movies have started closer to their releases recently, Thor: Love and Thunder is cutting it close.
The MCU's next releases come with Moon Knight on March 30 and Doctor Strange 2 on May 6, and it's unlikely either project would connect to Thor 4 in any major ways. Whatever the reasoning, though, there may still be some time until movie theaters can put up official material from Marvel Studios for its Summer 2022 blockbuster.
Thor: Love and Thunder will debut in theaters on July 8, 2022.