In the near half-century since A New Hope first debuted in theaters, Star Wars has become more than a blockbuster franchise but also an aesthetic. Luke Skywalker's grimy, lived-in galaxy from a long time ago blended with futurism, lightspeed, and interplanetary conflict was something never before seen in sci-fi; but the blend of old and new didn't just apply to time, but also other genres.
The story and design of George Lucas' original Star Wars trilogy were strongly influenced by sci-fi, action-adventure serials like Flash Gordon, World War films, Spaghetti Westerns, and most notably, Japanese cinema, such as Akira Kurosawa's The Hidden Fortress. 
The mythology of the Force, Darth Vader's armor, the Jedi, lightsabers, and more bear strong semblance to elements of Japan's history, beliefs, and weaponry; and even though Lucas has long since bowed out of that galaxy far, far away, his successors have continued that tradition, particularly on Disney+.
In Chapter 6 of The Book of Boba Fett, directed by George Lucas' Padawan Dave Filoni, odes and echoes to Westerns were on full display through the imagery of Tatooine and gunslinger characters like Cobb Vanth and Cad Bane.
 However, that wasn't the only cinematic influence featured in the series' latest episode; and for some Star Wars fans, the influence is more akin to imitation.
Is Luke and Grogu's Scene a Ripoff of a Japanese Film?
The Book of Boba Fett's penultimate episode wrapped on a cliffhanger where Luke Skywalker presented Grogu with two choices in the form of two objects: Mando's gift of beskar chainmail or Yoda's lightsaber.
If Grogu chooses the chainmail, he will return to Mando and forsake his Jedi training; but if he chooses the lightsaber, he will stay with Luke and continue pursuing the past of a Jedi. 
While Grogu's decision - and how it will affect The Mandalorian's third season - has been a hot topic of speculation amongst fans, others took issue with how the cliffhanger appeared to have been directly lifted from the Japanese film Lone Wolf and Cub: Sword of Vengeance.
First published in 1970, Lone Wolf and Cub began as a Manga series before being adapted into six films, plays, and even a television series. 
In the first film titled Sword of Vengeance, a former shogun executioner, Ogami Itto, presents his baby son, Daigoro, with two objects: a toy ball and a sword. If Daigoro chooses the sword, Ogami and Daigoro will assume the path of assassins and avenge their clan who had been killed. 
On the other hand, if Daigoro chooses the ball, he and his father will forsake their present life and join Ogami's wife and Daigoro's mother in heaven or the afterlife.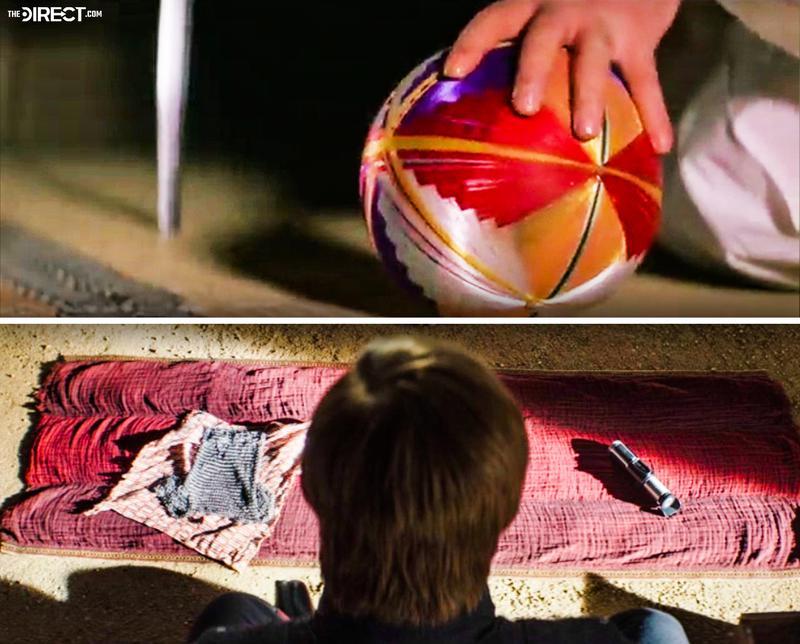 Clearly, this choice of two paths through the presentation of two objects is extremely similar to The Book of Boba Fett's Chapter 6 sequence; but if that wasn't enough, the scene was also shot in a nearly identical fashion.
This, of course, has led to a flurry of online criticism and complaints, with some claiming that Filoni's use of the scene was actually a "ripoff" of the Japanese tale.
Mando and Grogu Are Lone Wolf and Cub?
Now, this isn't the first instance where live-action Star Wars has mirrored Lone Wolf and Cub. In fact, fans have been comparing The Mandalorian to the Japanese tale since the series began. 
After all, Mando is a gun for hire, much like Ogami, and both embark on adventures while caring for a baby. It's especially difficult to separate the parallel between Ogami pushing Daigoro in a baby carriage and Mando being accompanied by Grogu in his levitating pram. 
This also isn't the first time Dave Filoni, in particular, has paid homage to Japanese cinema in one of his directorial episodes. For instance, in Chapter 13 of The Mandalorian's second season, Filoni channels Akira Kurosawa in the style of the episode and in the duel between Ahsoka and the Magistrate set in a Japanese garden. 
Did Filoni's Cliffhanger Spoil The Mandalorian's Season 3?
Since The Mandalorian, and now this scene of The Book of Boba Fett, have been faithful to the story Lone Wolf and Cub, the answer to what Grogu will choose can likely be surmised from the events of the Japanese franchise.
The only difference? Mando is Grogu's father, not Luke. Therefore, Grogu probably won't choose the lightsaber like Daigoro chose the sword. Instead, he will need to choose the gift of beskar chainmail for their paths to be the same.
Also, just like Ogami, Mando is now in possession of a Japanese katana-like sword in the form of the Darksaber.
The real question is when Star Wars fans will see Grogu make his choice. While it could play out in The Book of Boba Fett's season finale, it's possible that Lucasfilm intends to save that reveal for Season 3 of The Mandalorian. 
The Star Wars Balance Between Imitation and Influence
Again, Star Wars has never been subtle in regards to its cinematic influences; but it's the unique blend of those influences that has made Star Wars unique. The debate is whether Dave Filoni's use of Lone Wolf and Cub's key scene is actually a ripoff or simply another homage to Japanese cinema within that galaxy far, far away. 
While there is a case to be made for the former, it could also be said that faithfulness to the source material was also a way of giving it due credit, just like how countless films and television series have directly copied scenes, quotes, and characters from Star Wars to the knowledge of its audience.
Also, if Filoni, Jon Favreau, and Lucasfilm intend for Grogu to return to Mando, the "ripoff" scene may be a hint to the audience about what's to come for the "clan of two."
Whether or not that justifies Filoni and Lucasfilm's continued use of Lone Wolf and Cub may depend on the viewer and their point of view. 
New episodes of The Book of Boba Fett debut on Wednesdays on Disney+.