After a plethora of rumors and reports, Spider-Man: No Way Home featured a long-awaited comeback for Tobey Maguire's version of the web-slinger. Maguire's Marvel hero had a prominent role in the MCU threequel, helping Tom Holland's web-crawler fend off Multiversal villains. In addition, the Raimiverse Spider-Man's return also brought a sense of nostalgia to fans.
Given Maguire's involvement in No Way Home has already been revealed to the world, many noteworthy tidbits have released in the past weeks. On top of official stills taken from the movie, the Spider-Man actor broke his silence about his celebrated comeback, saying that he loved the opportunity to "join in this loving and creative spirit" that came with the project. 
Previously leaked concept art of Maguire's Spider-Man was also officially released, giving fans another interesting peek at the character's design. Now, a new promotional poster for the character has been revealed amidst No Way Home's digital release. 
Tobey Maguire's Spider-Man Takes The Spotlight
Sony Pictures released a brand new officially-licensed poster for Spider-Man: No Way Home, showcasing a fresh look at Tobey Maguire's web-slinging hero. 
The poster shows the veteran Marvel hero getting ready to fight Doctor Octopus and Sandman. There is also a magical ring at the top coming from Doctor Strange's spell: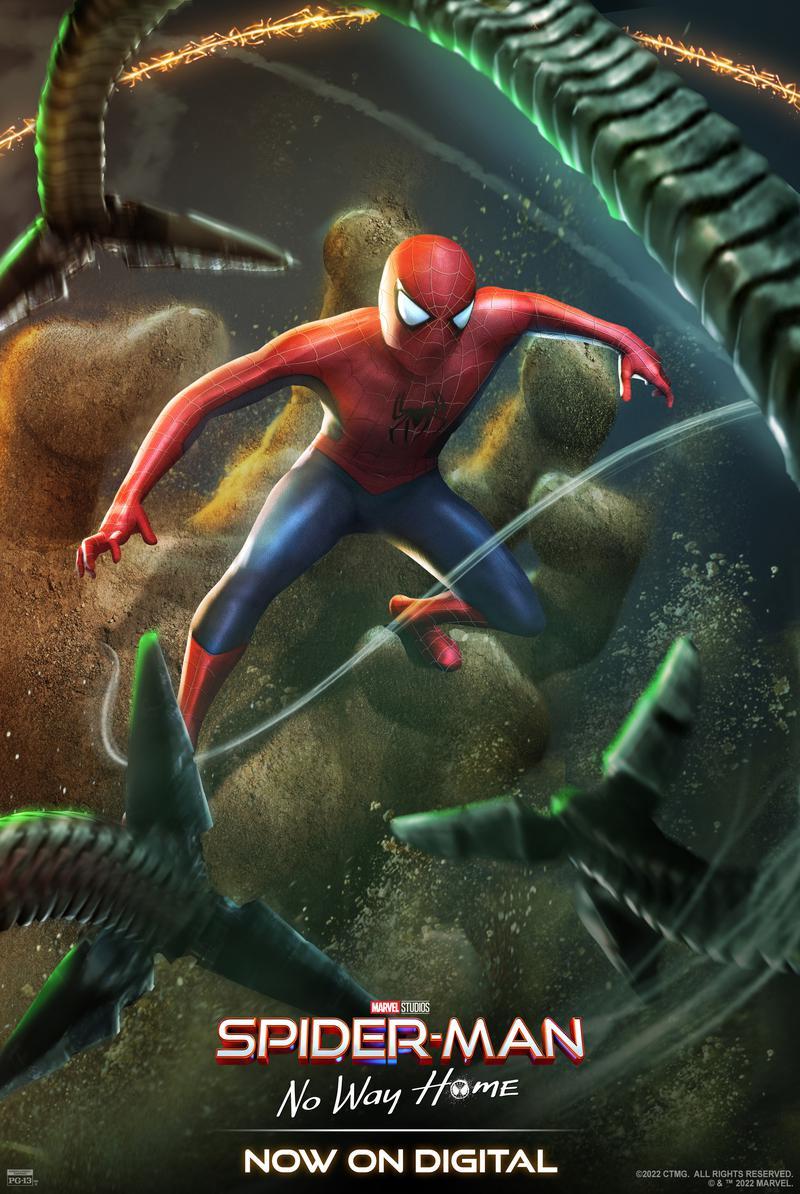 Update: Sony Pictures released another poster for Spider-Man: No Way Home featuring Tom Holland's MCU hero this time around. 
The poster shows Holland's Marvel hero being surrounded by the Multiversal villains from the threequel. 
Marvel Studios concept artist Ryan Meinerding also unveiled an impressive new concept art piece featuring the three Spider-Men from the threequel:
Alongside the reveal, Meinerding expressed his excitement about working for No Way Home, admitting that "this story is such a dream come true:"
"Spider-Man team up! I loved working on this movie, here is one of the keyframes I did showcasing the Spider-men swinging together. This story is such a dream come true!"
Will Tobey Maguire's Spider-Man Return (Again)?
This latest poster should serve as a fitting reminder of Tobey Maguire's oft-discussed return in Spider-Man: No Way Home. Many feel that a promotional poster featuring the character (directly from Sony) has been long overdue, and it's good to know that the studio is still releasing more content from the threequel. 
The social media post indicates that this could be the first of three posters to promote No Way Home's upcoming Blu-ray release. There is a strong chance that the next poster to be released is for Andrew Garfield's Spider-Man, followed by Tom Holland's MCU hero. Ultimately, Sony Pictures could reveal a full-sized banner featuring the three Spider-Men.
Meanwhile, it is unknown if Maguire will return to the MCU after No Way Home. Previous rumors suggested that he might have a role in Doctor Strange in the Multiverse of Madness, but details about his involvement are still being kept under wraps. Sony's Marvel universe is also one way for Maguire to make a comeback, especially now that a Madame Web spinoff film is in development. 
With all this in consideration, more of Tobey Maguire's Spider-Man is still a welcome sight for Marvel fans everywhere.
Spider-Man: No Way Home is still playing in some theaters worldwide and is also available to be purchased digitally from major retailers.