Samuel L. Jackson's Nick Fury may have a long MCU history, but one particular movie will reportedly be "essential viewing" for his Disney+ solo debut, Secret Invasion.
Secret Invasion has been described by Marvel Studios themselves as its first "crossover event series." So it's safe to say its MCU connections are expected to be plentiful.
The show is confirmed to feature characters from the Iron Man, Black Panther, and Captain Marvel franchises, as well as the broader MCU. And even going beyond the six-episode show, Secret Invasion is expected to have lasting consequences, including setting up one particular upcoming solo movie.
Disney+'s Secret Invasion Will Be a Captain Marvel Sequel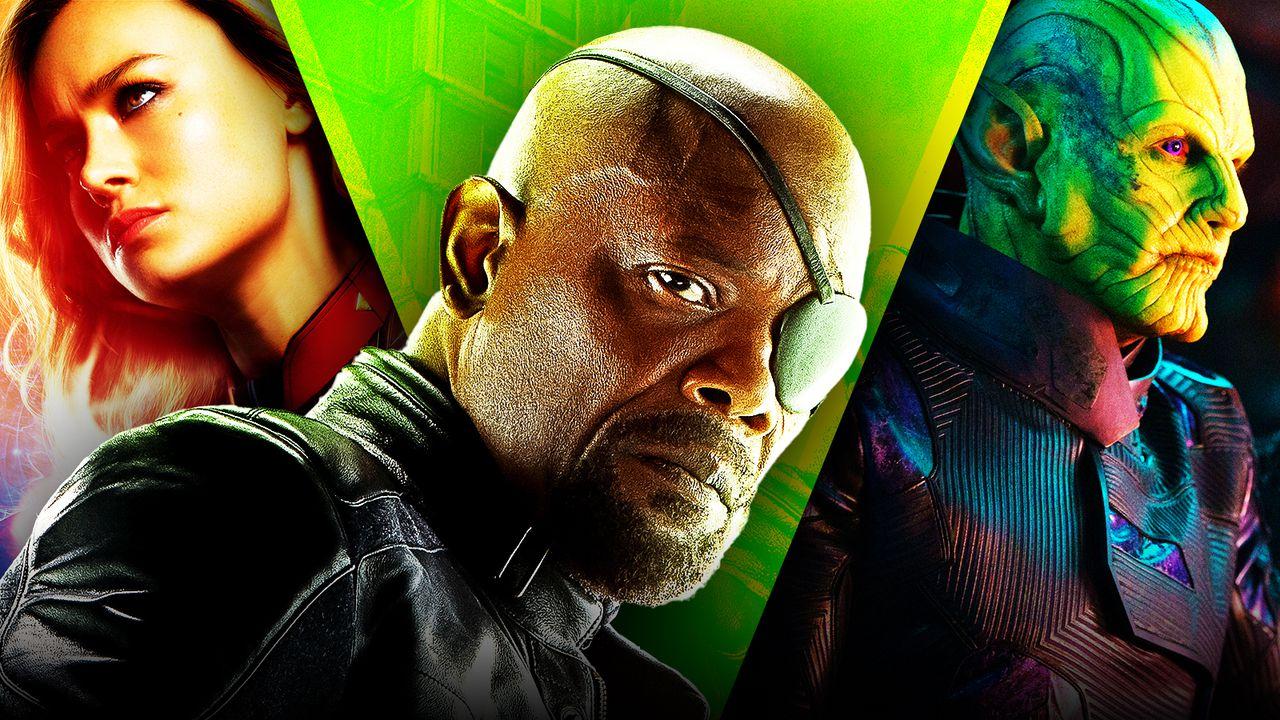 According to The Post-Geek Singularity's Robert Meyer Burnett, who claims to have read the scripts for the upcoming Secret Invasion Disney+ series, one Infinity Saga MCU movie will be "essential viewing" ahead of the premiere.
A recent tweet from Burnett noted that Secret Invasion "really works as the sequel" to 2019's Captain Marvel - which is streaming now on Disney+:
"For those keeping score at home, 'CAPTAIN MARVEL' is essential viewing before watching the deftly-scripted 'SECRET INVASION', which really works as the sequel to that film."
The crossover event stars Samuel L. Jackson's Nick Fury, Ben Mendelsohn's Talos, and the Skrulls, all of which were key players in Captain Marvel.
Secret Invasion is expected to connect closely to July's The Marvels which will also feature the return of Jackson's Fury after his Disney+ solo affair. 
Secret Invasion's Many MCU Connections Explained
Captain Marvel was truly the movie to establish the status quo of the Skrulls in the MCU, which now serves as the basis of Secret Invasion's paranoia thriller plot. Not to mention, the 2019 flick also debuted Ben Mendelsohn's Talos - one of the friendlier Skrulls who will now be the co-lead of this show alongside Nick Fury.
With Samuel L. Jackson's super-spy set to return in The Marvels, likely just months after Secret Invasion, the Disney+ series will seemingly serve as the bridge between the two blockbusters. But with so many characters set to appear, there will undoubtedly be other past projects will some level of relevance. 
Iron Man's War Machine and Black Panther's Everett Ross will both appear, so being caught up on those franchises may prove helpful. And being caught up on the past exploits of Nick Fury and Maria Hill certainly won't hurt as that can only serve to enhance the viewer's understanding of their character arcs.
But knowing how many characters appear in the Secret Invasion comics combined with the "crossover event" label attached to the Disney+ series, an overall understanding of the current MCU as a whole will undoubtedly prove beneficial, just as it does for the majority of projects.
Secret Invasion has yet to set an official release date - read The Direct's predictions for when the Disney+ series will premiere here.
---
Sam Hargrave is the Associate Editor at The Direct. He joined the team as a gaming writer in 2020 before later expanding into writing for all areas of The Direct and taking on further responsibilities such as editorial tasks and image creation.