A highly-talked-about Marvel series from Disney+ made MCU history due to its upcoming physical release. 
The MCU continues to reach new heights on Disney's streaming service. Echo is set to have a binge release on the streaming service on November 29, marking the first time that a Marvel Studios live-action series will drop all of its episodes on the same day. 
Moreover, the release of a game-changing Black Panther: Wakanda Forever documentary titled Voices Rising: The Music of Wakanda Forever and Marvel Zombies being the first TV-MA-rated show on Disney+ joins the long list of history-making achievements for the MCU. 
Another MCU Disney+ Series Makes History
Marvel Studios officially unveiled new steelbooks for WandaVision, marking the first time that such physical collections will be released for an MCU Disney+ series. 
The upcoming physical release includes an exclusive steelbook and full slip, an envelope, a folder, character cards, and postcards:
This new collection from Marvel doesn't have a physical disc, and there's no word if a digital download will be included.
The exclusive steelbooks are designed by Manta Lab that features a "full glossy" finish. 
Fans can pre-order the full slip steelbook collection here. 
There is also an option of a double lenticular full slip for the steelbooks. For those unaware, double lenticulars are full slips that have a lenticular glued on the slip.
The exclusive steelbook highlights the show's two lead stars, Elizabeth Olsen's Wanda Maximoff and Paul Bettany's Vision.
The design also features a glimpse at the designs of Wanda and Vision inside the alternate Hex reality. 
Here's a closer look at the double lenticular slip design. This set only has 1,250 units. 
Fans can order the double lenticular full slip steelbook design and its exclusive collection here. 
The "One-Click" collection features a box highlighting the SWORD logo and the show's main characters: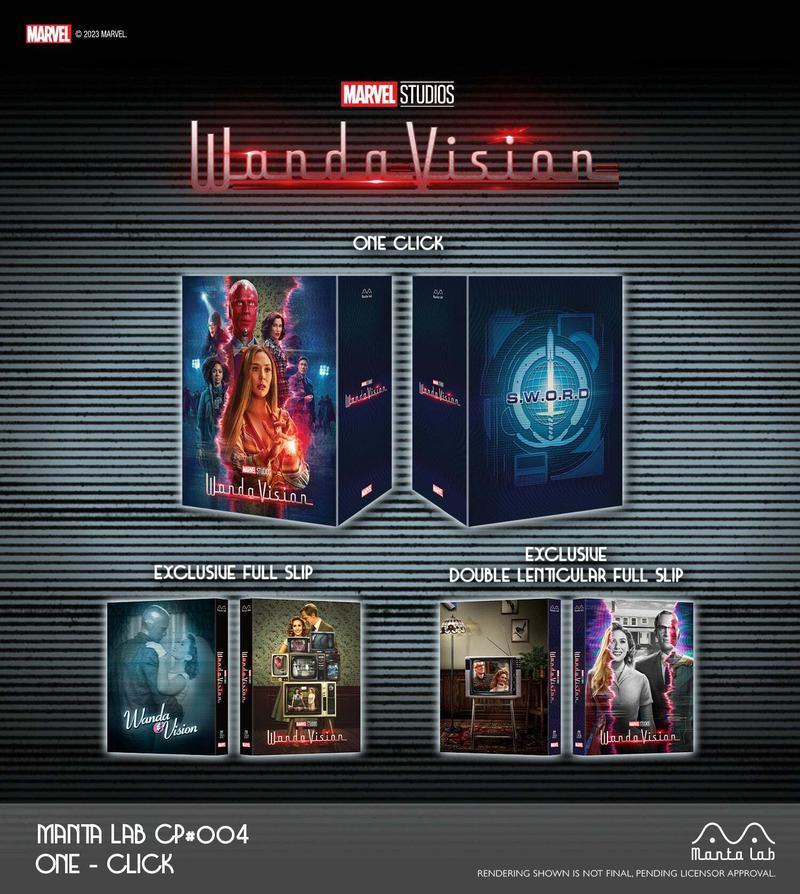 The "One-Click" collection only has 800 sets, with fans limited to order one per transaction. 
Pre-orders for the WandaVision steelbook collection start at 8:00 a.m. ET on Thursday, July 27. 
Fans can order the "One-Click" collection here. 
The release date of all three WandaVision steelbook variants is set on September 27.
How New WandaVision Steelbooks Are Worthwhile Collectibles
Although there are no physical discs included, these new steelbooks are a worthy addition to any MCU collector, most notably diehard WandaVision fans.
WandaVision made waves when it premiered on Disney+, considering that it was the MCU's first Phase 4 project. In addition, it also earned a surprisingly high rating on Rotten Tomatoes. 
The Elizabeth Olsen-led series allowed fans to speculate and theorize on a weekly basis, giving the show a major boost on social media while also increasing the popularity of its lead characters. 
That said, owning these new steelbook collections would feel like receiving a part of MCU history due to the astounding success of WandaVision.
WandaVision is streaming on Disney+.