Over the weekend, Marvel Studios will be back in the theatrical game with Sam Raimi and Benedict Cumberbatch's Doctor Strange in the Multiverse of Madness. Featuring the titular master magician alongside Elizabeth Olsen's Scarlet Witch and a host of other power players, this movie is already billed as one that could change the game in the superhero genre.
The promotional tour for Doctor Strange 2 continues to reveal one new piece of shocking footage after another, so much so that Marvel Studios President Kevin Feige openly admitted that there have already been plenty of secrets revealed. New glimpses at Patrick Stewart's Professor X and Hayley Atwell's Captain Carter have seen the spotlight through recent TV spots, although there are still more secrets that remain under wraps ahead of the film's full debut.
Although Multiverse of Madness is Cumberbatch's first true Doctor Strange sequel, he and Olsen have seen more than their fair share of action in other MCU projects over the past eight years, dating all the way back to Phase 2. Now, with only a day until Phase 4's fifth movie premieres in theaters worldwide, Marvel is providing a look back at some of the biggest moments for Strange and Maximoff through those stories of the past - including the significance a few MCU veterans in the process.
A Look Back on Strange and Wanda's Journeys
Marvel Studios released a final extended trailer for Doctor Strange in the Multiverse of Madness one day ahead of its Thursday night preview showings.
The start of the video recaps the stories for both Benedict Cumberbatch's Stephen Strange and Elizabeth Olsen's Wanda Maximoff throughout their tenure in the MCU to date. This includes clips and dialogue from 2015's Avengers: Age of Ultron, 2016's Doctor Strange, 2018's Avengers: Infinity War, and 2021's WandaVision, featuring other historic MCU characters such as Iron Man and Vision.
Cumberbatch's hero walks down the streets of Kathmandu in a shot from the first trailer for 2016's Doctor Strange, which comes as he's searching for Kamar Taj.
Strange casts one of his patented spells in front of Robert Downey Jr.'s Iron Man in Avengers: Infinity War as they fight Ebony Maw and Cull Obsidian in the streets of New York City.
The sorcerer makes the Time Stone appear in his hands in one of the final scenes in Avengers: Infinity War as he gives it away to the Mad Titan Thanos.
Olsen's Wanda Maximoff busts out of a doorway in Sokovia to unleash hell on the incoming Ultron Bots in 2015's Avengers: Age of Ultron.
Maximoff stands in one last embrace with Vision in the final episode of WandaVision as the walls in their house disintegrate, along with the entire Westview Hex and Vision himself.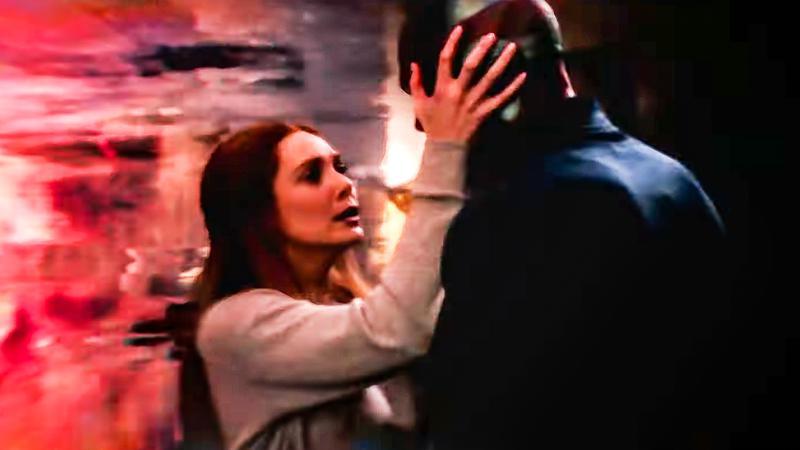 The full 80-second trailer can be seen below:
Marvel Ready for Doctor Strange Sequel
Marvel Studios is no stranger to using past movies to help promote its new upcoming material, especially movies as deeply tied to the franchise's past as Doctor Strange 2 is. With a handful of films and Disney+ shows that will have a direct influence on what Stephen Strange and Wanda Maximoff experience in this new sequel, it's only right to take that trip down memory lane.
Throwing in past characters like Iron Man and Vision provides a sense of just how much Strange and Wanda have been through over the years, especially with those two particular characters having died at the end of Phase 3. Strange built up a rapport with Iron Man in Infinity War before he sacrificed himself in Avengers: Endgame, and WandaVision gave the two titular characters nine episodes to live their lives together and let their love grow for a short time.
With less than 24 hours until Doctor Strange 2 starts playing in theaters across the globe, this blast to the past will help get fans ready to see where the MCU will go in the immediate future. Ahead of a film that could feature dozens of unexpected characters, all tying back to half a dozen films since 2015, the stage is set for potentially the biggest solo superhero movie ever made.
Doctor Strange in the Multiverse of Madness will premiere in theaters on May 6.