Thanks to recent comments from one DC star, an eighth movie under DC Studios co-CEO James Gunn has been revealed. 
After his time working in the super-powered realm with hits like the Guardians of the Galaxy franchise and The Suicide Squad, Gunn is about to have his chance to shepherd his own comic book universe, as he was put in charge of the (newly-renamed) DCU.
While most of these he is overseeing in an executive capacity, he will get the chance to show off his directorial prowess yet again in the process as well, taking on writing and directing duties for the upcoming Superman: Legacy. 
James Gunn Is Working on Eight Movies at DC
Comments from Wonder Woman star Gal Gadot sparked rampant speculation about an eighth film (on top of the seven already announced) that James Gunn is currently working on at DC Studios.
However, despite Gadot telling USA Today she had "a meeting with Peter Safran and with James Gunn" and they were "going to develop a third Wonder Woman with me," recent reports have come to light that a third Wonder Woman movie with Gadot was, in fact not going to happen:
"I had a meeting with Peter Safran and with James Gunn, and they both told me that they're going to develop a third 'Wonder Woman with me. And I'm quoting both of them, they said, 'You're in the best hands, you've got nothing to worry about.' Time will tell."
Following Gadot's Wonder Woman 3 tease, word came out the threequel was not happening with outlets like Collider revealing multiple sources close to the situation had told them the project was not currently happening at the studio. 
Here's the full list of all the films Gunn has planned as a part of his new vision for the DCU and beyond:
1.) Superman: Legacy
Kicking off James Gunn's DCU will be Superman: Legacy. Marking the first big screen adventure for DC's classic Kryptonian, Gunn is not only working in his executive role on the project but also writing and directing the film. 
The movie will follow David Corenswet's Clark Kent/Superman, as he grapples with his "Kryptonian heritage" and "human upbringing." Legacy has been described as a "workplace origin story" for the hero and is set to hit theaters on July 11, 2025.
2.) The Authority
DC Studios' second film on the DCU slate is The Authority. The movie has been described as a "passion project" for James Gunn, who has been working closely with its writers to develop something special for the super-powered franchise. 
The Authority features a team of superhero vigilantes who are not afraid to get their hands dirty. Dubbed, DC's answer to The Boys, the film will bring some blood-on-the-lens to the DCU.
3.) The Brave and the Bold
The Brave and the Bold marks the DCU's first Batman film. James Gunn will serve as an executive behind the movie, with The Flash director Andy Muschetti reportedly set to direct. 
This movie centers on an older version of Bruce Wayne and the extended Bat Family, keeping the streets of Gotham City safe from its criminal underworld.
4.) Supergirl: Woman of Tomorrow
Supergirl: Woman of Tomorrow derives its title from Tom King's beloved comic run of the same name. The film centers on a "very different type of Supergirl," according to Gunn after she "watched everyone around her die and be killed in terrible ways for the first 14 years of her life."
If the movie follows the hit comic book run, it will tell the story of Kara Danvers (aka Kara Zor-El) after a chance meeting with a young alien girl sends her on a galaxy-spanning quest for revenge (via DC Comics). 
5.) Swamp Thing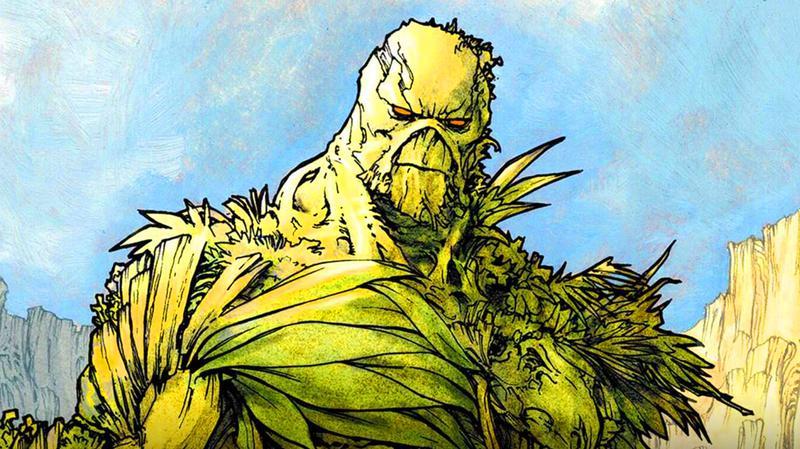 After tackling the world of Indiana Jones (and an upcoming take on the life of Bob Dylan), James Mangold will jump into the world of DC horror in Swamp Thing. Announced as the last film of James Gunn's initial DCU slate, Swamp Thing will serve as the first true horror film in the universe. 
Mangold will write and direct the movie, as it will "investigate the dark origins" of DC's iconic elemental plant creature. Despite Swamp Thing largely standing on his own in DC Comics, his character has been confirmed to cross over with other characters in the DCU.
6.) Joker 2 (Elseworlds)
The first movie released under DC Studios' Elsworlds banner is Joker 2 (aka Joker: Folie à Deux). Joker director Todd Phillips returns for the sequel alongside its Oscar-winning star Joaquin Phoenix. 
The film is set to take place outside of the DCU canon in its own Joker-verse, with pop singer Lady Gaga joining the cast as DC character Harley Quinn in a project that has been described as a movie musical spectacular.  
7.) The Batman Part 2 (Elseworlds)
Another DC Elseworlds story from DC Studios will hit theaters on October 3, 2025, in Matt Reeves' The Batman Part 2. The movie will see Robert Pattinson's Dark Knight reportedly take on the villainous Clayface. 
The Batman 2 takes place in Reeves' separate Bat-verse with merely executive supervision from James Gunn and Peter Safran, existing outside the DCU and its own version of the Batman lore. 
8.) Wonder Woman 3
And the eighth - and most recently teased - movie James Gunn and DC Studios have in their back pocket is Wonder Woman 3.
Despite the assumption the film has been canceled with the departure of writer/director Patty Jenkins, star Gal Gadot has come out saying the movie is still very much happening, remarking that she and DC Studios are "gonna develop a Wonder Woman 3 together."
However, despite this, conflicting reports have come to light, saying that there are currently no plans at DC Studios for a third Gadot-led Wonder Woman movie.
BONUS: Aquaman and the Lost Kingdom
While having technically been written and shot before James Gunn came in to lead DC Studios, Aquaman and the Lost Kingdom does have the executive's fingerprints on it at least partially. 
Gunn did reportedly have involvement in Aquaman 2, overseeing reshoots for the DCEU franchise-send-off that took place in June 2023. 
Is James Gunn Hiding Any DC Movies?
While fans now know eight movies (and a ninth bonus film) that James Gunn and DC Studios have planned, surely that will not be everything that comes from the studio. 
Gunn previously stated that the projects announced at his DCU reveal event back in February 2023 make up "less than half" of the titles that will ultimately occupy Chapter 1 of his DC story. 
It remains unknown just what could be hiding in the plans for Chapter 1: Gods and Monsters and beyond, but there are a few names that one could assume will eventually join the slate. 
Prime amongst them is a Justice League movie of some sort. Gunn is rumored to be developing a team-up of some kind for his stable of DC heroes, with the filmmaker reportedly taking inspiration from the beloved Justice League: New Frontier comic line. 
Other movies that could eventually join the likes of Superman: Legacy, Wonder Woman 3, and The Brave and the Bold, could be Blue Beetle 2, a rebooted Flash, or maybe a Green Lantern film of some sort. 
James Gunn's DCU is set to debut at the theaters with Superman: Legacy on July 11, 2025.