Supergirl: Woman of Tomorrow is set to introduce a brand new version of the Girl of Steel on the big screen, and DC Studios co-CEO James Gunn may have hinted at how the DCU's Supergirl will be different from other iterations. 
DC's reboot will soon be underway, with Gunn saying that he believes DCU's first chapter is "a lot more planned out than Marvel" was when it was releasing its Phase 1 films. 
One of the surprising characters included in the slate is Kara Danvers, a.k.a. Supergirl, and it looks like DC Studios will showcase a unique take for Superman's cousin for her to stand out. 
What is Supergirl: Woman of Tomorrow's Story?
Per Variety, DC Studios co-CEOs James Gunn and Peter Safran officially announced Supergirl: Woman of Tomorrow as part of DCU's Chapter 1: Gods and Monsters. 
The upcoming movie is based on Tom King's comics run of the same title from 2021 and 2022. Gunn shared that the DCU's version is a "very different type of Supergirl," pointing out that this iteration of Kara Danvers is "much more hardcore."
Gunn continued by saying that the DCU's Supergirl: Woman of Tomorrow will explore a version of the hero who was raised "on a rock chip off of Krypton" and someone who "watched everyone around her die and be killed in terrible ways for the first 14 years of her life:"
"Within our story, we have Superman, who was sent to Earth and raised by incredibly loving parents and nurtured, whereas Kara was in Krypton, she was on a piece of Krypton that drifted away from the planet, and lived there for the first 14 years of her life among [a] horrible situation where she watched everybody around her die. So she's a much harsher and more fucked up Supergirl than we've been used to this far."
Tom King's Supergirl: Woman of Tomorrow Explained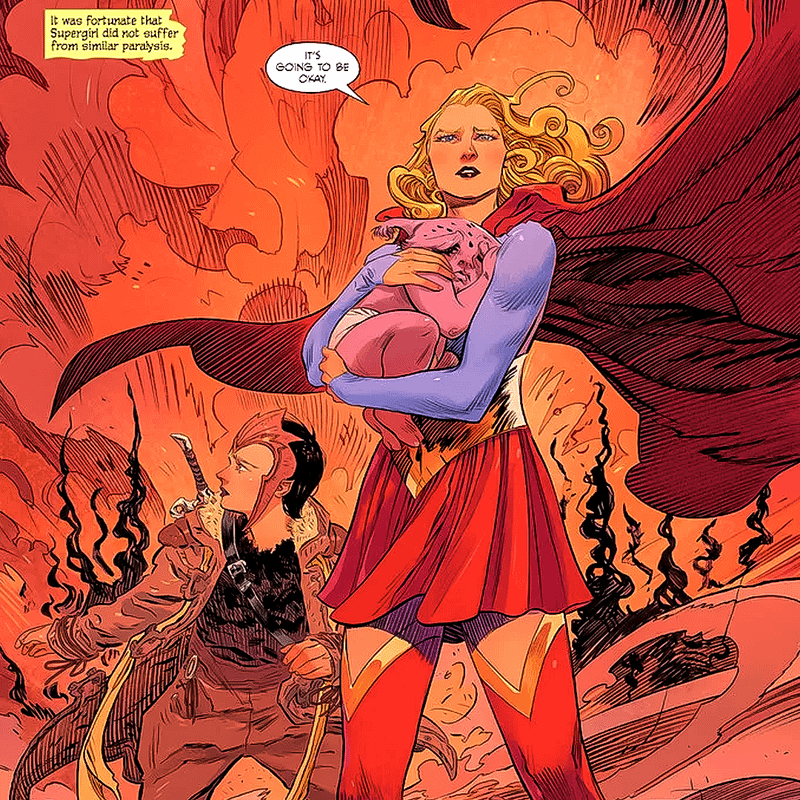 King's Supergirl comics revolved around the story of the titular hero, Krypto the Superdog, and Ruthye, an alien girl seeking revenge after her father was brutally murdered by a man named Krem. 
Although Supergirl is the title character of the comics, the story is told from Ruthye's perspective. Ruthye was looking for a bounty hunter to find Krem, leading to her stumbling up Kara Zor-El (Supergirl). 
While Kara first refuses to get involved, she eventually joins Ruthye's crusade after learning that Krem is responsible for poisoning Krypto. 
As a result, Kara and Ruthye go on a galaxy-hopping adventure through the cosmos to seek justice for Krem's wrongdoings. 
Woman of Tomorrow explores a version of Kara that loses her innocent persona to transform into a rogue mercenary who makes her own rules. This version curses like there's no tomorrow, drinks like an alcoholic, and doesn't take crap from anyone. 
Fans can read the official synopsis for King's Supergirl series below:
"Wherever she goes, people only see her through the lens of Superman's fame. Just when Supergirl thinks she's had enough, everything changes. An alien girl seeks her out for a vicious mission. Her world has been destroyed, and the bad guys responsible are still out there. She wants revenge, and if Supergirl doesn't help her, she'll do it herself, whatever the cost. Now a Kryptonian, a dog, and an angry, heartbroken child head out into space on a journey that will shake them to their very core."
Will The Flash's Sasha Calle Play the DCU's Supergirl?
Per Heroic Hollywood, DC Studios heads James Gunn and Peter Safran are unsure if The Flash's Supergirl actress Sasha Calle is reprising her role for Supergirl: Woman of Tomorrow. 
The pair shared that they are still in the mix of figuring things out ahead of DC's reboot: 
"We're figuring it all out. We don't know yet. We're pretty far away from Supergirl: Woman of Tomorrow."
Melissa Benoist was the last actress to portray a live-action Kara Danvers in the Arrowverse's Supergirl show from The CW. 
While The Flash has yet to denote a full name to its Supergirl, many have speculated Calle's Girl of Steel will not be the traditional Danvers. Her suit, hair, and look bear far more resemblance to Injustice's Lara Lane-Kent - the daughter of Clark Kent and Lois Lane - indicating she may instead play her.
How Will DCU Adapt Tom King's Supergirl?
Gunn's confirmation that Supergirl: Woman of Tomorrow is based on Tom King's same comics run indicates that the DCU's version will be a cosmic affair instead of being set on Earth. 
Woman of Tomorrow is expected to showcase an iteration of Kara Zor-El that never reached Earth and had to survive on her own on a piece of Krypton. This could also mean that the DCU's Superman is not yet aware of his cousin, which could affect their dynamic whenever the two meet. 
Supergirl's "hardcore" attitude could eventually clash with Superman's compassionate and idealistic persona. 
Before the eventual arrival of Supergirl on Earth, Woman of Tomorrow could show a Kara Zor-El who is not holding back, killing like there's no tomorrow. However, the movie could include Ruthye and Krypto as the hero's moral compass, the ones who will remind her that killing isn't an option. 
The DCU's Supergirl movie could explore Kara's transformation from a ruthless killer to a more responsible hero. Still, a semblance of her hardcore persona could be retained to keep things interesting upon meeting her cousin, Clark Kent. 
Supergirl: Woman of Tomorrow has no release date yet.