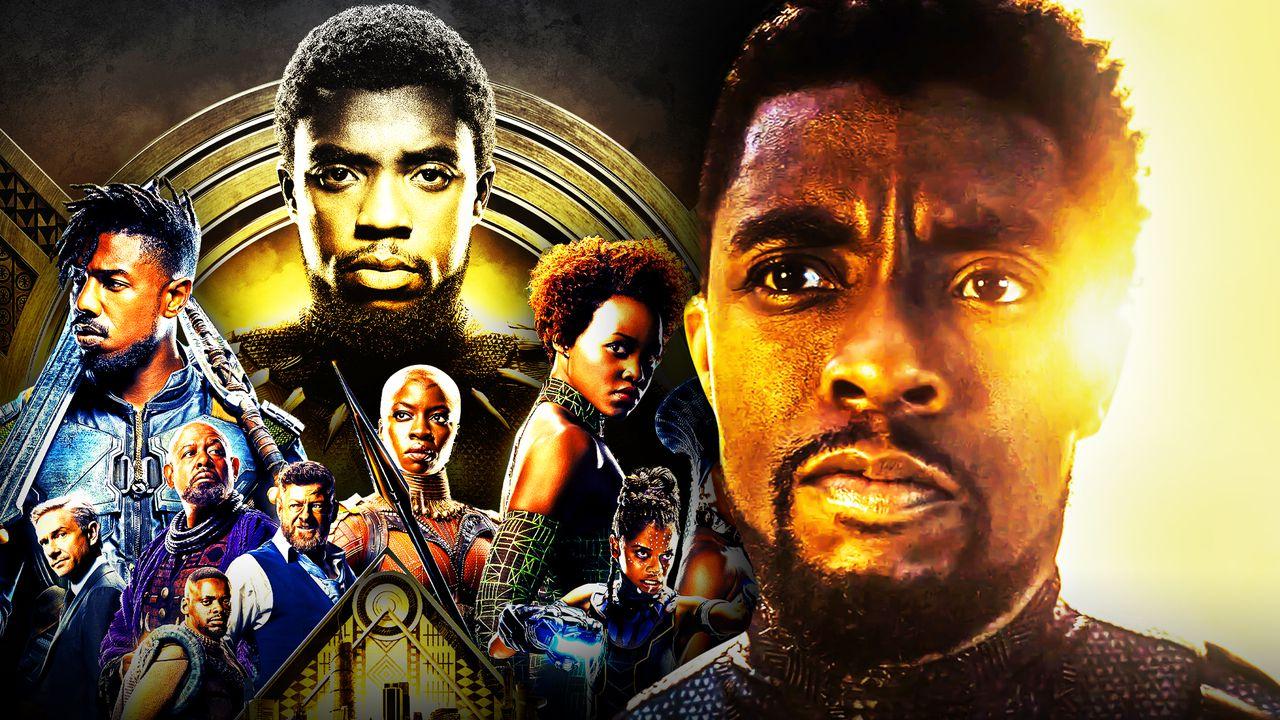 Marvel Studios is enjoying its time in the spotlight right now thanks to multiple new releases like What If...? and thrilling new trailers for movies like Eternals and Spider-Man: No Way Home. However, a day of remembrance has come as it has been one full year since the passing of Black Panther star Chadwick Boseman.
The leading man embodied the spirit of T'Challa as he played the role in four MCU movies from 2016 to 2019, all while fighting an intense battle with colon cancer. Boseman, unfortunately, lost that battle and passed away on August 28, 2020, which not only added to an already devastating year in general but also came as a huge blow to everybody involved with the MCU.
Fans and crew alike have spent most of the last year paying tribute to Boseman in any way possible. Disney+ included a special version of the Marvel Studios intro fully featuring Boseman on November 29, the actor's birthday, while Episode 2 of What If...? was dedicated to the actor's memory after the plot featured him as a new version of Star-Lord.
Now, one year later, Boseman's friends and coworkers are taking the time to look back on his memory.
HONORING CHADWICK BOSEMAN'S LEGACY
Multiple stars from the MCU took to social media to pay tribute to the late Black Panther star Chadwick Boseman, who passed away one year ago after battling cancer.
Black Panther co-star Lupita Nyong'o posted that she missed "both his laughter and his silence" equally and confirmed that his memory "remains this alive" inside of her:
Bruce Banner actor Mark Ruffalo shared a picture of Boseman and expressed his disbelief at "how fast time has gone" since the actor's death:
Erik Killmonger actor Michael B. Jordan expressed his love and appreciation for Boseman as he shared an image of the two dressed up and smiling together:
The official Marvel Entertainment Twitter account paid their own tribute to Boseman to honor a "friend...inspiration, and...King:"
Eternals star Barry Keoghan shared a post from Fandom with a simple red heart as his own caption:
REST IN PEACE, KING T'CHALLA
Chadwick Boseman made his impact on the MCU with his unique personality, many times being recognized as a silent but powerful figure on the set of all four of his movies. His presence was particularly felt during his own solo movie, Black Panther, where he brought out the best of the Wakandan King and seemed to bring out the best in all of his co-stars too as they made the film.
Even in limited screen time during Captain America: Civil War and especially Avengers: Infinity War and Avengers: Endgame, Boseman's portrayal of the Black Panther left its mark on the MCU's biggest stars from the past decade and more. Stars like Robert Downey, Jr. have made it clear that he was a larger-than-life personality, and Boseman has received nothing but praise since his passing for his work ethic and kind soul.
Boseman even brought the best of his abilities to his voiceover work, which just started coming to life in Episode 2 of Marvel's What If...? on Disney+. Before his death, he was hoping to bring part of Star-Lord T'Challa into his second solo movie, and he was said to have been relentless in his pursuit of excellence in the voiceover booth.
After his unexpected passing, Boseman's co-stars and crew members now look to pay tribute to him in any way possible, especially in 2022's Black Panther: Wakanda Forever. With the T'Challa role not being recast, it is sure to be an emotional journey as this sequel and other MCU outings do everything they can to make sure Boseman's legacy lives on forever.
Boseman's final work in the MCU can be seen in What If...? on Disney+. Black Panther: Wakanda Forever is set to debut in theaters on July 8, 2022.
---
Richard Nebens joined The Direct in March 2020, now serving as the site's Senior Writer and also working as an assistant editor and content creator. He started his journalism career as a hobby in 2019 and is passionate about sharing news and stories from the entertainment industry, especially comic book movies, comedy, and sci-fi. Richard looks to expand his knowledge about movies and TV every day, and he is eager to stay locked into the latest releases and breaking news at every opportunity.
LATEST NEWS
TRENDING