Marvel Studios is currently on an extensive round of premieres for the MCU thanks to the upcoming theatrical debut of Shang-Chi and the Legend of the Ten Rings along with What If...? on Disney+.
What If...? marks the studio's first attempt at fully animated storytelling using the MCU's Infinity Saga as its base, and the results have been something unexpected for fans watching worldwide. Excitement is already here thanks to Hayley Atwell's new take on Peggy Carter, and the stage is set for MCU madness every week based off Marvel's first 23 theatrical outings.
Thanks to the press rounds for this series, fans are aware that next week's second episode will feature the late Chadwick Boseman, taking on a version of T'Challa who becomes Star-Lord. After the Ravagers take the young Wakandan prince instead of Peter Quill, a new journey will be underway in Marvel's multiverse as T'Challa looks to reform the Ravagers into heroes of the galaxy.
With this show holding Chadwick Boseman's final MCU performance, his episodes in particular are sure to be an emotional ride for everybody involved. Marvel's top executive recently touched on the way Boseman made this experience especially rewarding.
CHADWICK BOSEMAN'S IMPACT ON WHAT IF...?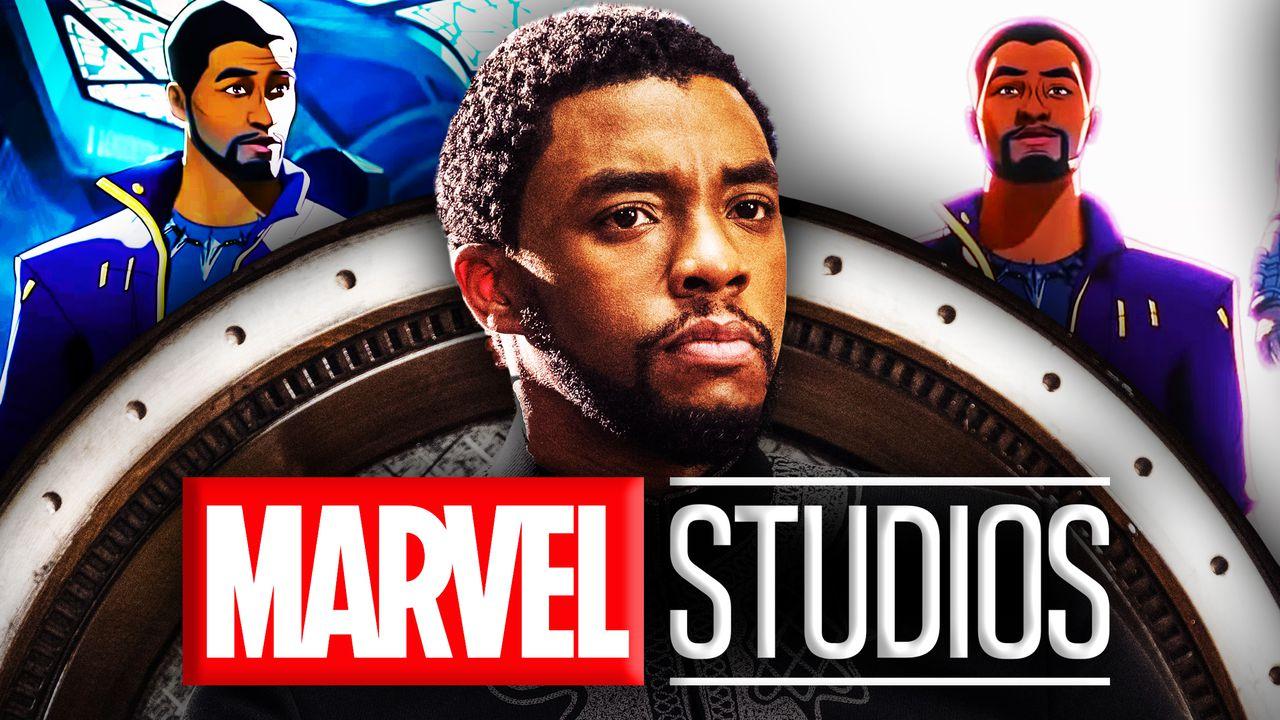 Marvel Studios President Kevin Feige spoke with Variety during the world premiere for Shang-Chi and the Legend of the Ten Rings about the late Chadwick Boseman's upcoming performance in What If...?.
Feige couldn't help but smile remembering how Boseman "came in...three or four times" to record his lines as T'Challa Star-Lord and "was so excited about it." The producer mentioned how much Boseman loved the new version of the character and even wanted to get "just some of that voice" into Black Panther: Wakanda Forever:
"Well, we didn't know it would be his final performance, obviously. He came in numerous times, I think three or four times, was so gung ho about it, was so excited about it. Somebody's probably spoken about this already, but he came in and he read the episode that airs 24 hours from now, and then came back and said 'I really love this version of T'Challa.' And we had a conversation after that with Ryan about how do we get some of this voice…none of the storyline, but just some of that voice into Panther 2. And now, of course, it is remarkably sad and bittersweet, but I'm very happy we have it and I'm very happy he did it for us, and I'm excited for the fans to see that as well."
When asked if there was anything specific planned to commemorate Boseman's passing this month, Feige simply admitted that "every day is a tribute to him right now" as filming continues in Atlanta for the Black Panther sequel.
EVERY DAY IS A TRIBUTE
What If...? is set to introduce a variant of T'Challa who takes on a more galactic mission rather than the throne of Wakanda, although it was impossible to predict Chadwick Boseman's passing as he recorded his work. While the late star put the effort in to develop this different version of his iconic character, it became clear how much passion he had for showcasing a new take on the Wakandan warrior.
For the specific work Boseman put in on the series, the longtime MCU star clearly enjoyed taking his character from the hidden lands of Wakanda to the galactic unknown alongside Yondu and the Ravagers. With Feige's quotes regarding Boseman's passion for pushing T'Challa even further character-wise, it continues to show the investment he had in developing all facets of the MCU's Black Panther.
As for his missing presence on the set of Black Panther: Wakanda Forever, even Feige himself knows how the sequel is trying to do its best to pay tribute to Boseman in a meaningful way, on and off-screen.
While the team is still putting the work in to make the best sequel possible, not having Boseman there to continue the story is paying a toll on all of his former cast and crew mates. The story will expand on the Wakandan legacy in more ways than one, although the leading actor's absence will not go unnoticed by anybody.
Boseman's first episode of What If...? is set for release on Disney+ on August 18, 2021. Black Panther: Wakanda Forever will debut in theaters on July 8, 2022.
LATEST NEWS
TRENDING