What If..? debuts on Disney+ on August 11th and the first-ever Marvel Studios animated project is set to feature more than 50 voice actors reprising their MCU roles. 
The least of which is the late great Black Panther star, Chadwick Boseman, who recorded his parts as T'Challa before his death from colon cancer almost a year ago. 
The main story being told surrounding Boseman's T'Challa will be asking what if T'Challa was abducted by Ravagers instead of Peter Quill? This tells the story of a young T'Challa going on to become the legendary outlaw Starlord, from the Guardians of the Galaxy movies. 
Combining two of the MCU's biggest franchises, Black Panther and Guardians of the Galaxy, is a concept that will get most fans out of their seat, but that may not be the only story being told with T'Challa involved. It has been revealed how many episodes the late King contributed to What If..?
CHADWICK BOSEMAN PLAYS A HUGE ROLE IN WHAT IF..?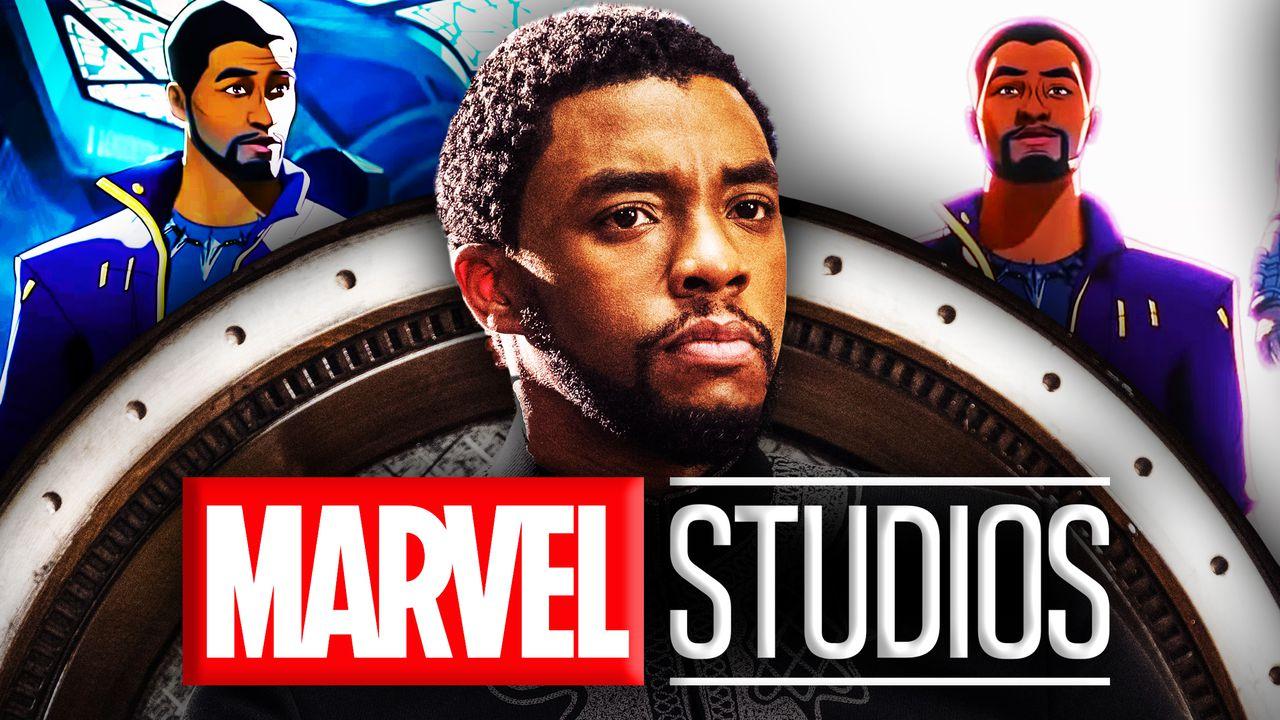 Comicbook.com reported that Chadwick Boseman will be voicing T'Challa in four episodes of What If..?. It was revealed by executive producer Brad Winderbaum that Boseman will be voicing "different versions of the character" implying that T'Challa will be a part of stories outside his own galactic journey. 
When asked if anything had to be adjusted after the tragic death of Boseman, Winderbaum says nothing was "changed drastically" in an attempt to "honor" Boseman's performance. He goes on to acknowledge composer Lauren Karpman for using music in a "really beautiful" way in light of Boseman's passing.   
With Chadwick Boseman returning as T'Challa for What If..? the animated series will officially mark his final performance in the MCU after Avengers: Endgame. 
ONE LAST TIME FOR THE KING OF WAKANDA
When news broke about the death of Chadwick Boseman in late August 2020, the entertainment community came to a sudden and grieving pause. Despite battling colon cancer for years, few people were entirely aware of Boseman's illness as he continued to work and establish his legacy as a comic book movie legend.
This is amplified by the news that Boseman dedicated his time to provide his voice for nearly half of the upcoming "Elseworlds" animated series, What If..?
Heading into the series fans were more than excited to see T'Challa on screen with Yondu and other Ravager faces from Guardians of the Galaxy, but little did audiences know, that was just the beginning of T'Challa content. It is unclear what the capacity of Boseman role will be in the episodes past the T'Challa adventure, but there are a few guesses to be made. 
In the promotional footage, there are plenty of shots of Black Panther characters getting their own shine in what could possibly be episodes dedicated to the Afro-Futuristic nation of Wakanda. Shuri, Okoye, and even Eric Killmonger have all been heavily featured in trailers and teaser footage. This could be a hint that T'Challa will be appearing in a variety of roles throughout the series and fans are here for it. 
This opens an interesting question about the mysterious cartoon adventure from Marvel Studios. Will these alternative stories be told one episode at a time? Or will fans see one hypothetical be explained throughout the season? Many believe each episode of What If..? is its own contained story with the potential for a meeting of narratives near the end of the season. With Boseman being cast in FOUR different installments, there could be a question raised in one episode and answered in another. 
Tune in to Disney Plus on August 11 to get the answer to the world's most open-ended question, What If..?
LATEST NEWS
TRENDING