Brie Larson is now amongst the MCU's elite actors, being part of an exclusive club that features names like Robert Downey Jr.
Nearly five years after starring in her first MCU solo movie, Captain Marvel, Larson is set to take on the leading role in this year's The Marvels after a couple of smaller cameo roles in other Phase 4 projects.
Complete with a brand-new costume and coming in with her usual round of top-notch superpowers, Larson will be one of the MCU's biggest names in 2023 as she stars in one of the Multiverse Saga's most important new outings.
Brie Larson Joins Exclusive MCU Credit Club
Marvel Studios released a brand-new poster for The Marvels along with the sequel's second full trailer before its release on November 10, featuring Brie Larson, Teyonah Parris, Iman Vellani, and Samuel L. Jackson.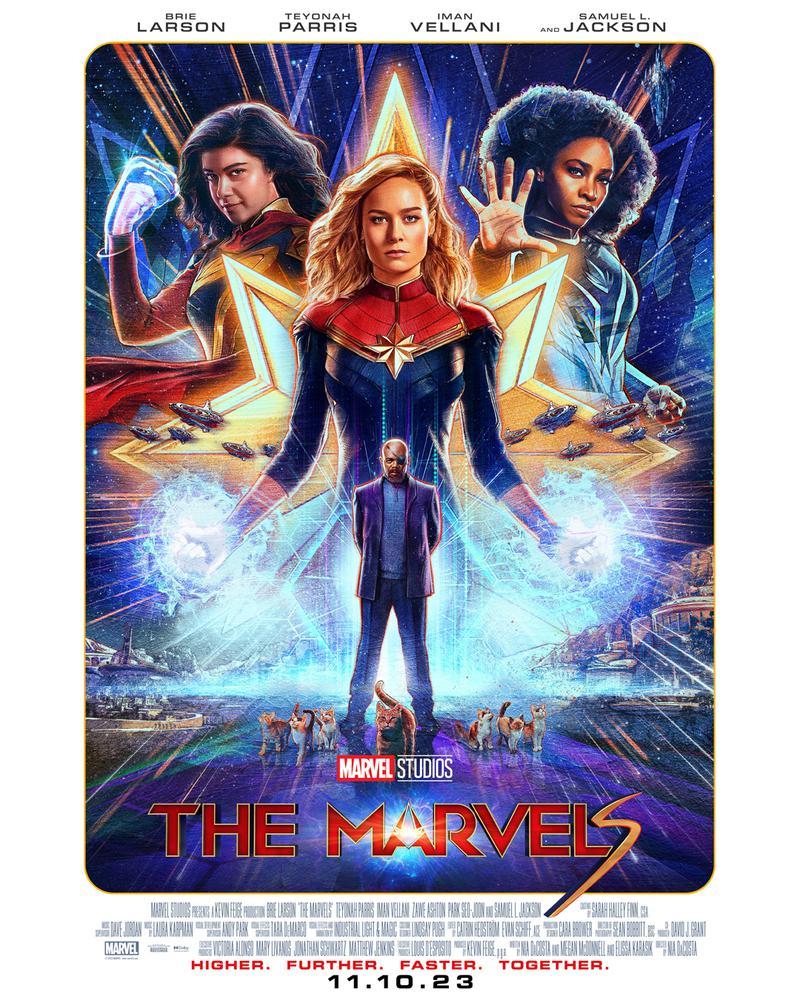 On the poster, Larson's name is actually the only one billed before the film's title - a very exclusive credit only given to six other actors in MCU history.
The other actors who have received this honor can be seen below:
1.) Robert Downey Jr.
After kicking off the MCU with a bang in Iron Man, Robert Downey Jr. became the franchise's leading personality, with his name being the first credit listed for both 2010's Iron Man 2 and 2013's Iron Man 3.
He also got that same status for the MCU's team-up movies, earning top billing for 2012's The Avengers and 2015's Avengers: Age of Ultron.
2.) Chris Evans
Following his first two efforts as Steve Rogers/Captain America in Captain America: The First Avenger and The Avengers, 2014 put Chris Evans on a new level with a leading credit for Captain America: The Winter Soldier.
3.) Paul Rudd
Ant-Man star Paul Rudd became one of the MCU's biggest stars right from the get-go, taking a leading credit on 2015's Ant-Man before earning the same status on 2018's Ant-Man and the Wasp.
4.) Benedict Cumberbatch
Stephen Strange star Benedict Cumberbatch came into the MCU full speed ahead, being listed ahead of the movie's title for both 2016's Doctor Strange and 2022's Doctor Strange in the Multiverse of Madness.
5.) Chris Hemsworth
While it took Chris Hemsworth seven years to get this credit, the Thor star earned lead billing on both 2017's Thor: Ragnarok and 2022's Thor: Love and Thunder.
6.) Scarlett Johansson
Scarlett Johansson didn't get this credit until her eighth and final MCU movie, Black Widow, where the Natasha Romanoff star also served as an executive producer for her first Marvel Studios solo outing.
Brie Larson's Major Role in the MCU
The Marvels will push Brie Larson into new levels of superstardom for the MCU, setting Captain Marvel up as one of the more important characters moving further into the Multiverse Saga.
Specifically, The Marvels is already rumored to feature major ties to 2026's Avengers: The Kang Dynasty, teasing that she'll be one of the Avengers' biggest names when the team assembles once again for the team-up outing.
And with the leading actress already worried about leaking spoilers for this upcoming sequel, plenty of anticipation is building with regard to how The Marvels will change the MCU landscape moving forward.
The Marvels is set to release in theaters on November 10.