Marvel Studios just added to an exclusive club of actors who have played multiple roles in the MCU.
With an incredible 37 live-action projects that have been released in the MCU's Infinity Saga and Multiverse Saga, Marvel Studios has employed dozens of the top actors in the industry over the years.
Over the MCU's history, a select group of actors has had the responsibility of playing two different roles in the MCU. And now, as the MCU moves into its Phase 5 slate, another actor will be added to that exclusive group, making him the 13th star to play two separate roles under Marvel Studios
Ant-Man 3 Brings Back Old Star in New MCU Role
Ant-Man and The Wasp: Quantumania will bring Dave Dastmalchian back for his second MCU role after playing the ex-con Kurt in the first two Ant-Man movies. In Ant-Man 3, he will reportedly play a voiceover role as Veb, who, according to insider Daniel Richtman, is a Quantum Realm "freedom fighter" who can translate between English and the language used in his world:
"David Dastmalchian is voicing Veb, another freedom fighter with a goo head in a glass helmet who can translate."
Below are the other 13 actors to play two different roles in Marvel Studios history.
Gemma Chan
Gemma Chan first arrived in the MCU as the Kree warrior Minn-Erva during 2019's Captain Marvel, although Maria Rambeau took her out by shooting her ship down during the final battle. Two years later, she returned to play the leading role of Sersi in 2021's Eternals, eventually being taken by the Celestial Arishem for judgment after saving Earth from Tiamut's birth.
Paul Bettany
Paul Bettany kickstarted his run in the MCU as Tony Stark's AI in 2008's Iron Man, JARVIS, playing that role four subsequent times before evolving into Vision in Avengers: Age of Ultron. In total, Bettany made an impressive eight appearances in the MCU as these two characters, seemingly ending his run with 2021's WandaVision.
Benedict Cumberbatch
Although Benedict Cumberbatch is best known for playing Doctor Strange in multiple MCU movies, along with three other Strange Variants in Doctor Strange in the Multiverse of Madness, he also did the motion capture and voice role for Dormammu in the first movie. This made for quite an interesting battle between Cumberbatch's characters in the Dark Dimension, and there could be a chance for him to revisit the villain role should Doctor Strange 3 jump back into this world.
Sean Gunn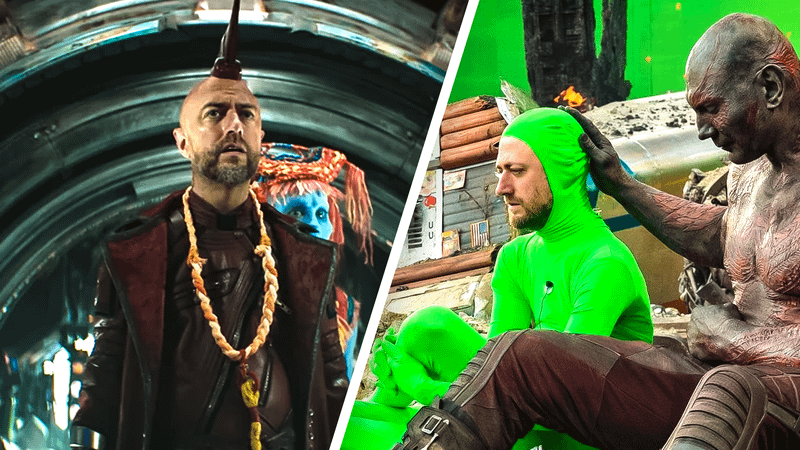 Sean Gunn's core role in the MCU is as the Ravager leader Kraglin, although he also helps in the CGI department by serving as the on-set reference for Rocket Raccoon. While Gunn is only seen on screen as Kraglin in the Guardians trilogy, Thor: Love and Thunder and the team's Holiday Special on Disney+, his work as the reference for Rocket is vital for the on-set actors to use while filming material that includes the space rodent.
Laura Haddock
Laura Haddock played a pivotal supporting role as Peter Quill's mother, Meredith, in the first two Guardians of the Galaxy movies, although that wasn't her first role in the MCU. She also had a short cameo as a girl seeking Captain America's autograph in Captain America: The First Avenger, flashing her smile and sharing a moment with Steve Rogers - it even led to theories about Captain America being Star-Lord's grandfather, which were quickly debunked.
Seth Green
While Seth Green is best known by MCU fans for playing Howard the Duck on three separate occasions, he also had a blink-and-you'll-miss-it cameo in the early days of Phase 1. Green can be seen for less than a split second in Iron Man 2 as Tony Stark and Happy Hogan make their exit from the Stark Expo, although he's barely noticeable in the shot.
Kenneth Choi
Not only does Kenneth Choi play two separate roles in the MCU, but he actually plays two members of the same family from two different generations. He starts off as the Howling Commando Jim Morita from Captain America: The First Avenger before later playing Midtown High School Principal Morita, Jim's grandson, in Spider-Man: Homecoming.
Damion Poitier
Before Josh Brolin was cast as Thanos, Damion Poitier suited up as the Mad Titan for only a few seconds of footage in the mid-credits scene from 2012's The Avengers. Later, Poitier would use his own likeness for a role as one of Crossbones' henchmen in Captain America: Civil War before Redwing took him out in Nigeria.
Imogen & Isabella Poynton
Young twin actors Imogen and Isabella Poynton first teamed up in the MCU to play Duranna in Guardians of the Galaxy, who was the daughter of John C. Rilley's Nova Corps agent Rhomann Dey. The next year, they portrayed Hawkeye's daughter, Lila Barton, when the hero's family was first revealed in Avengers: Age of Ultron.
Joe Russo
Not only did the Russo brothers (Joe and Anthony) team up to direct four of the MCU's biggest movies, but Joe even made two cameos with speaking roles in those movies. He played Nick Fury's SHIELD medic in Captain America: The Winter Soldier before playing support group member Bobby in Avengers: Endgame; and while he didn't have any lines in Captain America: Civil War, he portrayed Dr. Theo Broussard in one scene when Tony Stark learned of the doctor's death.
Michelle Yeoh
Recent Golden Globe winner Michelle Yeoh first joined the Marvel story as Ravager leader Aleta Ogord in Guardians of the Galaxy Vol. 2, making her presence felt at Yondu's funeral before teaming up with the original Guardians in the second mid-credits scene. Four years later, she took on a pivotal role in Shang-Chi and the Legend of the Ten Rings as Shang-Chi's aunt, Ying Nan, and there's still a chance she could return for both roles.
BONUS: Stan Lee
Throughout this millennium, Marvel icon Stan Lee had turned himself into the ultimate cameo master, appearing in some form during every movie in the Infinity Saga other than Spider-Man: Far From Home. These cameo roles included Hugh Hefner and Larry King in the Iron Man franchise, a FedEx driver in Captain America: Civil War, and Thor's barber on Sakaar in Thor: Ragnarok - he even got to appear as an MCU version of himself studying for his role from 1995's Mallrats in 2019's Captain Marvel.
It was even revealed in Guardians of the Galaxy Vol. 2 that at least some of these roles were all the same person when he was shown as an informant to the Watchers, discussing his time in Civil War as "a Federal Express man."
David Dastmalchian's Unique MCU Situation
While this list covers all the actors to play two roles in Marvel Studios projects, it doesn't account for a number of other stars who have played two characters in non-Marvel Studios-produced MCU projects, like Marvel Television's Defenders universe shows as well as Agents of SHIELD.
Luke Cage Season 1 featured both Mahershala Ali as Cottonmouth and Alfre Woodard as Black Mariah, both of whom also have roles in Marvel Studios' movies. Woodard had a pivotal supporting role in a scene in Captain America: Civil War alongside Tony Stark, while Ali made a cameo debut as Blade in Eternals and is set to lead his own solo Blade movie in 2024.
A handful of Agents of SHIELD actors have also reappeared in Marvel Studios productions playing different characters, including Patton Oswalt (The Koenig's in AoS and Pip the Troll in Eternals) and Peter Mensah (General Joe Greller in The Incredible Hulk and Qovas in AoS).
As for Dastmalchian, he may not be the first actor to play two roles in the MCU, but actually the first one to seemingly play two different parts within the same solo franchise. But considering that Ant-Man 3 will explore the Quantum Realm deeply for the first time, with the potential for Variants to be involved due to Kang's presence, there could be a reason to believe that Dastmalchian's new role may not be a completely different person.
Some fans have suggested that Veb might end up being another version of the Kurt that fans have gotten to know and love in the first two Ant-Man movies, with this version being one that lives in the Quantum Realm fighting for his people. But for now, there is no information on what his character will look like, what most of his backstory is, or even how big his role is in this threequel.
But no matter how his place in the movie works out, he should be yet another excellent addition to one of the most stacked casts in MCU history to date.
Ant-Man and The Wasp: Quantumania will debut in theaters on February 17.
LATEST NEWS
TRENDING