With over a year having passed since Love and Thunder, here's what we think may be the fate of Thor 5, along with its potential plot, cast, and release date.
Thor has gone through many evolutions over his MCU journey, the latest of which landed him in Taika Waititi's all-out action-comedy of Love and Thunder. 
The movie caught plenty of backlash from fans and critics alike, but many are still hoping to see the journey of Chris Hemsworth's God of Thunder continue.
Is Thor 5 Happening in the MCU?
As of now, Thor 5 has yet to be officially confirmed by Marvel Studios, but Love and Thunder did end with the promise that "Thor will Return." So, at the very least, Chris Hemsworth's Asgardian Avenger will be back for more action, even if that only comes through more team-up blockbusters.
Thor 4 certainly set the stage for more action with the hero and his newly adopted daughter Love, notably through a battle with Brett Goldstein's Hercules. While that could certainly come through a Hercules project or even one of the next Avengers movies, that particular thread would more naturally place into Thor 5.
Hemsworth has already expressed his willingness to stick around in the MCU, and as one of the only remaining original Avengers as well as a continued box office draw, it only makes sense to keep his franchise going with Thor 5.
When Could Thor 5 Release?
Marvel Studios currently has a packed release schedule through to the end of 2025, with its next vacant release dates for unannounced projects mapped out for February 13, July 24, and November 6, 2026.
However, reports indicate Shang-Chi 2, Doctor Strange 3, Armor Wars, and Eternals 2 are already in development. So, these movies will likely end up taking the untitled 2026 dates along with any dates in early 2027 before the May release of Avengers: Secret Wars - which will seemingly close out Phase 6.
As Thor 5 is unlikely to be high on Marvel Studios' agenda and almost certainly won't be getting fast-tracked, the potential sequel probably wouldn't release until Phase 7, realistically not debuting anytime before late 2027 or even 2028.
Who Could Return in Thor 5?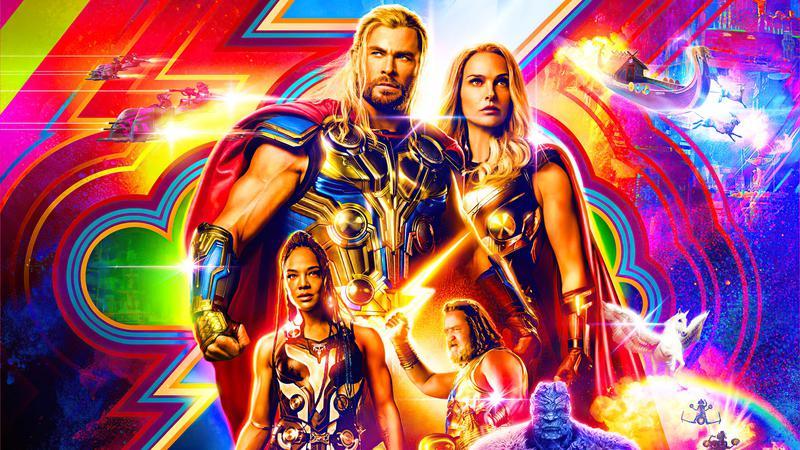 Chris Hemsworth's Thor will obviously be back to lead the potential fifth installment, likely along with his adopted daughter Love, who was actually played by the actor's real child India Hemsworth.
As Love and Thunder set the stage for Russell Crowe's Zeus to send Brett Goldstein's Hercules into battle against the God of Thunder, both would presumably return in an antagonistic role.
As she continues to rule New Asgard, Tessa Thompson's Valkyrie would likely be back again, along with Jaime Alexander's Sif as she was last seen training up new Asgardian warriors after losing an arm.
Both Korg (Taika Waititi) and Miek (Stephen Murdoch) have far less certain fates as the backlash to Love and Thunder's comedy, of which they were a driving force, may spur a change in tone that would conflict with those characters.
Two characters whose fate could go either way are Idris Elba's Heimdall and Natalie Portman's Jane Foster. Both are dead, but their appearance in Valhalla in Thor 4's post-credits scene may point to some future plans.
As Thor 5 would likely release after the Multiversal chaos of Avengers 5 and 6, perhaps there may also be a way for Loki to make a comeback to the franchise, landing Disney+'s TVA God of Mischief in the main timeline.
Will Taika Waititi Direct Thor 5?
Oscar-winner Taika Waititi accrued massive praise for reinventing Chris Hemsworth's God of Thunder with Thor: Ragnarok, but fans were far less pleased with his comedic direction when it comes to Thor: Love and Thunder.
Waititi has given a range of responses on a potential Thor 5, from a coy "who knows" to dodging questions of completing his own Asgardian trilogy.
The director revealed he would tackle Thor 5 with Hemsworth if it was "something surprising and unexpected," even proposing a low-budget road trip movie.
As Hemsworth has revealed his desire to move on from Waititi's Thor and present "a drastically different version in tone," perhaps indicating the director may not be invited back in favor of a different filmmaker with something new.
Between the backlash to Love and Thunder, the actor's desire to reinvent Thor, and Waititi's busy schedule, it seems unlikely he will be back for a fifth movie.
What Could Happen in Thor 5?
Thor was placed on a brand-new path after Love and Thunder, with him now off traveling the galaxy and saving people with his newly adopted daughter Love, originally born to Christian Bale's Gorr the God Butcher.
Additionally, Thor is set to head into battle with the Greek pantheon as Russell Crowe's Zeus sent his warrior son Hercules after the God of Thunder to prove the strength of the gods and the failures of Earth's superheroes.
While Thor and Hercules have always been rivals and frequently fight in Marvel Comics, both are heroes and Avengers, meaning they may well start off the next movie in opposition before teaming up against a bigger threat.
As Chris Hemsworth has stated his desire to reinvent Thor and move on from Waititi's God of Thunder, the franchise's next installment will likely end up being less comedic than Love and Thunder, especially after the backlash to the movie.
---
The first four Thor movies are streaming now on Disney+.