The Flash has apparently made some major changes to its ending ahead of James Gunn's new DCU reboot.
First announced in 2014, Ezra Miller's The Flash has been through countless evolutions over the years ahead of its long-awaited 2023 release.
The flick evolved with the blue brand from being part of Zack Snyder's DCEU plan to now concluding this universe with a reset ahead of James Gunn's new DCU.
The "Flashpoint" adaptation was originally meant to set up a new Justice League with Michael Keaton replacing Ben Affleck's Batman and Sasha Calle's Supergirl filling in the Kryptonian role for Henry Cavill's Superman.
But even that's now out the window with The Flash having cut two superheroes from the ending as it prepares to kickstart a new DCU.
The Flash Rumor Teases Exciting Cameos and Ending Changes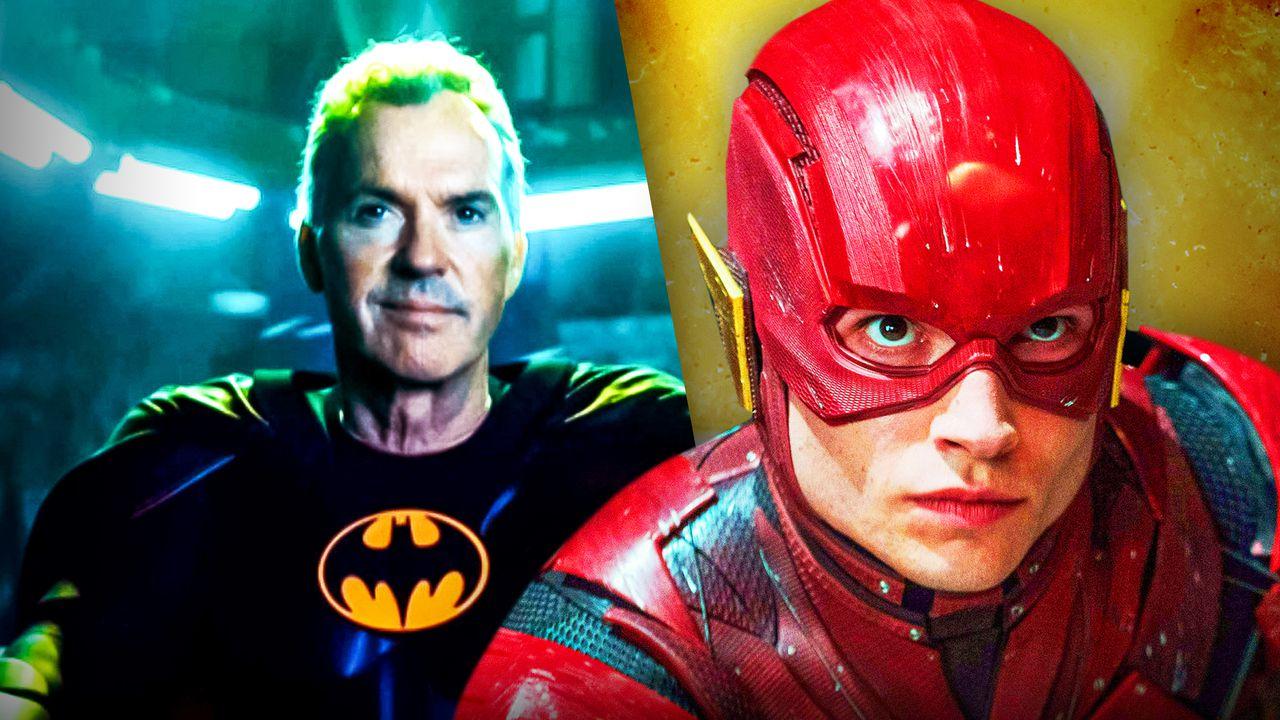 Geeks Worldwide's KC Walsh shared new details about changes to The Flash's ending which seem to come from one of the DC blockbuster's latest test screenings.
According to Walsh, the movie is now "complete," which ought to come as no surprise given it will see its premiere at CinemaCon in under a week's time, with the event running from April 24 to 27.
The insider added how the ending has been "changed" to be more "vague," particularly noting how "the 'cameo' isn't what you think it is either." The cameo in question likely refers to rumors of George Clooney's Batman appearing.
Apparently, that isn't the only cameo, as Walsh promised the Speedforce has "cameos galore," including both "a CW connection [and] a dream cameo" which will be "what everyone talks about."
In a move that will undoubtedly prove controversial, references to Zack Snyder's Justice League "appear to be removed" according to Walsh - who previously supported a claim The Flash may decanonize the extended cut.
This isn't the first fans have heard of a potential ending change, as YouTuber Grace Randolph previously shared how, under the instruction of DC Studios CEO James Gunn, The Flash removed all of the movie's ending teases.
According to Randolph, the ending overhaul cut out Henry Cavill's Superman, Gal Gadot's Wonder Woman, Sasha Calle's Supergirl, and Michael Keaton's Batman - although the latter two remain confirmed to appear in the bulk of The Flash. 
Will The Flash Ending Set-Up James Gunn's DC Reboot?
As James Gunn prepares to kickstart his new DCU, the only characters confirmed to be replaced are Ben Affleck's Batman and Henry Cavill's Superman. The fates of Ezra Miller's Flash, Gal Gadot's Wonder Woman, and Jason Momoa's Aquaman all remain up in the air for now.
So, with it still seemingly undecided whether Miller's Flash will continue on amid the controversy surrounding them, a "vague" ending makes sense. Perhaps The Flash will instead focus on putting an end to this universe with a hint at a new one to take its place instead of directly showing what's next.
In saying The Flash's Speedforce will be "cameos galore," there's a high chance this doesn't necessarily refer to new scenes with familiar characters, but rather a selection of archive footage from past DC projects. This would offer a great way to convey the scale of the Multiverse and show how everything is part of it.
While there's a good chance that the "CW connection" in question will be Grant Gustin's Flash, as the movie was previously rumored to include him, this could also come down to just footage from his DC series, if the actor is indeed telling the truth in saying he won't be appearing in the movie.
But what's interesting here is the suggestion of a "dream cameo" that will apparently be all fans are left talking about. The top contender here could be Christian Bale's Batman, likely through old footage, as his portrayal continues to be among the most popular in DC history and would certainly have audiences hyper.
One can only wonder what KC Walsh means by the apparent George Clooney cameo not being what it seems, although James Gunn already had to shut down a bizarre rumor of him potentially becoming the new Batman for the DCU in Brave and the Bold after appearing in The Flash.
The Flash hits theaters on June 16.