Spider-Man: No Way Home is currently smashing box office records, ultimately recementing the web-slinger's popularity. Directed by Homecoming and Far From Home's Jon Watts, the Tom Holland-led MCU threequel has been highly praised by fans and critics ever since its worldwide premiere, with the film taking over online discussion on social media across the globe. 
No Way Home follows the story of Peter Parker's identity shenanigans after Mysterio shared his secret with the rest of the world. As a result, Peter's life went downhill from there and it affected the ones closest to him such as Zendaya's MJ, Jacob Batalon's Ned, and Marisa Tomei's Aunt May. 
With his backs against the wall, Peter asked for the help of Benedict Cumberbatch's Doctor Strange, but a botched spell led to the Multiverse being unleashed.
What Movies Will Follow Spider-Man: No Way Home?
The concept of alternate realities presents endless possibilities, and No Way Home maximized the opportunity by bringing back villains from previous Spider-Man movies such as Alfred Molina's Doctor Octopus, Willem Dafoe's Green Goblin, and Jamie Foxx's Electro. This is on top of the inclusion of Tom Hardy's Venom, as confirmed by Venom: Let There Be Carnage's post-credits scene. 
Given the film's current success, it's safe to assume that Sony's Spider-Man movies are here to stay. Now, as Sony's Marvel plans move forward, it looks like No Way Home is only the beginning. 
Tom Holland's Spider-Man 4
After No Way Home made headlines due to its impressive debut, Marvel Studios president Kevin Feige confirmed that the producers are "actively beginning to develop where the story heads" for Spider-Man 4. No Way Home producer also chimed in on the discussion, teasing that the fourth installment of Holland's MCU adventure would lean more on the grounded side. 
Spider-Man 4's story is too early to discuss, but Holland admitted that "there is one idea that [he has]" and has "pitched to the studio," but revealing it now would spoil No Way Home. 
Based on the cast and crew's comments, it's safe to assume that Spider-Man has a bright MCU future. 
Spider-Man's Next MCU Trilogy
Sony producer Amy Pascal previously teased the prospect of seeing another trilogy for Holland's web-slinger. In an interview with Fandango, the former Sony executive shared that Homecoming, Far From Home, and No Way Home are being viewed as a contained trilogy before eventually saying that "we're going to go onto the next three," indicating that another three MCU Spider-Man films are on her radar. Whether this comes to fruition is still a giant question mark.
Given that the Homecoming trilogy is set in Peter's high school life, it's reasonable to assume that the next set of films will be set during the young hero's college years. Holland already confirmed that Peter is off to college during No Way Home so it would make sense that his next MCU adventure will explore this time of his superhero life. 
The launch of a new trilogy opens up more possibilities of seeing villains such as Kingpin and Scorpion take center stage while other supporting characters like Gwen Stacy and Harry Osborn could make their MCU debuts. 
Morbius
Jared Leto is set to make his Marvel debut in 2022's Morbius as the titular vampire/anti-hero. The film is directed by Daniel Espinosa, and it has been confirmed to be part of Sony's ever-expansive Spider-Man universe. 
Morbius follows the story of Dr. Michael Morbius as he tries to get a cure for his blood disease. However, the doctor accidentally turned into a super-powered vampire. Fans are still debating if Morbius is set in the wider MCU or it is part of Venom's world. This is due to the confusing addition of Michael Keaton's Adrian Toomes from Spider-Man: Homecoming and the trailer's reference to Hardy's symbiote crimefighter. 
Spider-Man Across the SpiderVerse Part One & Two
The success of 2018's Spider-Man: Into the SpiderVerse eventually launched its highly-anticipated sequel. During CCXP Comic-Con in Brazil, Sony released the first teaser of Spider-Man Across the SpiderVerse, the sequel to the hit animated blockbuster. 
Alongside the reveal, Sony confirmed that the film will be split into two parts, with the first one set to release on October 7, 2022, while the other entry premieres in 2023. 
Across the SpiderVerse will be produced by Phil Lord and Chris Miller with a script from David Callaham. The sequel brings back Shamiek Moore as Miles Morales, Hailee Steinfeld's Gwen Stacy, Jake Johnson's Peter B. Parker, and newcomers Issa Rae as Spider-Woman and Oscar Isaac as Spider-Man 2099. 
Andrew Garfield's Return
Andrew Garfield garnered praise for his impressive performances as Marvel's web-slinger in 2012's The Amazing Spider-Man and 2014's The Amazing Spider-Man 2. Despite that, plans for The Amazing Spider-Man 3 didn't move forward. 
No Way Home has sprouted rumors that Garfield would reprise his role as Spider-Man in the threequel. On top of the MCU-fueled comeback, Garfield was also rumored to return in another Marvel project aside from No Way Home. 
Insider Daniel Richtman mentioned that Garfield's Spider-Man "might come back" following initial claims from Twitter leakers like "MyTimeToShineHello" that Garfield "could actually come back for MULTIPLE projects" under the Marvel-Sony banner. 
It's possible that Garfield could return in Doctor Strange in the Multiverse of Madness for a brief cameo. There's also a chance that the Marvel hero could have an expanded role in the heavily-speculated Secret Wars movie. 
Kraven the Hunter
Kraven the Hunter is one of the Spider-Man villains who will receive his own spinoff after Venom and Morbius. The titular villain will be portrayed by Aaron Taylor-Johnson, the actor who played Quicksilver in 2015's Avengers: Age of Ultron. The film will be directed by Triple Frontier director J.C. Chandor. 
Many would agree that the casting could be a huge takeaway that the film is not set in the MCU, meaning that he could be joining Eddie Brock and Michael Morbius in their universe. Plot details are still being kept under wraps, but it's possible that the popular comic-book storyline, "Kraven's Last Hunt," could be considered as the basis of its narrative. 
Madame Web
Back in May 2020, reports emerged that a spinoff movie centered on Madame Web is in development from Sony. Variety revealed that this "secret Marvel movie" has found its director in the form of veteran TV director S.J. Clarkson. Moreover, Variety's sources mentioned that "there is a possibility that the studio is looking for an A-list actor to join and then hire a writer to develop the film around them."
Madame Web's close ties to the Web of Life and Destiny presents numerous story possibilities that are catered to the Multiverse, and it's possible that this movie could unite every Spider-Men across alternate realities. 
Venom 3
Venom: Let There Be Carnage's box office success could eventually lead to a third film being greenlit for the Tom Hardy-led franchise. Given that Hardy's lethal protector was transported to the MCU in the film's post-credits scene, it's reasonable to assume that more adventures will come. 
Hardy previously teased the existence of a "Venom-Verse" alongside the widely popular Spider-Verse, mentioning plenty of "canon and lore and mythology" that could be explored in the future. It seems that a third Venom film could revolve around the Multiverse or there's a chance that Let There Be Carnage's ending would pay off by showcasing the debut of Detective Mulligan as Toxin.
Spider-Woman 
In August 2020, Deadline broke the news that actress/director Olivia Wilde is set to direct and develop an untitled female-centric Marvel film under Sony. Movie insider Daniel Richtman claimed that this movie will revolve around the Jessica Drew iteration of Spider-Woman, a notable member of the Avengers. 
After the news made rounds on social media, Wilde seemingly confirmed her involvement in the film with a Spider-themed social media post, but she didn't outright say if it is Spider-Woman. 
Rhino
Sony's villain universe is expanding. Movie insider Daniel Richtman shared in his Patreon that Sony is developing a spinoff centered around Spider-Man villain, Rhino. 
It is unknown if this will be Paul Giamatti's version from The Amazing Spider-Man 2 or an entirely new iteration.
Sandman
As part of the Rhino spinoff reveal, Sandman was also included in Richtman's scoop. It's possible that this will center around Thomas Hayden Church's iteration of the villain or it could revolve around a new version that could be set within Venom's universe.
Electro
Charles Murphy of Murphy's Multiverse shared that a spinoff centered around Jamie Foxx's Electro could be in the works. The insider claimed that the version of the character seen in No Way Home resonated with audiences, leading Sony to create a clause in Foxx's contract that is reportedly tied with the box office performance of the threequel. 
It remains to be seen if this movie will push through, but Murphy pointed out that Sony executives are interested in developing the project.
Jackpot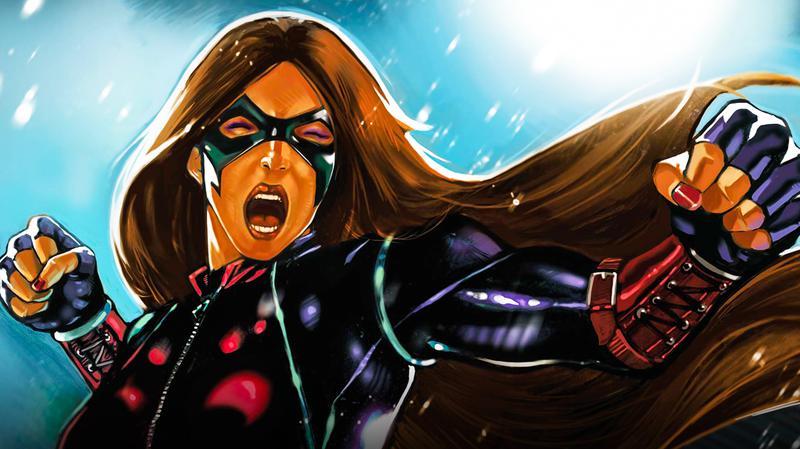 A previous report from Deadline revealed that Arrow scribe Marc Guggenheim has been tapped to write a feature film centered around Jackpot for Sony Pictures. No other details about the project have been revealed ever since. 
Silk
Back in September 2020, Variety shared that Sony is developing a live-action series focused on Silk. The Marvel hero is a Korean-American girl who was bitten by the same spider as Peter Parker. Lauren Moon (Good Trouble, Atypical) was reported to be in talks to write then. 
Spider-Man: Into the SpiderVerse producers Phil Lord and Chris Miller were attached as executive producers alongside Amy Pascal. It is unknown if this will be set in the MCU.
The Sinister Six
The Sinister Six has long been the topic of rumors ever since Andrew Garfield's The Amazing Spider-Man days, but talks have gained steam based on a recent report. 
Deadline's Anthony D'Alessandro shared that Sony's "long-term goals is to make Sinister Six," a project that would presumably be an ensemble movie headlined by the Web-Slinger's iconic rogues gallery.
This claim was further amplified by recent comments from Andrew Garfield and Sony Pictures President Sanford Panitch. Garfield teased that Sony's plan for the Sinister Six then was "really exciting" while also praising director Drew Goddard's vision. 
Meanwhile, Panitch played coy about the aforementioned spinoff possibility, but he did playfully tease about the possibility by saying "it would be very cool, wouldn't it?"
BONUS: Spider-Man: Freshman Year (Series)
During Disney+ Day, Marvel Studios announced a Peter Parker-led animated series entitled Spider-Man: Freshman Year. The official description reveals that the show will follow "Peter Parker on his way to becoming Spider-Man in the MCU:"
"The animated series follows Peter Parker on his way to becoming Spider-Man in the MCU, with a journey unlike we've ever seen and a style that celebrates the character's early comic book roots."
LATEST NEWS
TRENDING