According to new rumors, three live-action MCU series are set to debut on Disney+ this year.
Marvel Studios has undergone a shift as of late. After releasing some projects that some may have perceived as misses, Marvel Studios president Kevin Feige and crew seem to have adopted a philosophy of quality over quantity.
The studio delayed The Marvels by several months and also dramatically pushed back many of its Disney+ offerings, resulting in a far more spaced-out slate. This is reportedly to give each release more room to breathe.
Originally, there were meant to be several different MCU shows arriving in 2023, but that amount whittled down.
Three MCU Disney+ Shows Rumored for 2023
According to a new rumor from insider KC Walsh on Twitter, Marvel Studios will release three live-action series on Disney+ in 2023. Those series are:
Secret Invasion - June 21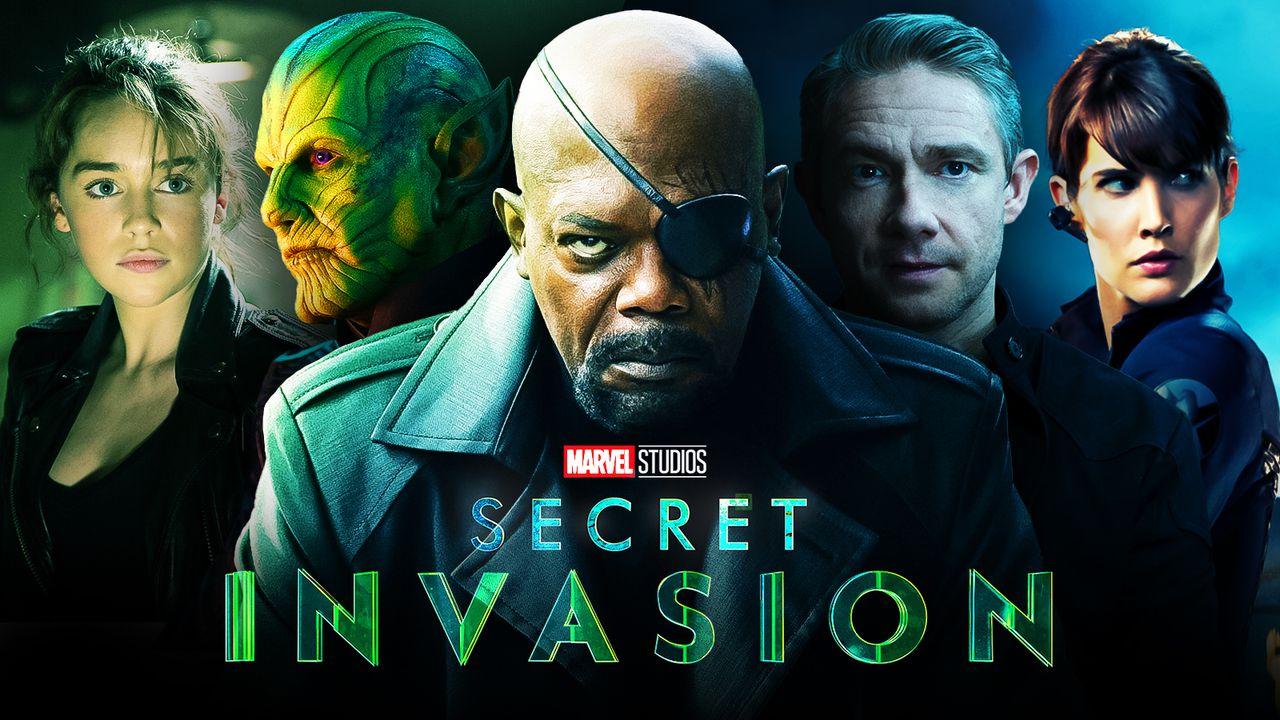 Secret Invasion was previously confirmed to debut on June 21. Billed as an espionage thriller in the vein of 2014's Captain America: The Winter Soldier, the show will see Samuel L. Jackson's Nick Fury return to Earth to take on a cabal of evil shapeshifting Skrulls who have installed themselves in the world's governments.
Also starring are Ben Mendelsohn as Fury's Skrull ally Talos and Cobie Smulders as ex-SHIELD agent Maria Hill. Olivia Colman, Don Cheadle, Martin Freeman, and Kingsley Ben-Adir also have roles.
Loki Season 2 - September
Loki and Mobius' timeline-traveling adventure continues as Loki is rumored to kick off its second season in September. Audiences were left on a significant cliffhanger at the end of Season 1, as the Multiverse erupted and left Loki stranded in a timeline where his new friends at the TVA have no idea who he is.
Tom Hiddleston leads the series as the charismatic trickster while Owen Wilson also returns as Mobius M. Mobius. Everything Everywhere All at Once's breakout star Ke Huy Quan also has a part in the season, as does a Kang Variant called Victor Timely.
Echo - November
Echo, a Hawkeye spin-off rumored to drop in November, will see Maya Lopez confront demons from her past while also continuing the story of Daredevil and Kingpin, who will appear in the series.
Alaqua Cox stars as Maya, and Charlie Cox continues his tour around the MCU as Vincent D'onofrio reprises the fearsome Wilson Fisk. 
Note: Before Marvel's mass streaming delays, Agatha: Coven of Chaos and Ironheart were meant to hit this year as well but will now reportedly release next year. On the animation front, both X-Men '97 and What If…? Season 2 are rumored to have been pushed to 2024
Time Will Tell if Marvel's Strategy Pays Off
It remains to be seen if these MCU delays will improve Marvel Studios' somewhat-flagging reputation. 
Pushing everything back would conceivably give the studio more time to polish its properties. Plus, many continue to assert that superhero fatigue is a real issue and perhaps delaying content will give those who have become burnt out on the MCU some time to refresh.
The internet is an echo chamber, however, and those loud voices who decry the MCU and its supposed recent lack of success don't speak for everyone. There are tons of viewers who have been mostly or even entirely satisfied with the MCU's 2022 output.
At any rate, Marvel was releasing shows and movies at a much-quickened pace, so maybe slowing down is a good strategy for the studio to try for the time being.
Marvel Studios' Secret Invasion premieres on Disney+ on June 21.