Eternals' worldwide release is inching closer, meaning that the film's marketing has been ramping up in the past weeks. 
The film is directed by Oscar-winning director Chloé Zhao, and it features a stellar cast that includes the likes of Angelina Jolie, Gemma Chan, Salma Hayek, Richard Madden, and Kit Harington.
Eternals follows the story of cosmic-powered immortals who have been living on Earth for thousands of years, but they choose not to interfere with human conflicts unless the Deviants, their mortal enemies, are involved.
So far, Marvel Studios released two epic trailers for the upcoming MCU entry alongside a plethora of promos and posters. Eternals also received an early world premiere with the cast and crew, leading to early social media reactions that were generally positive. 
The review embargo was recently lifted for the film as well, and it appears that critics are divided over Marvel's newest project. 
Despite that, many would agree that anticipation is still high for Eternals, and a new tie-in commercial could further boost the hype for the film. 
Marvel Unveils 'Unique' Eternals Promo
The Russian real estate agency Etagi recently released a commercial in partnership with Marvel Studios to cross-promote its company with the theatrical release of Eternals. While the idea of a tie-in ad like this is nothing new, its execution is... weird.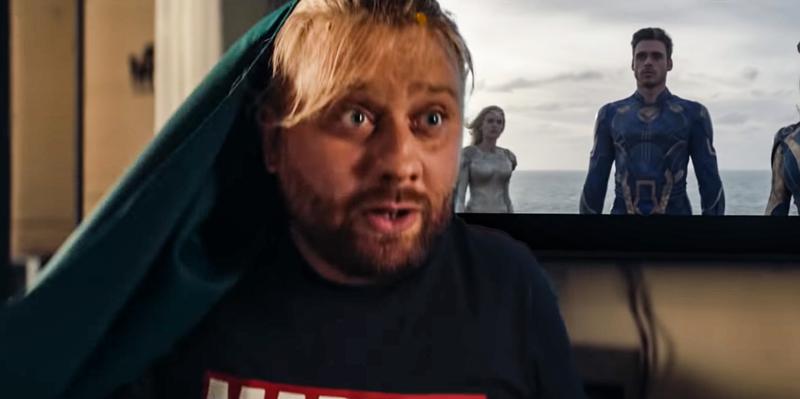 The video starts with a family inside their living room, with the dad cooking their dinner. The fun begins when the Eternals trailer plays on the TV. 
Given that the dad is a Marvel fan, he quickly heads to the TV to watch the new footage but trips while making his way to the living room. 
As a result, a plastic container accidentally drops, thus releasing glitter particles all over the room.
It ultimately cuts to a scene of Phastos utilizing his cosmic powers. 
The mishap accidentally spills water onto his son's drawing as well, paying homage to Sersi's matter manipulation ability in the teaser. 
The dad then pulls the curtains off its rail, which serves as a tribute to Thena's memorable scene from one of the trailers. 
The promo ends with a voiceover saying: 
"Your universe is cramped in a small apartment. Your universe, your home."
The full commercial can be seen below: 
Eternals' Marketing Continues Ahead of Premiere 
This latest Eternals tie-in commercial proves the strong collaboration of Marvel's marketing team with international markets. 
Marvel Studios is no stranger to cross-promotion with big brands domestically and overseas. Most recently, Lexus partnered with the Disney marketing team to jointly advertise Eternals and Disney+ series like WandaVision and The Falcon and the Winter Soldier, while Hyundai had its own strange ad that featured What If.../f's Thor cruising in a Tucson.
This latest Etagi-Eternals promo has a clever albeit somewhat awkward way of integrating some aspects of the film while ensuring that its family element is still present. The execution is top-notch, especially in how the scenes are seamlessly merged into the shots of the family inside the apartment. 
Critics have been describing Eternals as a unique entry to the larger MCU, and it's fitting that a distinct promo gets to be released alongside it. 
It's worth pointing out that Eternals was given an 18+ rating in Russia, but it's pretty amusing that this Russian tie-in commercial appears to entice children to watch the film when it premieres. It is unknown if the rating will be downgraded, but it seems that Russia's film board is pretty firm in its decision. 
Despite that, this promo shows that Marvel is still showcasing entertaining promos for its projects, and it's safe to say that the trend will continue as Phase 4 expands in the coming months. 
Eternals premieres in theaters on November 5, 2021.