A wide variety of Marvel LEGO sets are expected to be released throughout the rest of this year.
LEGO is a long-traditioned toy and collectible for children and adults alike. Marvel is a significant part of LEGO's vast library of toys.
Aside from the buildable blocks, Marvel LEGO video games have had grand success, especially 2013's LEGO Marvel Super Heroes on the PlayStation 3, Xbox 360, Wii U, PlayStation 4, Xbox One, and PC.
Putting the controller down, the plastic construction pieces are widely popular, especially for Marvel heroes like the Avengers, Spider-Man, and many more.
Every LEGO Marvel Set Releasing in 2023
Six upcoming LEGO sets featuring Marvel characters have been confirmed to release this year. Four other sets have not been officially confirmed but are expected to release during the second half of 2023.
1.) The Marvels [76232]
Before its November release in theaters, The Marvels is expected to get its own LEGO set this year.
Rumored to be available in July, The Marvels LEGO set will be 420 pieces and cost $89.99 USD. This team-up will likely feature minifigures of Ms. Marvel, Monica Rambeau, and Carol Danvers aka Captain Marvel.
2.) Avengers Advent Calendar [76267]
This advent calendar is rumored to come with Captain America, Spider-Man, Iron Man, and Okoye Minifigures. An advent calendar runs from the end of November to Christmas Eve.
Marvel heroes Black Widow, Wong, and Doctor Strange are also rumored to be in the holiday pack.
3.) Marvel Collectible Minifigure Series
Expected to release September 1, LEGO will unveil a big series of Marvel hero minifigures.
These mainly include Phase 4 MCU heroes like Moon Knight, Kate Bishop, and Werewolf by Night:
Kate Bishop
Mr. Knight
Agatha
Werewolf by Night
Kang
Storm, Beast, and Wolverine from the X-Men '97 series are also all expected to be released. 
4.) Avengers Tower [76269]
The biggest Marvel LEGO set ever, the Avengers Tower is rumored to be 5,261 pieces, cost $524.99 USD, and be released on November 24.
A slew of minifigures, both heroes and villains will be included: 
Thor, Chitauri (×4), Tony Stark, Captain America, Black Widow, War Machine, Scarlet Witch, Pepper Potts, Nick Fury, Wong, Iron Man suits (x2), Hulk (Big Figure), Vision, Falcon, Wasp, Ultron (likely a new head mold), Hawkeye, Helen Cho, and an Ant-Man micro-figure.
5.) Venomized Groot [76249]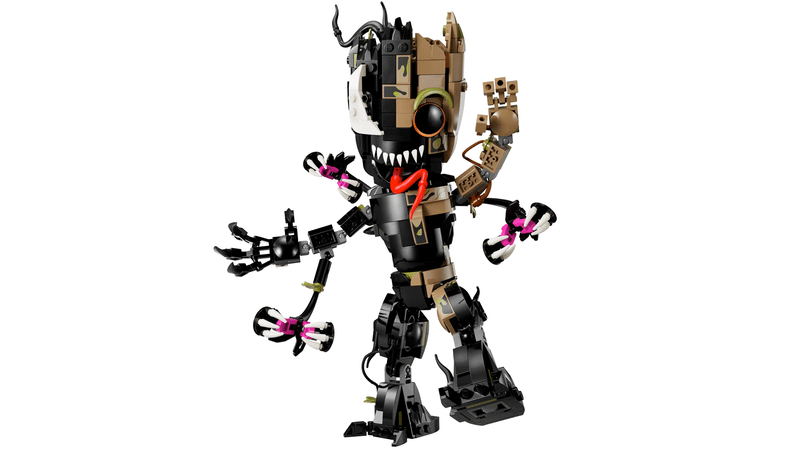 Releasing on August 1, this silly, scary figure will be 630 pieces and cost $49.99 USD.
This Venomized version of Baby Groot is movable and has enough pieces for the builder to completely cover Groot with Venom.
6.) Spider-Man Final Battle [76261]
Builders can then recreate an iconic MCU and Spider-Man scene featuring Tobey Maguire and Andrew Garfield's respective Peter 2 and Peter 3.
This No Way Home final battle set also features Tom Holland's Spidey, Electro, Doctor Strange, Ned, MJ, Green Goblin, and Doc Ock surrounding the head of the Statue of Liberty.
The set will cost $109.99 USD, is 900 pieces, and will release on August 1.
7.) Iron Man Hulkbuster vs Thanos [76263]
A smaller set at just 66 pieces is Iron Man's Hulkbuster suit and Thanos with his aircraft.
Loosely on the events of Avengers: Infinity War, this set adds Thanos' vehicle and the giant Iron armor to the battle on August 1.
8.) Endgame Final Battle [76266]
Based on the scene that teased the women-led A-Force superteam in Avengers: Endgame, this set that releases on August 1 features all of those heroes, besides Peter Parker.
Captain Marvel, Okoye, Wanda Maximoff, Shuri, Valkyrie, and Wasp take on Thanos in this 794-piece LEGO. It'll cost $99.99 USD to recreate this scene in LEGO form.
9.) Captain America's Shield [76262]
"Get this man a shield!"
A massive set celebrating Chris Evans' Captain America, this Marvel LEGO shield is a whopping 3,128 pieces.
Costing $199.99 USD, this shield replica will be available on August 1. This serious set is recommended for adults aged 18+ and measures over 18.5 inches.
10.) The Amazing Spider-Man [31209]
Crawling off the page, this Amazing Spider-Man LEGO is visually stunning. It is a more artistic version of LEGO than the typical figures and set pieces.
The Amazing Spider-Man is 2,099 (no pun intended) pieces, is set to release on August 1, and will cost $199.99 USD.
Marvel LEGO 2024 Sets To Expect
Marvel Studios is busy in 2024, releasing three films: Deadpool 3, Captain America: Brave New World, and Thunderbolts.
Sam Wilson as Captain America in his freshly designed suit seems like a safe bet for a LEGO. 
Ryan Reynolds and Hugh Jackman enter the MCU as Deadpool and Wolverine, respectively, in Deadpool 3. Deadpool and Wolverine would make a neat LEGO set, especially if the rumors of the wild plot involving the multiverse are true.
Then there's Thunderbolts, full of characters audiences already know like Sebastian Stan's Bucky Barnes, Florence Pugh's Yelena Belova, and David Harbour's Red Guardian.
A team-up LEGO sit seems like a natural fit leading up to its December 2024 release.