A new poster for the upcoming Guardians of the Galaxy Vol. 3 may have revealed a bigger-than-expected role for Sylvester Stallone. 
After having a small role in Guardians of the Galaxy Vol. 2 Stallone was revealed to be coming back for James Gunn's threequel, but how involved he would be was still up in the air. 
The Hollywood veteran has teased his involvement in Vol. 3, posting and then taking down an image of his new costume for the MCU blockbuster, but he has yet to show up in any of the movie's marketing. 
Stallone has yet to make a trailer appearance, supposedly sitting in that second tier of supporting actors in the super-powered epic, instead of with the stars of the Guardians team proper.
A Stallone-sized Tease for Guardians 3
Sylvester Stallone may have a bigger-than-expected role in Guardians of the Galaxy Vol. 3 if a new theater standee is to be believed. 
The poster popped up online and features Stallone's name billed next to the sequel's 12 other main actors (including Chris Pratt, Zoe Saldaña, and Dave Bautista). 
This has led many to believe Stallone's Stakar Ogord could have a rather significant role in Guardians 3, likely with more screentime than he had in Vol. 2.
While his character doesn't appear on the poster itself, this could be the first hint that he will be more involved than he was in his previous MCU outing.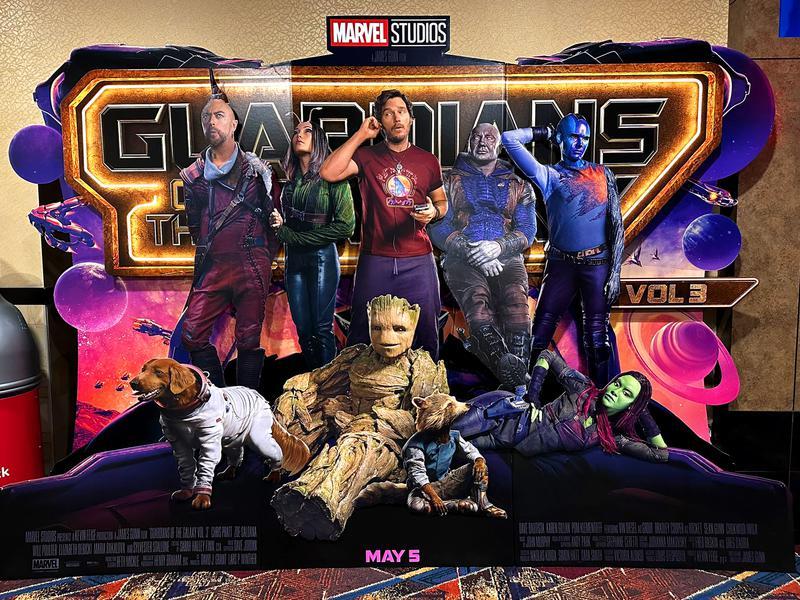 Is Sylvester Stallone Going To Be a Guardian?
With Guardians 3 looking like it is going to be the "end of the chapter" for this version of the Guardians team, could this elevated billing for Stallone be the first tease of bigger things to come for his character?
Much has been made about Vol. 3 being a trilogy-ender for James Gunn's bunch of space-faring "a-holes." Dave Bautista has all but confirmed his MCU character, Drax the Destroyer is going to bite the dust, and Bradley Cooper's Rocket is looking like he is also not going to make it out of the threequel. 
So if the team is going to continue post-Gunn, then it will need a replenished and revitalized lineup. Of course, names like Cosmo the Dog are likely the first hints of that, but Stallone's Stakar Ogord could be next up for a promotion to full-time Guardians team member. 
Perhaps in Vol. 3 Stakar is brought into the fold early on, but Marvel Studios is holding that reveal for when the movie finally hits theaters, making this poster make a lot of sense. 
But fans will have to wait and see, as Guardians of the Galaxy Vol. 3 comes to theaters on May 5. 
---
Release Date
May 05, 2023
Platform
Theaters