Good Omens Season 2 is filled with stellar cast members headlined by Michael Sheen and David Tennant. 
Good Omens is based on Neil Gaiman's (Sandman) and Terry Pratchett's novel of the same name, and it revolves around various characters trying to either encourage or prevent Armageddon. 
Good Omens made its debut on Amazon Prime Video on May 31, 2019, while weekly episodes aired on BBC Two in the United Kingdom starting January 15, 2020.
Despite the show was initially pitched as a limited series, Prime Video renewed it for a second season in June 2021. 
Every Actor & Character in Good Omens Season 2
Michael Sheen - Aziraphale
Michael Sheen returns in Good Omens Season 2 as Aziraphale, an angel from Earth who acts as a Heaven emissary.
After safely stopping the apocalypse in Season 1, Aziraphale's new mission in the show's sophomore run revolves around the appearance of the archangel Gabriel. 
Sheen is best known for his roles in Underworld, The Twilight Saga: Breaking Dawn, and Tron: Legacy. 
David Tennant - Crowley
David Tennant plays Crowley, a demon who acts as Hell's envoy on Earth. In Season 1, it was revealed that Crowley was the snake that tempted Eve in the Garden of Eden. 
At the end of Season 1, though, Crowley was declared demona-non-grata in Hell, meaning that he has an interesting adventure in Season 2. 
Tennant is best known for playing the 14th Doctor in Doctor Who series and Kilgrave in Netflix and Marvel's Jessica Jones show.
Miranda Richardson - Shax
Miranda Richardson is Shax in Good Omens Season 2, the demon who replaced Crowley in his position in Hell after being declared demona-non-grata. 
Richardson's past credits include Blackadder and Sleepy Hollow. 
Jon Hamm - Gabriel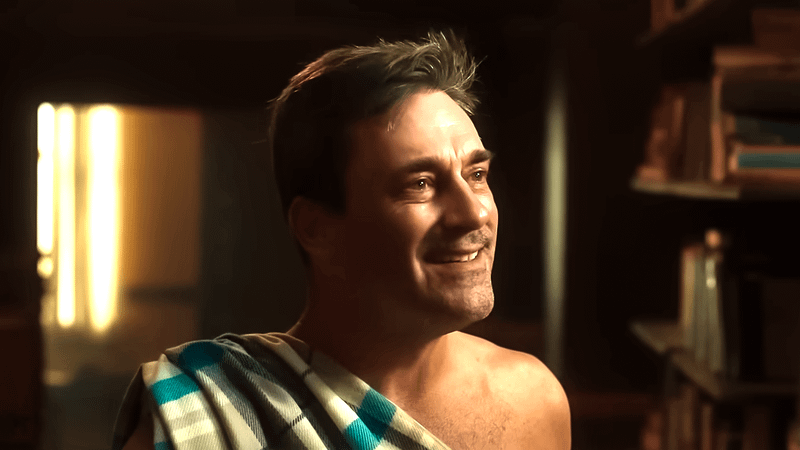 Jon Hamm portrays the archangel Gabriel in Season 2. Initially, Gabriel served as Aziraphale's superior and overseer of all forces from Heaven, but the upcoming season is set to highlight the fact that he lost his memories upon arriving on Earth.
Hamm is best known for his roles in Top Gun: Maverick, Mad Men, and Black Mirror.
Nina Sosanya - Nina
Nina Sosanya plays a new character named Nina after her appearance as Sister Mary Loquacious in Season 1. In the sophomore season, Nina is a coffee shop owner whose store is located near Aziraphale's bookstore.
Sosanya is known for Red Joan, You, and Me & Him. 
Doon Mackichan - Archangel Michael
Doon Mackichan plays Archangel Michael, an archangel who supports Heaven no matter the cost. In Season 2, it is expected that she is poised to have a clash with Aziraphale as she pursues Gabriel. 
Mackichan's past acting credits include Two Doors Down and Netflix's Sea Beast. 
Gloria Obianyo - Uriel
Gloria Obianyo is Uriel in Season 2, a co-worker/associate of Archangel Michael who is calmer than the other archangel. 
Obianyo is known for High Life and Dune. 
Maggie Service - Maggie
Maggie Service plays a new Season 2 character named Maggie, which is described as a departure from her Season 1 portrayal of a satanic nun named Sister Theresa Garrulous. It is unknown if she is a friend or foe in the upcoming season.
Service is best known for her roles in Quiz, Red Dwarf, and Doctor Who. 
Shelly Conn - Beelzebub
Shelly Conn plays Beelzebub, taking over the role from Season 1 actress Anna Maxwell Martin. 
Conn is known for The Last Musketeer, Bridgerton, and Liar.
Quelin Sepulveda - Muriel
Quelin Sepulveda portrays Muriel, a loyal angel who has been stuck in an office job in Heaven, in Good Omens Season 2. This time around, Muriel arrives on Earth to seemingly help Aziraphale with his Gabriel debacle. 
Sepulveda's past roles include Havoc, The Other End, and The Man Who Fell to Earth. 
Paul Adeyefa - Demon Eric
Paul Adeyefa plays Demon Eric, a character who will likely go up against Aziraphale and Crowley in Season 2. 
Adeyafa is known for his roles in A Midsummer Night's Dream, Ransom, and Bancroft. 
Reece Shearsmith - Furfur
Reece Shearsmith is Furfur in Season 2, a demon who is an enemy of Crowley. Shearsmith returns after playing William Shakespeare in Season 1.
The actor's past credits include The Widower, The League of Gentlemen, and In The Earth.
Elizabeth Berrington - Dagon
Elizabeth Berrington plays Dagon aka the Lord of the Flies. The actress returns after playing the role in Season 1. 
Berrington is known for Last Night in Soho, Secrets & Lies, and Spencer.
Liz Carr - Saraqael
Liz Carr plays an angel named Saraqael, an advocate of Michael and Uriel. 
Carr is known for her roles in Silent Witness, The OA, and The Witcher.
Donna Preston - Mrs. Sandwich
Donna Preston plays Mrs. Sandwich, a brand new character in Good Omens Season 2. 
Preston's past credits include Hard Cell, The Sandman, and Apocalypse Wow.
Tim Downie - Mr. Brown
Tim Downie is Mr. Brown in Good Omens Season 2, a human who likely has a connection to Aziraphale. 
Downie's acting credits include Outlander, Paddington, and Upstart Crow. 
Steve Pemberton - Mr. Glozier
Steve Pemberton plays. Mr. Glozier, an enigmatic Nazi bookseller in Season 2. 
Pemberton is known for his roles in Lassie, Match Point, and Free Jimmy. 
Mark Gatiss - Mr. Harmony
Mark Gatiss returns as a Nazi named Mr. Harmony in Season 2. 
Gatiss is known for his roles in Sherlock, The League of Gentlemen, and Dracula. 
Niamh Walsh - Greta Kleinschmidt
Niamh Walsh plays a Nazi named Greta Kleinschmidt who returns after her stint in Season 1. 
Walsh is known for her roles in The Sandman and The English Game. 
Derek Jacobi - Metatron
Derek Jacobi plays Metatron aka the voice of God in the upcoming season. The character also serves as the narrator of the series.
Here are the other actors and characters in Good Omens Season 2:
Jeff Alexander - Mutt
Annie Louise Ross - Demon Skittles
Florence Nzenwefi - Demon Morax
Alex Norton - Tulloch
Moray Hunter - Demon Josh
Ty Tennant - Ennon
Peter Davison - Alistair
---
Good Omens Season 2 is now streaming on Amazon Prime Video.